How To Accept And Love Every Part Of Your Body
We all have days when we think we're "too fat," or "too skinny" or "too pale," or look nothing like the celebrities we admire, but for some, this constant obsession over body image and weight is reoccurring, so much so that it can be dangerous.
Author and psychotherapist Stacey Gorlicky, who recently released her book Food, Sex & You, says she went through everything from over-eating to over-exercising to avoiding sex to obtain the perfect body and weight. There were days she would only eat egg whites with water and other days where she would buy weight loss drugs banned in Canada.
In her book, Gorlicky gives readers tips on how to overcome body obsession (and trust us, this is never easy) and how to fully enjoy your sex life again.
"Some people just numb out after obsessing over things," she tells The Huffington Post Canada. "Whatever the problem is, the one thing I had control over is alcohol or food, because I never had control over anything in my life."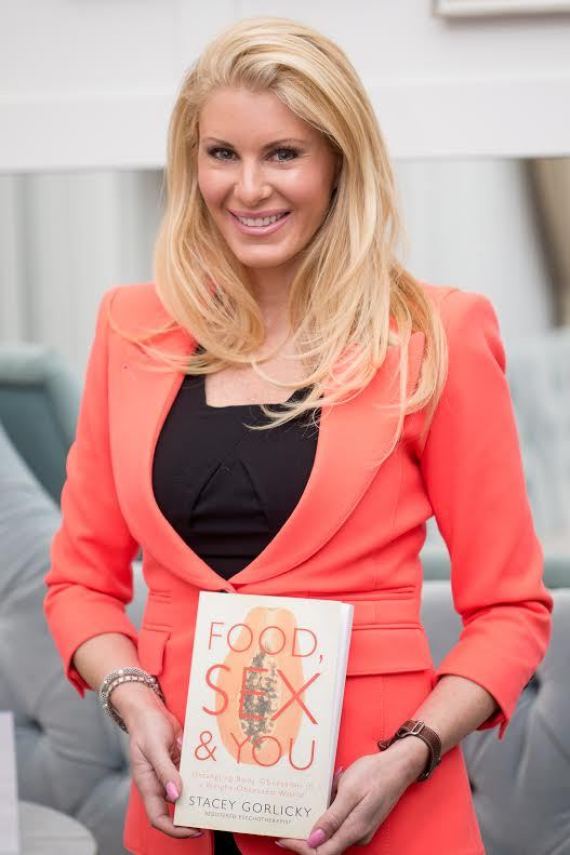 In 2014, a report by the Standing Committee on the Status of Women found that while finding an exact number of Canadians living with eating disorders was hard to pin point, that number was anywhere from 600,000 to 900,000 Canadians at any given time. The National Initiative for Eating Disorders says eating disorders have the highest mortality rate compared to other mental diseases.
Gorlicky also dives into how body image can interfere with your sex life. She says when she was growing up in Toronto, she was always warned about the importance of keeping her virginity, but things changed when she figured out men found her attractive.
"I thrived on their attention and worked hard on my external shell, because without the assurance that it gave me, I really didn't know who I was," she writes in her book.
And her story is also one of healing. Through forms of therapy and even massages, Gorlicky learned how to love her body again.
"It takes a lot of work," she says, "and it's about removing the negative thoughts in your mind."
Below, Gorlicky shares her advice on some of the biggest barriers when it comes to accepting your body and how to heal and love yourself. And this isn't a race either, she notes: take things slowly to truly understand and love the real you.
How To Love Every Part Of Yourself
There's nothing more damaging to your self-image than constantly relying on what a scale tells you, says author and psychotherapist Stacey Gorlicky of Food, Sex & You. Gorlicky says being obsessed with your body and weight also doesn't help if you compare yourself to a younger or more fitter you. "You have to know that everything changes over time. Even if I was in the best shape at 18 or 25, if I compare myself to that photo, I won't realize nothing ever stays the same."

When someone is highly obsessive over their weight, Gorlicky says, they may also be counting calories or weighing their portions. To accept your own body, she advises people to stop weighing the amount of food they're eating "When I used apps I learned nothing helped me at the end. What helped me was becoming conscious and aware knowing none of this could answer my deep rooted issue," she says.

Everyone likes a compliment from time-to-time from their loved ones, but relying on them to boost your self-esteem can be dangerous, Gorlicky says. "If someone said I looked good, I felt a high," she says. "If someone thought I didn't look good, I wasn't good enough."

One of the hardest barriers to get over is comparing yourself to others, including celebrities, Gorlicky says. And as much as you love the people around you, obsessing over how you look compared to them can also feed into negative body image. Ditch the daily tabloids and pick up a book instead.

Probably the hardest barrier to get over, thinking negatively about your weight, your love handles or your so-called "imperfections" will suck you into a hole, she says. "It takes a lot of work to get over this, and it also [means] saying over and over again positive things about yourself."

The first step to tackling any self-image issue is realizing and admitting you have a problem, Gorlicky says. "If you know you have a problem, telling someone or yourself is the first key." She says this may change the outcome the next time you want to binge eat, over eat, under eat or throw up — you will be more self aware.

This doesn't have to be a professional right away, but even a family member or friend you can trust, Gorlicky says. "When you tell someone you are comfortable with, you come out of shame and guilt you've been hiding."

From forums to chat rooms to resources of local therapists and doctors, you can easily talk to a professional or someone with a similar situation about your body disorder, Gorlicky says. And if you have trouble messaging a stranger over e-mail or the phone, ask a friend to help you reach out.

If you're a friend or family member of someone who has an eating disorder, the last thing you want to do is make their health issue about you, Gorlicky says. "Never say you are affecting me or this family," she notes. "Talk about how they are hurting themselves and how you are concerned for them."

Through healing and therapy, Gorlicky says you can love your body and express yourself sexually again. In her own experience, she spent a lot of time avoiding sex because she relied on what her partners thought about her body. "It's never about the partner," she says. "When you love and embrace your body, your partner doesn't [and shouldn't] care." Whether you have sex in the dark or ask your partner to avoid certain areas of your body, it only adds stress — which means you won't have relaxing and pleasurable sex either. Get comfortable with your own body first. Look at yourself naked in the mirror, grab all parts of your body, masturbate or even go for a massage.