Ken Dunn, Mountie-Turned-CEO, Giving Away A Million Books To Promote Literacy
Once upon a time, Toronto's Ken Dunn was a police officer, working in everything from SWAT to homicide for the RCMP and Ottawa police.
In his 14 years in that career, he noticed a correlation between low literacy rates and criminals.
Fast forward to today and the cop is now a CEO aiming to solve the crime of illiteracy.
Dunn recently launched an initiative through his company Reader's Legacy, a website that combines a social media community with an online bookstore.
"Our primary goal here at Reader's Legacy is to eliminate children's literacy problems," Dunn told The Huffington Post Canada. "We know the key to doing that is making reading cool. We operate the world's largest book club and are going to give away one million books in order to prove that reading is cool and put a book in every child's hands."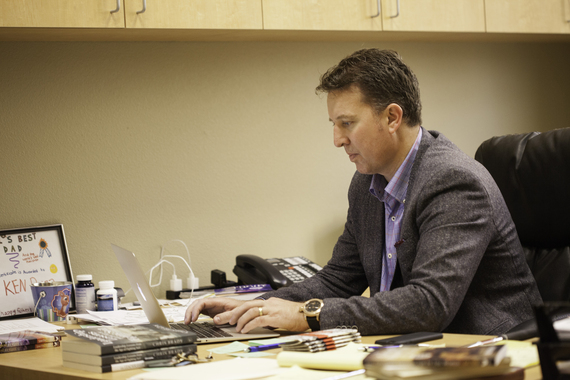 Ken Dunn left policing and later started a publishing company.
Of course, there's a process. People who create a new, free account will receive "LitCoins," which can then be redeemed for books that include new releases and best-sellers.
When members make redemptions, a percentage of each transaction will then be donated to children's literacy programs. About 250,000 free books will be going to Canadians, Dunn said.
"I grew up in Canada and have become acutely aware of the literacy problems that exist in children in this country," he said. "Reader's Legacy is a global initiative with Canadian origins and I welcome everyone to get involved."
Dunn quit policing to start a mortgage origination company. After financial success with that venture, he wrote five books and created a publishing company.
Also on HuffPost:
Biggest Reading Cities In Canada
Author: Ronald Wright Pages: 224 The Description: "Big questions" From Amazon: The most urgent questions of the twenty-first century are: where will this growth lead? Can it be consolidated or sustained? And what kind of world is our present bequeathing to our future?

Author: Elizabeth Hay Pages: 376 The Description: "Love and other accidents" From Amazon: At the worst of the Prairie dust bowl of the 1930s, a young man appears out of a blizzard and forever alters the lives of two sisters.

Author: Ruth Ozeki Pages: 432 The Description: "Brilliant and unforgettable" From Amazon: In Tokyo, 16-year-old Nao has decided there's only one escape from her aching loneliness and her classmates' bullying. But before she ends it all, Nao plans to document the life of her great-grandmother, a Buddhist nun who's lived more than a century.

Author: Andrew Kaufman Pages: 108 The Description: "Strange and romantic" From Amazon: All Tom's friends really are superheroes. Tom even married a superhero, the Perfectionist. But at their wedding the Perfectionist is hypnotized by her ex, Hypno, to believe that Tom is invisible.

Author: Jo Walton Pages: 304 The Description: "Sci-fi award winner" From Amazon: Raised by a half-mad mother who dabbled in magic, Morwenna Phelps found refuge in two worlds.

Author: Anne Carson Pages: 160 The Description: From Amazon: Geryon, a young boy who is also a winged red monster, reveals the volcanic terrain of his fragile, tormented soul in an autobiography he begins at the age of five.

Author: Kathleen Winter Pages: 480 The Description: "Bridging divides" From Amazon: In 1968, into the beautiful, spare environment of remote coastal Labrador, a mysterious child is born: a baby who appears to be neither fully boy nor girl, but both at once.

Author: Alistair MacLeod Pages: 176 The Description: "Superbly crafted stories" From Amazon: MacLeod describes a vital present inhabited by the unquiet spirits of a Highland past, invoking memory and myth to celebrate the continuity of the generations even in the midst of unremitting change.

Author: Leonard Cohen Pages: 280 The Description: "Experimental novel of the 1960s" From Amazon: The novel centres upon the hapless members of a love triangle united by their sexual obsessions and by their fascination with Catherine Tekakwitha, the 17th-century Mohawk saint.

Author: Isabel Huggan Pages: 352 The Description: "Essays on home and away" From Amazon: Belonging is an intimate conversation between the narrator who needs to examine her life because it has not turned out as she expected, and her readers, who will find their own concerns illuminated in surprising ways.

Author: Zsuzsi Gartner Pages: 232 The Description: "Biting satire" From Amazon: Whether [Gartner] casts her eye on evolution and modern manhood when an upscale cul-de-sac is thrown into chaos after a redneck moves into the neighbourhood, international adoption, war photography, real estate, the movie industry, motivational speakers, or terrorism, [she] filets the righteous and the ridiculous with dexterity in equal, glorious measure.

Author: Ivan E. Coyote Pages: 224 The Description: "Beguiling storytelling" From Amazon: Joey is a good-hearted, fortysomething mechanic from small-town Alberta whose wife has recently left him for another woman. When a stranger named James approaches his shop and agrees to purchase a beat-up blue Volvo in exchange for a beautiful, hand-crafted cello, Joey sees it as an opportunity to finally make some overdue changes in his life.

Author: Nalo Hopkinson Pages: 256 The Description: "Vivid dystopia" From Amazon: The rich and privileged have fled the city, barricaded it behind roadblocks, and left it to crumble. The inner city has had to rediscover old ways — farming, barter, and herb lore.

Author: Wayne Johnston Pages: 608 The Description: "Historic fiction" From Amazon: The Colony of Unrequited Dreams is a novel about Newfoundland that centres on the story of Joe Smallwood, the true-life controversial political figure who ushered the island through confederation with Canada and became its first premier.

Author:Jessica Grant Pages: 432 The Description: "Offbeat" From Amazon: Audrey (a.k.a. Oddly) Flowers is living quietly in Oregon with Winnifred, her tortoise, when she finds out her dear father has been knocked into a coma back in Newfoundland. Despite her fear of flying, she goes to him, but not before she reluctantly dumps Winnifred with her unreliable friends.

Author: Marcello Di Cintio Pages: 288 The Description: "At the world's edges" From Amazon: Di Cintio shares tea with Saharan refugees on the wrong side of Morocco's desert wall. He meets with illegal Punjabi migrants who have circumvented the fencing around the Spanish enclave of Ceuta. He visits fenced-in villages in northeast India, walks Arizona's migrant trails, and travels to Palestinian villages to witness the protests against Israel's security barrier.

Author: Gordon Korman Pages: 144 The Description: "Still hilarious" From Amazon: Bruno Walton and Boots O'Neal are far from being fine young Canadians. The roommates and best friends are nothing but trouble! Together they've snuck out after lights-out, swapped flags, kidnapped mascots . . . and that's only the beginning.

Authors: Mariko Tamaki, Jillian Tamaki Pages: 320 The Description: "Lives of girls and women" From Amazon: Rose and Windy are summer friends whose families have visited Awago Beach for as long as they can remember. But this year is different, and they soon find themselves tangled in teen love and family crisis.

Author: Barbara Gowdy Pages: 240 The Description: "Collection of short stories" From Amazon: We So Seldom Look on Love is Barbara Gowdy's wholly original and powerful look at what constitutes the ever-revolving realm of love.

Author: Joseph Boyden Pages: 408 The Description: "Devastating and truthful" From Amazon: It is 1919, and Niska, the last Oji-Cree woman to live off the land, has received word that one of the two boys she saw off to the Great War has returned.

Author: Paul Quarrington Pages: 224 The Description: "Rock and roll" From Amazon: Des Howell is a former rock 'n' roll star who never leaves his secluded oceanfront mansion. Naked, rich and fabulously deranged, he subsists on a steady diet of whiskey, pharmaceuticals and jelly doughnuts and occasionally works on his masterpiece, "Whale Music."

Author: Brian Brett Pages: 384 The Description: "Rural memoir" From Amazon: For 20 years writer Brian Brett has tended a small island farm, affectionately named Trauma Farm. This illuminating memoir of his experiences allows readers to reconnect with the land and get closer to the source of our food.

Author: Stephanie Bolster Pages: 96 The Description: "Down the rabbit hole" From Amazon: These evocative poems move from the icon of Alice in Wonderland to the imagined figure of Alice out of Wonderland: on a Vancouver beach.

Author: Kyo Maclear Pages: 32 The Description: "The power of art" From Amazon: Vanessa's sister, Virginia, is in a "wolfish" mood -- growling, howling and acting very strange. Vanessa tries everything she can think of to cheer her up, but nothing seems to work. Then Virginia tells Vanessa about an imaginary, perfect place called Bloomsberry.

Author: Alice Munro Pages: 240 The Description: "Age old question" From Amazon: Rose and her stepmother, Flo, live in Hanratty — across the bridge from the "good" part of town. Rose, alternately fascinated and appalled by the rude energy of the people around her, grows up nursing her hope of outgrowing her humble beginnings and plotting an escape to university.