What You Should Know About Attending The 2016 Toronto Pride Parade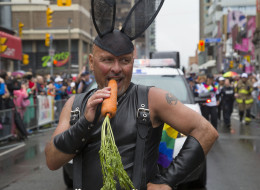 Pride Month is well under way but the icing on the cake, so to speak, is the 2016 Toronto Pride Parade, which takes place on Sunday, July 3.
If you've never been to the Parade before (why haven't you??) then you're in for a treat.
This year, you can expect lots of entertainment from acts such as Joe Jonas and DNCE, as well as tons of great floats (there's even going to be a Netflix float!), amazing Grand Marshals and a ton of honoured of guests such as Black Lives Matter and The Prancing Elites.
Aside from the entertainment, there's lots you need to know if you've never been to the best Toronto event of the year.
Check out the list below of the top 10 things you should know before you attend the 2016 Pride Parade. Have fun!
What You Should Know About Attending Pride
The Toronto Pride Parade will take over parts of Yonge Street on Sunday, July 3, from Church and Bloor streets to Dundas Square. The parade starts at 2 p.m. and takes about three hours to run its course.

This year, trans activist Aydian Dowling, philanthropist Salah Bachir and singer-songwriter Vivek Shraya are the Grand Marshals of this year's Pride Parade. (Photo shows last year's Grand Marshals). The Parade will also feature honoured group Black Lives Matter and the international honoured guests The Prancing Elites and youth ambassador Jordyn Samuels.

According to Victoria Schwarzl, of Pride Toronto, this is the first year where all three levels of Canadian government are marching in the Toronto Pride Parade. "Keep your eyes out for Mayor John Tory, Ontario Premier Kathleen Wynne, and even Prime Minister Justin Trudeau." she tells the Huffington Post Canada.

Shirley Kendall, an elder with the Anishnawbe and Haudenosaunee nations, will perform a smudging ceremony — an Indigenous custom that is used to purify a space — at Church and Bloor streets to open the parade, which takes place on the traditional lands of the Mississaugas of the New Credit.

The Pride Parade will go on no matter rain or shine, so come prepared for both. Pack an umbrella or an easily foldable rain coat just in case the weather calls for rain. If it calls for lots of sun, slap on the SPF and wear a hat!

Are you a person with a disability? No problem, Pride is very accessible. Schwarzl says risers are located throughout the parade route in order to provide easy viewing for guests with accessibility needs. Risers are located on Isabella Street, St. Mary's Street, Maitland Street, Breadalbane Street, and Elm Street. There is also a section specifically for blind and low-vision spectators on Wood Street (which will have live description of the parade) and an area specifically for people with mobility devices at Edward Street.

Traffic is sure to be gnarled the day of the parade, so leave the car at home and take an alternate mode of travel, which will leave you a lot less frustrated. Hop on the TTC, grab your bike or just walk!

Don't want to miss out on any of the action? Volunteer and you'll have the best view in the house! Pride depends on more than 1,500 volunteers to make the festival happen. There's still time to sign up so click here to find out more.

When the Parade's over, head over to Yonge Dundas Square to watch Joe Jonas and DNCE, Well-Strung, Alex Newell and more.

"Know that it's more than just a parade," Schwarzl says. "
The Pride Parade represents decades of struggle and oppression for people within our community. It is a celebration of love and life that both commemorates the strides our society has taken and also reflects the long way we have to go in achieving equality."