SkyTrain Good Samaritan Attacked After Stopping Sexual Harassment
UPDATE - June 15, 2016: As a result of media coverage, the three suspects involved in the incident have been identified, said Transit Police. They have been interviewed by authorities and the investigation continues.
Metro Vancouver Transit Police are looking for three men who attacked a Good Samaritan after he stopped them from sexually harassing a female passenger.
On June 9 at about 11:20 pm, the three suspects boarded the SkyTrain at Sperling Station and told the woman that they were going to follow her home, according to a news release on Tuesday.
One sat beside her, and joked with his friends about raping her, said Transit Police.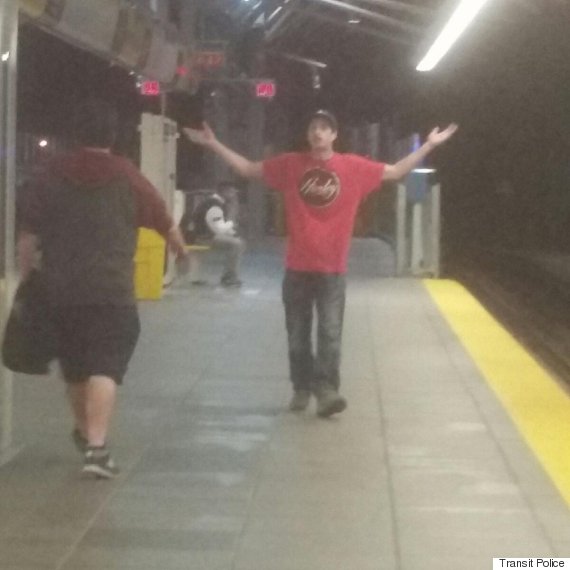 Metro Vancouver Transit Police released suspect photos related to the attack.
The Good Samaritan approached and told him to leave the woman alone, leading the first suspect to start swearing and threatening him.
At Lougheed Station, the Good Samaritan got off the train — and was followed by two of the suspects who punched him in the face and upper body, before getting back on the SkyTrain.
The victim boarded a separate car, held the door open and pushed the emergency alarm strip. The three suspects again approached and punched him again before fleeing.
Victim taken to hospital
Transit police arrived moments later, but could not locate the suspects.
The victim was taken to hospital with a bleeding nose and a sore left forearm. He was treated and later released.
Suspect 1 is described as a white male, 20 to 25 years old, six feet tall, thin build, short brown hair, wearing a red Hurley shirt, blue jeans and a black baseball hat.
Suspect 2 is described as a white male, early 20s, 5'9" tall, medium to heavy build, short brown hair, short beard and moustache, wearing a blue NFL jersey with the name "Johnson" and the number 81 on the front, and dark jeans.
Suspect 3 is described as a white male, 20 years old, 5'9" tall, heavy build, short brown hair, wearing a grey sweatshirt with red hood and sleeves, black shorts, and grey skate shoes.
Metro Vancouver Transit Police

Metro Vancouver Transit Police

Metro Vancouver Transit Police
Anyone with any information is asked to call Transit Police at (604) 515-8300 or text at 87 77 77.
Also on HuffPost:
The 10 People You Don't Want To Meet On Public Transit
Transit is often packed, and even if it isn't, most people are usually looking to sit down. That's why it's really irritating when you sit on the outside seat and won't move over to let another person sit down. It's awkward to have to squeeze by your legs to sit down, and much of the time we don't bother and stand up instead. It makes it look like you have the right to both the seats. Who's sitting there? Your imaginary friend?

Whether underground or on a bus, there isn't a ton of oxygen to go around, and your Old Spice or Anais Anais is all we can smell. The prevailing wisdom when it comes to fragrance is to wear just enough that a person standing close to you notices — something to keep in mind since you'll be spending plenty of time getting up close and personal with dozens of strangers.

This happens. Just.. no.

Though some public transit companies allow pets on leashes to ride with you, we feel like they meant tiny lap dogs, not your German Shepherd that sheds and tries to lick everyone that passes. Maybe times are changing, but not everyone wants to ride next to your massive pet.

Answering to tell the person you'll call them right back is just fine, as is having a quick, quiet conversation. But no one wants to hear you moan to your girlfriend about whatever drama you're currently experiencing. This is even worse when your phone's volume is turned up loud enough that we can hear the person on the other end. Can't it wait?

The last time we checked, transit systems are expensive to operate and part of the reason the bus runs as often as it does is because we all pay into it. So don't try and sneak onto the bus with your expired transfer or feed a piddly number of nickels into the machine and then challenge the driver when he or she brings it up. It's their job to make sure people are paying the proper fare and it's an insult to the rest of us that shell out for pricey passes.

The seat is warm, you're exhausted and you have about 58 stops ahead of you. Maybe this is the only time in your day you get to sit down. But if you know you'll have to interact with another passenger, please be sure you're awake. We feel like bad people when we shake your shoulder to wake you up so we can get off.

The general rule on public transit is not to talk to strangers, but is it really too much to say, 'sorry, I need to get up'? We're all in our own worlds, texting, reading or playing a game, and no one is reading your body language to notice when you start standing up.

Rush hour is potentially the worst time of day. Actually, no, it is the worst. We all feel like sheep in the back of a transport truck, our limbs squished in strange positions as we breathe on each other. So don't make it worse by launching yourself into the mass. No one likes missing the train or bus because it's too full, but unless you live in a small, rural area with sporadic service (in which case, we're sorry), there WILL be another vehicle coming soon. Your boss will understand.

Dealing with tired, hungry, agitated people all day certainly wears on one's patience. We get it. But you're not helping matters when you yell at customers, complain to us about your jobs, or act exasperated when we ask you questions. You're the face of public transit, and your behavior reflects the organization as a whole. We'll try to be better passengers if you'll try to be a better service provider.