15 Of The Most Stunning Camping Sites In Alberta
There's nothing like camping among Alberta's ancient mountain tops and breathtaking blue lakes — you truly feel like you're one with nature.
With five major national parks including Banff (Canada's first national park) and Jasper (submerged within the Canadian Rockies), the province's camping sites have everything from challenging trails to beautiful sunsets and activities perfect for the lake.
If you're looking for a new spot in Alberta to try out, we suggest staying as close to the lake as possible. With options like sailing, wind surfing and even tanning on a sandy beach, the best way to spend summer is near a body of water.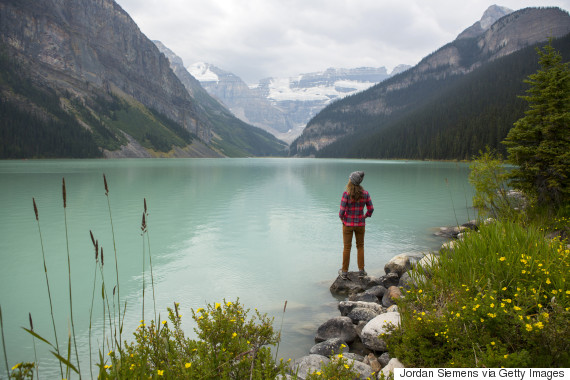 (One of these sites includes the Lake Louise Campground in Lake Louise. Photo: Getty)


Before you choose a camp site or national/provincial park, Alberta Parks has several rules for most major sites. Check-in time is 4 p.m.; back-country and car camping options are available; and for some sites, fires may not be allowed on site. Check in with Alberta Parks before you head out on your adventure.
Below, we've rounded up 15 of our favourite camping sites from family-friendly beaches to sites that offer wildlife watching to campgrounds perfect for a weekend getaway. Let us know: where do you love to camp in Alberta?
Some sites operate on a first-come first-serve basis, while others need reservations in advance. So what are you waiting for? Start planning!
Best Camping Sites In Alberta
Banff National Park Location: Banff Why you should go: Explore the Canadian Rockies, go whitewater rafting and take in Canada's beauty with an extended hike. Sites available: 2,468 caming sites on 13 grounds, back-country and shelters. And while you're there, make sure you check out Lake Louise...

Lake Louise Campground Location: Banff (one km from the village of Lake Louise) Note, the lake is about 10 mins away by car Why you should go: Ride through the lake's beautiful blue waters, hit the trails or go bird watching. Sites available: 189 sites for trailers, 206 sites for tents

Jasper National Park Location: Jasper Why you should go: 1,000 square kms of protected wilderness, stunning mountain views and wildlife watching — including bears. Sites available: Year-round family-friendly camping, back-packing and RV camping.

Elk Island National Park Location: Edmonton (nearest city) Why you should go: Look out for some bison, go for a hike and hit the water with your canoe or kayak. Sites available: Several camp sites offering car, back-country and RV camping grounds.

Kananaskis Country Location: West of Calgary Why you should go: Guided hiking tours, whitewater rafting and horseback riding. Sites available: Kananaskis Country camping grounds (with various camping styles, lodges and fancier hotels if you're looking for a mini getaway).

Dinosaur Provincial Park Location: Southeast of Calgary Why you should go: Walk deep into the Badlands, check out the five walking trails, and paddle the Red Deer River. Sites available: 94 camp sites with power and 30 for back-country.

Wood Buffalo National Park Location: Fort Smith Why you should go: It's Canada's largest national park, swim at the beach and explore the Peace-Athabasca Delta — a habitat with thousands of birds. Sites available: Sites at Pine Lake Campground and back-country camping.

Crimson Lake Provincial Park Location: Rocky Mountain House (nearest city) Why you should go: Power boating, birding (like owls!) and front country hiking. Sites available: 172 campsites and room for those RVs. Photo: Instagram/tarynstrong

Willmore Wilderness Park Location: Grande Cache (nearby town) Why you should go: Ancient mountain tops, wildlife watching, and quiet walks in the forest. Sites available: Back-country camping with 750 km of trails.

Bow Valley Provincial Park Location: Bighorn No. 8 Why you should go: Wind surfing, rock climbing and daytime picnics by the lake. Sites available: Five camping grounds, back-country camping.

Kinbrook Island Provincial Park Location: Rainier Why you should go: Go sailing at sunset, watch out for the American white pelican, and go for a dip. Sites available: One main site on Kinbrook Island.

Sheep River Provincial Park Location: Millarville Why you should go: Mountain biking, fishing and hiking. Sites available: Four major sites and spaces for group camping. Photo: Instagram/kmatieshin

Peter Lougheed Provincial Park Location: Kananaskis Why you should go: Evergreen valleys, beautiful mountains, and picturesque lakes. Sites available: Car camping as well as back-country camping offered at 10 sites.

Waterton Lakes National Park Location: Waterton Park Why you should go: Trails for advanced hikers, pristine mountain lakes for fishing and boating, and stunning views. Sites available: 135 serviced sites and 24 spots for back-country at Belly River Campground.

Lesser Slave Lake Provincial Park Location: Widewater Why you should go: Sandy beaches, bird watching (including swans) and Lesser Slave Lake — the province's largest auto-accessible lake. Sites available: 112 camping sites with spaces for RVs as well.