For Father's Day, This Goes Out To The Dads We Lost
On Sunday, sons and daughters of all ages will get to celebrate Father's Day. Some will take out the man of the hour for a nice dinner or breakfast. Others will surprise him with a thoughtful gift.
Most will at least post a beautiful message on social media, thanking the old man for all he's done.
But for many who have lost their dad, Father's Day is a crushing annual exercise in loss. Last week, I wrote a blog post detailing my experiences with losing my father and the difficulties I've had expressing how his death affected me.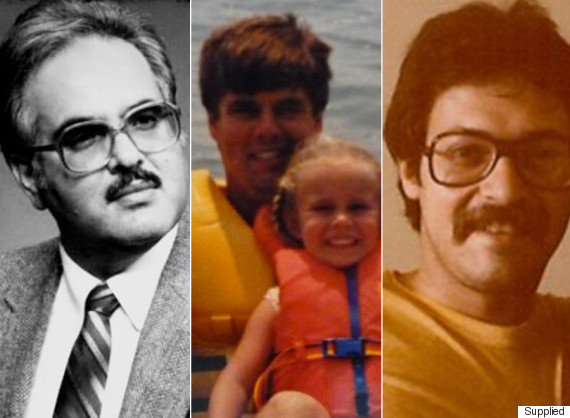 Readers submitted beautiful photos of their late fathers along with their tributes.
Writing about your deceased father requires you to relive days and moments you'd much rather forget. But that post helped me find some comfort and peace, and the kind words of strangers who said the piece resonated with them helped enormously.
We invited anyone else who's faced that loss to do the same and pen a tribute. Readers wrote to us, describing what they miss most about their dads. Their responses are beautiful, heartbreaking and, most importantly, honest. In each of these notes, you can feel the love and longing the writer has for his or her father. It's not easy to dive deep into memories and thoughts like these, so we immensely appreciate every second spent on writing these incredible notes.
Happy Father's Day. To the ones with us and to the ones we lost.
Emma Ingram

Emma Ingram

Gillian Reilly

Gillian Reilly

Simon Pottery

Simon Pottery

Katie Bellefontaine

Katie Bellefontaine

Uzay Alatepe Ashton

Uzay Alatepe Ashton

Melanie Freeman

Melanie Freeman

Rob Seaton

Rob Seaton

Olivia Gallimore

Olivia Gallimore

Shahi Hamad

Shahi Hamad

Tara Klinger

Tara Klinger

Kim Fairfield

Kim Fairfield
Check out more beautiful tributes from readers below:
Father's Day Tributes To The Ones We Lost
I was 6 or 7 years old, and I can see myself running fast on the soccer field. Maybe not really fast, but that's how I like to remember it. My team was called the Bumblebees and I was dressed in yellow and black. I'm sure of it. And I can hear his voice on the sidelines. My dad matching me stride for stride while shouting in Greek or English or Grenglish. "Run. Faster. Go get the ball!" My middle-aged Greek dad who smoked a little, drank a little, ate a little too much and was dressed in his work clothes. There he was coaching me every step of the way. My dad died when I was 15 and many of my memories are blurry now. Sometimes I even take creative license with my past. Like adding in the fact it must have been the same game I scored a hat trick for my beloved Bumblebees. But I know that soccer moment is one of my most vivid and cherished images. It was his spirit that has made me who I am today. So on this Father's Day, I could lament how early in my life the opportunity to create new stories with my dad was taken from me. Or instead I can take comfort in the power of words and Bumblebee tales and hope. Hope that sharing just one of my memories will inspire someone to reach out today and say, "Dad. Remember that soccer game when I was 6 and scored a hat trick? I want to tell you how much it meant to me that you were there, cheering me on."

My dad died on a Tuesday morning in March while I held his hand. He had esophageal cancer and we knew his time was limited, but an unexpected illness combined with an immune system beaten down by chemotherapy and radiation brought his end sooner. I thought he would be here for Christmas, and for the birth of my child later in the fall. I wasn't ready to say good bye. As I sat in his hospital room I willed myself to memorize the look and feel of his hands and tried to remember all the times he held mine - it always had to be his way, his index finger tucked between my first 2 fingers, his grasp firm and sure. His hands are what I didn't want to forget and perhaps what I'll miss most. They encompassed all that was great about my dad. Though rough on the exterior from years of hard work, his hands were soft and gentle when they needed to be, just like his heart. He comforted and held me when I needed it – whether suffering a broken heart or a disappointing failure. He never knew exactly what to say, but it didn't matter. It was more the feel of his hands embracing me and the safety of his presence that somehow made everything better. Those warm hands also held my two oldest children for the first time as he looked down at them in awe. His hands made up playful games and tickled baby bellies to their laughing protest. He pushed strollers and held tiny hands walking in the park. He banged pots and pans and built Lego castles. He held these small wonders so close to his heart and their love for him was just as strong. My heart aches for the loss of his hands to comfort me, to lift my children high and hug them tight, to embrace my mother, to dance with my sister on her wedding day, to pat my brothers on the back after a hard day of work. There are days that I can remember his embrace with a warm smile, and others where I long for the feeling of his touch so intensely I feel as though the fragile scab on my heart has been ripped open again. I worry I will forget his face and hands, and that my children's few memories will fade. So I hold my little ones tight on Father's Day, and pray that my hands can convey love, comfort, and safety the way my father's did for me. Happy Father's Day Dad.

My father was the sweetest, coolest father ever. He was the kind of father who used to play cards with his daughters and cousins till 4 a.m. on a weekend, the one who used to talk about his childhood and make you long for those times back in Palestine. The one who taught the whole family how to whistle using fingers when we were teens. The one who used to show how proud he is of his three daughters every time there is a gathering, and telling everyone that he never wished for a boy, because he has the most intelligent and beautiful ladies in his life. He built his own legacy. He started his own business when everyone underestimated him, he risked everything to build a very successful food testing laboratory (the only one in Jordan back then). My father for me was phenomenal, we never felt that he is a father but a brother, every time I remember him, floods of tears come out. I was 24 years old when I lost him, my eldest sister was 27 years and my third sister was 26 years old. But still we needed him in our lives, he was our backbone and security in this world. I am still in the denial phase, believing he will come back one day. The feeling that my heart was ripped off out of my chest and got broken is still the same. I wish for one more kiss, one more hug and chat. To whoever has a father: never take them for granted, love them and hug them a lot and be beside them. When they go the pain of saying goodbye will hunt you forever. God bless his soul, and inshallah (God willing) he is in a better place.

I remember the July morning 10 years ago, when I found out dad was sick, and I needed to get home asap. He had a stroke. His MRI scans showed something irreversible, something imminent, something I was too afraid to ask further about. Within hours, I was on a flight to Nepal. When I arrived, dad had been discharged from the hospital and had been sent home. For a moment I had thought that was good news. Apparently, the doctor had said, "… take him home, make him comfortable." He had brain tumors that were growing aggressively. He had other health ailments so the doctors concluded he was unfit for surgery. I have never felt more desperate in my life than at that moment. He was dying, and we were supposed to do nothing. I was numb for the days that followed. One of those mornings as he lay in a coma, I shaved his beard, trimmed his moustache, shampooed his hair and my sister gave him a sponge bath. We combed and styled his hair the way he liked it. He looked so handsome, and at peace, just asleep. He passed away that same night. I was holding his hand. He was 71. Since his death, I have gotten married, moved countries, had babies, have bought and sold homes, progressed in my career and become a woman from his little girl. I have had to do all of this without him, without his support. I constantly crave and miss his approval and guidance when I have to make decisions. I have had to imagine his interactions with my husband. I have had to imagine his pride when we bought and moved into our first home. I have had to imagine his joy when my girls were born. I have had to introduce granddaddy's picture to my children and that's how they know him. I have had to imagine his reactions when I got promotions at work. He was supposed to be there for me, for all of this. I was his baby. I have missed his presence at every major life event. I have missed his presence every day. His absence hurts every day. Losing a parent is unimaginable, even if it is inevitable. What I didn't know is that when it happens, the hurt is everlasting. There are waves of anger and despair and a vast emptiness that nothing will fill. There are memories that make me smile and cry at the same time. A loss of control, and helplessness. Above all, there is extreme sadness that nothing seems to heal. No time, no words will take this sadness away. I miss him so much. I hope he continues to be proud of me. He was my hero, the man who showed me I had wings and I could fly if I wanted. I celebrate him quietly every day.

My father's name was Carry, short for Cornelius. He was a tall, lanky, hilarious dutch man with a huge passion for aviation and golf. He was a full-time pilot and part-time golf club maker/repairman. I was my father's only biological child, but growing up he also helped raise my older brother Kyle, from my mother's previous marriage, until he was 15. My dad was always known as the goofy guy. He was a solid mixture of Jim Carrey's humour with Tom Cruise's looks, except he was 6'3. My dad always treated me like gold. Yes he of course got upset with me once in a while like every parent but he never stopped loving me. He never really called me Sarah, he mostly called me princess (which ironically is what my name means). He always wanted to make sure I was happy and enjoying life. When I was sad, he was sad. He cried with me. My parents divorced when I was 12, and due to certain circumstances, I was off to live with my father. We had our own house and everything was fantastic. The weekend of Feb. 7, 2009, I was to stay at my mother's as per court agreement. My mother was volunteering at the winter fest downtown while my father was flying to Barbados for work for the weekend. I wanted to stay home and veg out while my mom was out, and I get a call from her bawling saying she's coming home. I instantly think that my grandpa past away because he was sick at the time, but she walks in the door bawling, and flat out says your dad is dead. I didn't cry for about 8 hours. When she told me, I remember it like it was yesterday, I sat on the stairs and just kept staring everywhere. I was speechless. About a day after that and until about 3 years ago, I wouldn't stop crying about him. I do occasionally get upset now, but I'm stronger than ever. I unfortunately attempted suicide twice because of my father's passing, but this year was a huge turnaround year for me because I kept thinking about my dad whenever I was down/stressed. My dad would be pissed off if I died right now, because I'm doing pretty good in life. I just have gone through hell since he died and I don't give myself enough credit for pushing through that hell. As I've gotten older, I've felt a immense pressure to make him proud. I was my father's only child, and he was known by a lot of people for his skills and personality. I'm sure if he was alive and knew what I was doing at the moment he would be proud always, but since he isn't alive I want his family name to be known. I want people to know that I'm a Rosendaal and that I am Carry's daughter.

You think that the worst part about losing a loved one is the initial loss; the realization that they're not going to walk back through the door at any minute, but for me it was and still is, the forgetting. Nothing has pained me more than reminiscing in my mind a memory that I had with my father and realizing that I'm slowly but surely forgetting little details; what it feels like to be wrapped in his arms in a hug, what he smelled like when I would press my lips to his cheek as I said goodbye before leaving the house, and the sound of his voice and laugh. My father had been unwell with various health issues for most of my life and because of this, the idea of spending time in hospitals and doctors' offices was nothing new to me and I soon became his companion to many of his appointments. This was a blessing in disguise, as it gave me more time to just talk and spend with him than I would've otherwise had. Despite all of his struggles he kept going. He was a hard worker in his job and at home. No matter how tired he was after coming home, he would take me to my extra-curricular activities and never stopped encouraging me to be better. He encouraged my creativity and crazy dreams and ambitions while gently keeping me grounded. He devoted his whole life to others, rarely ever taking his own wants into account. One of the most important attributes he ever taught me was charity, and to always remember how much I was blessed in my life. He may have put across the appearance of being a little rough on the outside but he was one of the kindest and most loving people I have had in my life. The cancer first came when I was fourteen. I was still young and upbeat then, so I tried to reassure him that everything would be okay with a fake smile and laugh because I was supposed to be mature about those kinds of things. It did get better for a little while and we had hope, then on the day of my high school graduation after he had been in the hospital a couple days for tests they told us, "it is back and it has spread". Just like that your life crumbles all over again. That night I went to my graduation where all of my peers were celebrating the lives ahead of them and I felt like mine was ending. It got harder to stay positive through all of the appointments and treatments. By the time he passed later that year, I realized that I had come to peace with the idea of him no longer being with me if it meant he wasn't in pain anymore. All the firsts that happen after someone's passing are always hard. When people find out you've lost a loved one, they sometimes can treat you like you're broken; greeting you with the dreaded 'sigh hi' where both the sigh and the word are emitted simultaneously. I didn't want people's sad faces and pity so I just barely ever told anyone, in fact most of my social media "friends" have no idea. Every time Father's Day would come around Facebook would be filled with pictures and paragraphs in tribute to their fathers and it made me happy to see so many people appreciating their fathers' hands in their lives, but at the same time I so desperately wanted to scream from the mountains about how amazing and wonderful my dad was and how much I missed him...without the pity and condolences from others. So here it is....I miss my dad; I miss his hugs, his laugh, his advice, the fact that I could talk to him about literally anything, the nights where it was just the two of us at home so we'd eat dinner and watch either bride shows or UFC fights together. I wish my husband had the chance to meet him because they would've got along great. I wish he could've walked me down the aisle and danced with me at my wedding and told the embarrassing stories about me in his speech like he always promised me he would. I wish he were still here to watch out for my mom so I wouldn't have to worry about her so much. I wish so badly that I had asked for a family portrait as my birthday present every year when he asked me what I wanted instead of being afraid that he wouldn't want to since he didn't like having his picture taken. I wish I had just one more day with him to tell him how much I love him. But, I know he's not gone forever, I'll get to hear his voice and feel his arms wrap me in a hug again one day, so in the meantime I'll keep trying to remember.

My father had cleaned out his locker at Winnipeg Teacher's College the day before his graduation ceremonies and was driving home to Anola where my mom, older brother and I lived with his parents when he was lost to a drunk driver two weeks before Father's Day 1964. I was fifteen months old. My only memory of him is peeking through the cracked bedroom door while being told to 'leave him alone while he studied for his final exams. In truth he was asleep with a text book across his chest while Hockey Night in Canada flickered on the television in the corner. I kept that TV for decades. My next oldest memory is looking out the back window of the car at the line of other cars following us as we left the cemetery. I'm not certain where the healing began but I knew it had started and when I met my wife. I was ready to begin the conversation. I was no longer hesitant to have a child and become a father. Doing so for the first time at the age of 49 has provided me with a greater appreciation for the joys and wonders of birth and childhood as well as the responsibilities attached to fatherhood that would have had my younger self scoffing at the idea or even running away from the prospect of such endeavours. I came home last Father's Day and was showered with the ever present 'papa's home' squealed greeting and found them making me a card replete with something resembling a daisy on the front, a Picasso-esque piece in the middle covered in stickers of all the movies we've watched and what I'm told is a mammoth on the back. While I still am reluctant to celebrate the marked calendar, I am truly blessed to be a father. As to my own father I do not know if I can say what I miss most about him. We could have had a challenged relationship or it may have been all sunshine and roses. Who can say? Not having made those memories of tossing around a ball in the backyard or being taught how to change spark plugs it is difficult to express if I even do miss him or am I just missing the idea of him. I know my life has a hole that will never be filled but that void has been part of the process that made me the man I am today. Perhaps what I miss most about him is having the opportunity to call him up just to say hello.

As this weekend we celebrate Father's Day, the pain of having lost my father overwhelms me. As I remember my father, tears well up in my eyes and stream down my face. My dad always wanted to move to Canada so he could provide better education and a better life for his kids. He wrote a letter to one of my uncles in Toronto for help. My uncle was more than willing and got in touch with an immigration office, successfully getting a visit visa for my dad. So the day came when he flew to Canada, in pursuit of a better future for his kids. I was only five years of age, going on to six. After a few months dad wrote us a letter saying he's fine and happy. That letter, and its many fellows down the years-- all with the same content-- kept coming to our doors for 11 years. Yet, even as he lived on here in Canada, his health was failing him-- but fearing we would worry he never let on about his ill health. He spent these years in Canada as a refugee; finally after 11 years when he got his landed immigrant papers, he wrote us saying he is coming to visit us and that all of us will be moving to Canada. The day never came... but we were not to know it then. We were all happy that we would finally be together. It was to be a huge family reunion. Sadly my father did not live to see his family together as he suffered a fatal heart attack. We were shattered, in pain and in tears. And we were starving for our dad's love. He did his best to support us get to Canada, then helped us be successful in Canada. I'm 42 today, and it's going to be 28 years since we've been living here. Yes, Canada is a wonderful country. I continue to learn new things and find new challenges, new experiences in this new life. But still so many times I can't help thinking it was here that my dad was taken away from us. When I miss him, I want someone to hold me, give me a hug. And when I see how everyone simply dotes on their dads, gives them gifts on Father's Day, wishes them a long, happy life, I want to do the same-- but to whom can I give my Father's Day gift and card to? Where can I get a warm loving hug, a kiss? And it hurts, that life is so short, all too short, and the ones we love and who sacrificed so much for us are taken away from us so very early. So early, in fact, that we couldn't even get round to telling them how much we love them. But I guess they are the ones whom even God loves so very much.

After 12 long days in the hospital, my mother, brother and I stood next to his bed. His vital signs were dropping and he was totally out. We still believed that we will eventually accompany a healthy daddy back home, where my other siblings were anxiously waiting. It was on that Saturday morning, that doctors confirmed that our daddy was dying. I couldn't get myself to believe that, until I watched my mother and brother break down into tears, as I stood there helplessly watching my old man slip away. Sometime around 9 a.m., a number of doctors and nurses rushed into the room and asked us to wait outside. Moments later, my father was pronounced dead. Walking back into the room minutes later, there was my hero, as if he were sound asleep. The pain I felt became so unbearable when I stood over his head and hugged his cold body tight, understanding then the true meaning of goodbye. We travelled back home. By Sunday, my father was peacefully rested under the ground. I remember going through the most difficult time of my life. Everything at home reminded me of him, his belongings were everywhere. For days, all I could do was crawl into his bed and weep his absence. Then I woke up one day and decided that for me to heal, I'm going to think of my father as if he had to go away for a while, and cope with my loss, one day at a time. I also promised myself to continue to live by his standards. After 10 long painful years of absence, that respectful college professor, that handsome man with the amazing character, warm smile, and heart of gold is still alive in my heart. I think of him every morning, and picture his face every time I close my eyes to sleep. I speak to him, seek his advice when I need it, and always get my answer! On the occasion of Father's Day, I pray that my dad's soul is rested in the higher heavens, Amen.

My father was killed in a friendly fire accident over the English Channel in 1944 just prior to D-day in the service of 6 Group, Bomber Command, in the RCAF. 10,000 Canadians died in its service. This happened two months after I was born. In all the time since, there has been a gap in my life. I understand why we all had to do combat with the Germans in WW2. But it left a wound that never healed especially for my late mother. And I have never ever forgotten him, and those other Canadians who did their job for humanity in Europe.

Last year and exactly on the Father's Day I was on my way back from London with my father after finishing my classes for masters. I woke up and told him happy Father's Day. papy, but his response was funny, saying "what Father's Day? are they going to come up with a new event just for the sake of celebration each year?" Father's Day is not that known in the Middle East. However, if I knew it was the last time I would be able to say it, I would have made him spend the happiest day of his life. My relationship with him was not only about the hugs and the kisses, but he taught me things throughout my life just sitting by his side. I saw him chasing down his dreams whether his career as an engineer or his dream to become a parliamentarian. He was the first one to engrave my passion about politics. He encouraged me by letting me work for a year and half unpaid while he was supporting me, just because I was pursuing my dream of working in the UN. He further invested in my education and let me do my master's when he could have saved up the money for anything else. He even pampered me just to make me comfortable enough and encouraged me to continue when I was about to abandon my master's because I feared living alone for the first time. People say that time heals, but it does not. Every single day that passes I realize more the fact that he is no longer around. It doesn't get easier at all, everyday that passes makes me more confused and angry that he is no longer around. I imagined every single thing about my wedding, but I didn't see my groom, I saw my father. I saw the smile on his face when he would see me in my wedding dress. I knew that we were going to dance on Eddie Holman's song "I love you" because it expressed everything he did for me. I imagined him walking me down the aisle, but when he got sick with a heart failure, I thought that I would push his wheelchair down the aisle. Yet, the only thing I haven't imagined is that he wouldn't be there for me in any other occasion in my life. I wish I can live up to his legacy and make him proud in his heaven. That's all what I am living for. I miss you, papy.

I am sure that you have heard it hundreds of times that "My father is one of a kind" and I am sure that you have thought to yourself "of course all dads are one of a kind for their kids." But, truly my father IS one of a kind and I will tell you why. He had an accident when he was a kid (around 10 years old) in one of his eyes while he was playing with one of his brothers and as a result of that accident he lost his sight in that eye despite the fact that my grandfather did his best at that time (late 1940s) to save my dad's eye by taking him from one country to another (Spain, Vienna) and from one famous doctor to another, all operating on his eye in the hope to save it but to no avail. By the age of 15 he underwent 11 surgeries that all failed. For his bad luck, he had a very rare case, that the other eye got affected by the damaged eye (although the second eye was not directly injured) and with time his sight faded in the second eye. The only way that was possible to save his second eye was to remove the damaged eye completely, but my grandfather refused this option and my father became completely blind in his 20s (he was seeing only light and shades since he was 10). While growing up, my father was very tough on us (the 3 kids), he used to scare us. He used to know what we were doing even if we were not in the same room, even when not in the same country. I used to joke with him and tell him that he is lying and actually he can see us but he is pretending not to see. The minute we graduated from university, he changed from a cruel father to a caring friend. Later we discovered his rationale: he wanted to be tough on us from early on to show us that life is tough and to teach us how to handle toughness and then despite this toughness how to be a soft, sweet, caring, loving and giving people. On every holiday, he used to take us to new places (within the country we were living in) to discover new food, try new things, he was so eager to live and to discover new places with us. On the way, he used to ask us to describe the road for him, he used to tell us to tell him what is there on the right side and what is on the left side, and he ask us to read the signs of the shops and the streets. He wanted to see the world through our eyes. He used to ask us about the colours of things around us and I always wondered why he cared about the colours. He used to ask us to take pictures for him with us all the time, now I know why. He was the most elegant man I saw in my life, I swear. He cared a lot about what he wore. He liked always to be dressed in a suit, his shirts has his initials on them, and always wore cufflinks and a watch! He always asked my mother to match the colour of his suit with the shirt, the tie, the belt, the socks and the shoes, and he always asked her to describe the colours she choose for him. I miss his jokes and trying to cheer us up when we felt down, I miss him when he used to say an old saying or wisdom in a certain situation and how he used to repeat it three times and then asks me to repeat it after him (as if he is passing his wisdom to me to carry it on). I miss him when he used to kiss me on my cheek with a loud voice when we used to be in public thinking that he will embarrass me. I miss him singing to me, and I miss him calling my name. I miss him calling me twice per day to ask me about my day, my work, my kids, what did I eat and if I want him to send me anything. I miss walking with him in the street and him holding my hand and me guiding him with every step. He just made us addicted to him and as if we are suffering from withdrawal syndrome now after he left us, but it is getting worse by the day. It's been exactly 16 months, but I'm still broken into pieces, he was my glue. I cannot get over it, my grief is so big. It's like a piece of me who I lost forever and I still did not manage to figure out how I will live without it. Hope you are able to see us finally from above, daddy. I love you and I miss you, till we meet again. I learned not only from his life, but also from his death.