Bono's Daughter Eve Hewson Is The Spitting Image Of Her Mom
Not only does Bono have a famous daughter we never knew about, but she's the spitting image of her mom, Irish activist Ali Hewson.
The couple's second child, Eve Hewson, is an actress and is best known for starring as Lucy on "The Knick," alongside Clive Owen. Recognize her?
Lock up your doctors. Lucy is back October 16th on @Cinemax @AtTheKnick pic.twitter.com/BJMNk4QLNL

— Eve Hewson (@EveHewson) September 15, 2015
After being blown away by this realization, we couldn't help but notice how much Eve looks like her mother. Just take a look at this photo evidence.
Here's a photo of mom Hewson in September 2015 compared to a snap of Eve from February 2016. The mother-daughter duo has the same dark hair, big eyes and sweet smile.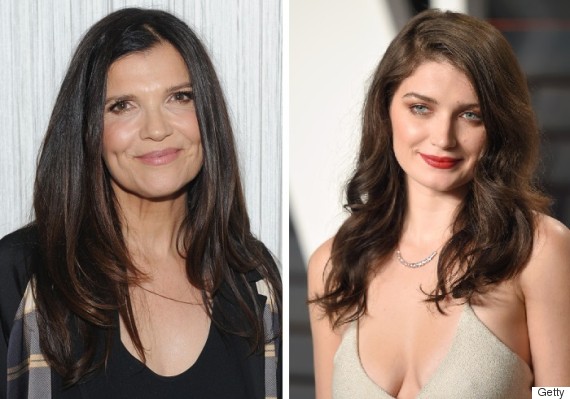 But their similarities are even more striking in the photos below. First is an image of Bono and his wife from 2011, and second is a photo from Eve's 2015 GQ photo shoot. In these images, the resemblance between Eve and her mother is undeniable!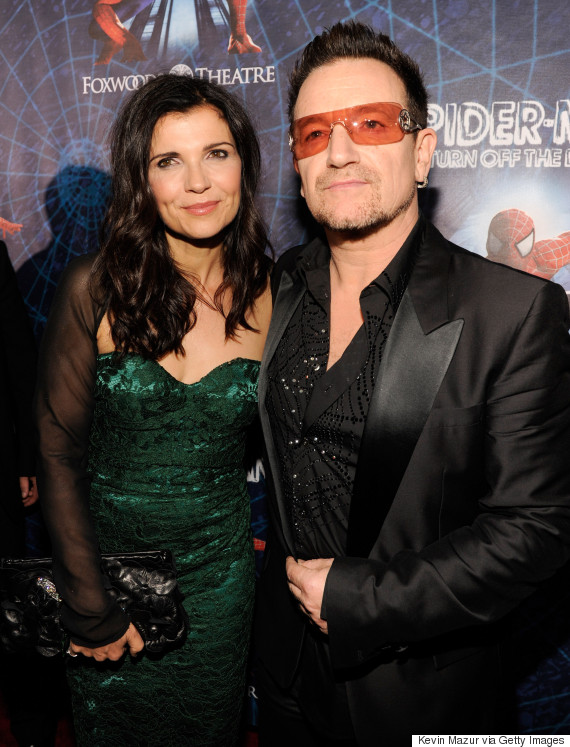 The 24-year-old appeared in her first film, "The 27 Club," in 2008 at the age of 17. She then went on to study acting at New York University and landed roles in other big films like "This Must Be The Place" and Steven Spielberg's "Bridge of Spies."
In a 2012 interview with Belfast Telegraph, Eve revealed that her parents originally didn't want her to pursue acting. "It's because they know that world and it's really hard," she said. "For a young female, especially, it's excruciating."
Nonetheless, Eve pursued acting and is now making a name for herself. In the same interview with Belfast Telegraph, she explained how her famous parents encourage her to have a good work ethic.
"My parents have been great about keeping us disciplined and making us work for what we want."
"I don't talk about money with my parents and I'm not the child who gets everything I want," the 24-year-old said. "My parents have been great about keeping us disciplined and making us work for what we want. We're lucky that we get to travel places and we enjoy going out and having fun — but I don't get handed money and I never will. I have to work."
Eve is just one of Bono and Hewson's kids. The couple also has three others: Jordan, 27, Elijah, 16, and John, 15.
The couple's eldest, Jordan, has also built a successful career and is following in her father's footsteps when it comes to his philanthropic work. Jordan is the online editor of Global Citizen, an organization that helps fight extreme poverty. Unlike her sister Eve, Jordan has opted to stay out of the limelight. Nonetheless, she has been spotted at high profile events with her family.
Here she is with her parents in 2013 at the French Ministry Of Culture. From the photo, it's clear she takes after her father.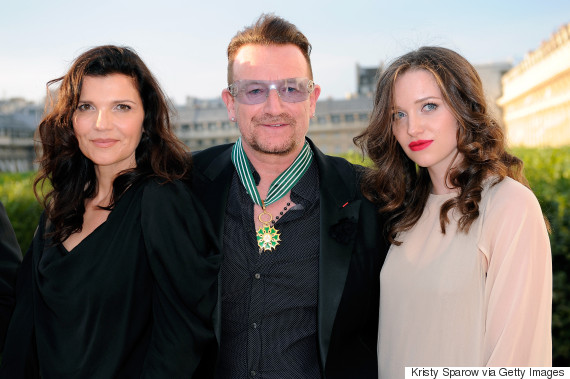 While Bono and Hewson's youngest kids have also kept out of the public eye, we bet they inherited their famous parents' good looks as well.
ALSO ON HUFFPOST:
Celeb Kids We Didn't Recognize In 2015
Tom Cruise and Nicole Kidman adopted Isabella and Connor during their 11-year marriage, in 1992 and 1995, respectively, according to Us Weekly. The two kids grew up to be accomplished young adults.

Isabella Cruise, 22, is now a hairstylist and works at a prestigious Vidal Sassoon salon in London. She also reportedly tied the knot in October, but did not invite her parents or her brother. Connor Cruise, 20, has appeared in a few minor film roles in the past few years, including "Seven Pounds" and "Red Dawn." But despites these acting gigs, Connor is actually an aspiring DJ. More pictures here.

When Steve Irwin's daughter Bindi posted a selfie on Instagram back in June, we almost didn't recognize her!

Now 17, Bindi follows in her late father's footsteps by promoting wildlife conservation. The teen also recently won Season 21 of "Dancing with the Stars" with partner Derek Hough. Throughout the season, Bindi made a number of tributes to her father, Irwin, who died after being stung by a stingray in 2006. More pictures here.

Corinne Bishop is the eldest daughter of Academy Award-winner Jamie Foxx. Although Corinne has been attending red carpet events with her famous father since she was a child, we still can't believe how much she's grown!

In November, the 21 year old was named Miss Golden Globes 2016. This position is usually filled by a child of a highly-respected celebrity, who is chosen to assist with the awards ceremony. Next year, the Golden Globes will be held on Sunday, Jan. 10. Besides being Miss Golden Globes, Corinne is also a model and a student at University of Southern California. More pictures here.

We recently came across the Instagram accounts of David Duchovny's kids, and boy are they the spitting image of their father!

Duchovny's daughter Madelaine, who goes by West, is now 16 years old and his son Kyd is 13. The "X-Files" star had both children during his marriage to Téa Leoni in 1997. Though the couple divorced last year, the family is still tight-knit. In fact, Duchovny and Leoni live down the street from each other. "We live five blocks away," Duchovny said. "For our children, it's necessary." More pictures here.

Céline Dion has three kids with husband René Angélil: René Charles and twins Nelson and Eddie. This year, new photos of the Canadian singer's eldest son popped up on social media, proving the young teen looks more like his mom than ever!

René Charles Angélil is now 14 years old and is a hockey player for Nevada Storm Bantam AA. Today, he posts a number of Instagram pics of himself supporting his team. More pictures here.

Catherine Zeta-Jones and Michael Douglas made a rare red carpet appearance with their kids in Jerusalem earlier this year. Standing next to one another, it wasn't hard to see the family resemblance!

Dylan, 14, takes after his mother with the same dark hair and identical smile, while Carys, 12, looks just like her father's mini-me. More pictures here.

We can't believe Lionel Richie's youngest daughter is all grown up and making her mark on the world!

The 17 year old is now a model and in July, she landed the cover of ASOS magazine. "Modelling is my thing right now," she told the mag. "Vogue is a massive goal for me. I hope my character will make people see past the fact I'm not 6 foot 5." Sofia is the daughter of Lionel and Diana, who split in 2004. The couple also had a son, Miles, who is now 21, and, of course, the famous Nicole Richie. More pictures here.

Back in June, Kelly Ripa shared a sweet Instagram snap and birthday message for her daughter Lola and we couldn't believe how much the two looked alike!

Fourteen-year-old Lola Grace is Ripa's only daughter. The talk show host also has two sons with husband Mark Consuelos. Eldest son Michael is 18 and youngest Joaquin is 12. More pictures here.

Frances Bean Cobain is the daughter of the late Kurt Cobain and Courtney Love. She was just 20 months old when her father died in 1994.

Frances Bean is now all grown up and a married woman. According to E! Online, the 23 year old secretly tied the knot with her boyfriend of five years, Isaiah Silva, in September this year. Frances is now a visual artist and an executive producer on a documentary called "Cobain: Montage of Heck," which tells the story of her father's life. More pictures here.

Jon Bon Jovi is a father of four, but none of his kids look more like him than his eldest son Jesse.

Now all grown up, the 20 year old is the carbon copy of his father and a junior on the Notre Dame Fighting Irish football team. Bon Jovi is also a father to 22-year-old Stephanie, 13-year-old Jacob and 11-year-old Romeo. More pictures here.

In October, "Back to the Future" star Lea Thompson stepped out with her daughter Zoey at the film's 30th anniversary screening.

We couldn't believe how stunning the mother-daughter duo is! Deutch is now 20 years old and is following in her famous mom's footsteps. She is most known for her roles in "Beautiful Creatures" and "Vampire Academy." More pictures here.

Canadian actor John Candy was huge in the '80s. Unfortunately, he passed away in 1994 but his legacy still lives on through his films ad his daughter Jennifer, who is following in his footsteps.

Jennifer is the eldest of Candy's two children. Now 35, she is a successful comedian, actress and producer. In the past, she's starred in TV shows such as "Camp Candy" and "According to Jim." She also hosts her own interview-type show called "Couch Candy." More pictures here.

Mel B's eldest daughter Phoenix has come a long way since her tomboy days!

In November, the 16 year old stepped out with her mother at an awards ceremony in Mexico City and we almost didn't recognize her! Phoenix is the daughter of Melanie Brown and dancer Jimmy Gulzar. According to the former Spice Girl is currently in the top team for basketball at her school. More pictures here.

We did a double take when we saw Uma Thurman and Ethan Hawke's daughter Maya attend the 2015 CFDA Awards back in June.

At 16 years old, Maya made her fashion debut at the red carpet event, modelling one of fashion designer Zac Posen's gowns. While still a young teen, we couldn't help but notice how grown up she looked and how much she resembled her famous parents. More pictures here.

It's been six years since Michael Jackson passed away. Since then, his kids have done a lot of growing up.

In May, Jackson's oldest child Prince (pictured left) graduated high school with honours. The 18 year old is now a freshman at Loyola Marymount University in Los Angeles. Paris, Jackson's second child, is now 17. Earlier this year, photos of Paris and her soccer player beau Chester Castellaw made their way on to social media, proving the teen has unique style just like her late father. Jackson also had another son, Blanket, who is 13 years old who likes to keep away from the limelight. More pictures here.

Johnny Depp's daughter has certainly turned heads this year thanks to her budding career as a model.

Lily-Rose is the daughter of Johnny Depp and Vanessa Paradis. The former couple also has a son named Jack. Now 16, Lily-Rose is following in her mom's footsteps as a model. In July, she made her modelling debut for Chanel. More pictures here.

Angelina Jolie and Brad Pitt's kids aren't exactly all grown up, but boy have they changed!

Pictured here is Maddox (far right), the eldest, who is now 14 years old. His brother Pax (far left) is 12 and sister Shiloh is 9. Not pictured is Zahara, who is 10, and twins Vivienne and Knox who are now 7. Can you believe it?! More pictures here.