Canadian Blood Donation Deferral For Gay Men Shortened, But Not Ended
OTTAWA — Gay men will be able to donate blood after abstaining from sex with other men for one year.
The Canadian Blood Services (CBS) and Héma-Québec have confirmed that, as first reported by The Huffington Post Canada, Health Canada has accepted their proposal to drop the blood donation deferral period from five years to one year. The change will take effect across the country on Aug. 15.
"This is an exciting, incremental step forward in updating our blood donation criteria based on the latest scientific evidence," Dr. Graham Sher, chief executive officer, Canadian Blood Services said in a press release.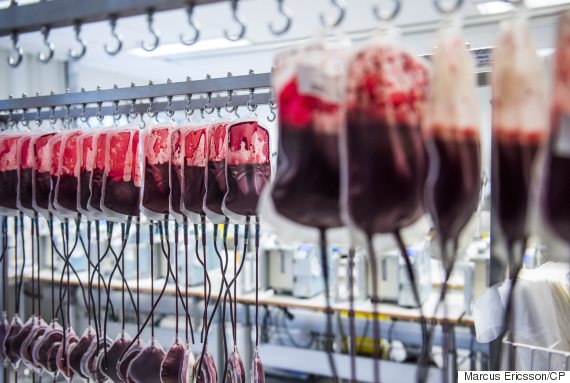 The CBS said it is exploring the possibility of moving toward behaviour-based screening and working with researchers, the LGBTQ community, patient groups and other stakeholders to determine how to gather the scientific evidence required to determine future changes to the eligibility criteria.
"Our first priority continues to be safety, as patients bear 100 per cent of the risk associated with changes to our eligibility criteria," the agency said.
The decision doesn't go as far as the Liberals' campaign commitment to end the ban, but the federal government says it will fund research to see if the deferral period can be further reduced or dropped completely.
'Step in the right direction'
"This is a step in the right direction, [but] we're not there yet," said a government official, speaking on condition of anonymity because he wasn't authorized to speak on the matter.
After the Orlando massacre, in which 49 people were killed in a gay night club, activists raised concerns that gay men, the community hardest hit, weren't eligible to donate blood to the victims.
Michael Bach, founder and CEO of the Canadian Centre for Diversity and Inclusion, has been leading a campaign to have the deferral period lifted completely. He says it's discriminatory and not based on current science.
"I as a gay man who is married and have been in a monogamous relationship for seven years, I cannot donate blood today," he told The Canadian Press.
Kristopher Wells, director of the Institute for Sexual Minority Studies at the University of Alberta, told Vancouver's News 1130 the current ban on gay men donating blood only continues to "perpetuate harmful and hurtful stereotypes and the kind of stereotypes that can lead to prejudice, discrimination, and violence in our society."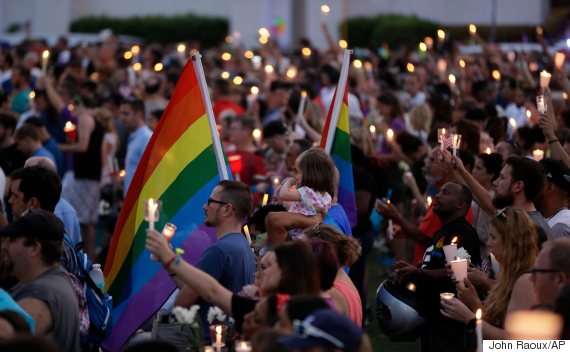 Supporters of the victims of the recent mass shooting at the Pulse nightclub attend a vigil at Lake Eola Park, Sunday, June 19, 2016, Orlando, Fla. (Photo: John Raoux/AP)
As the regulator, Health Canada cannot reduce the independent blood agencies' recommendation, from one year to six months for example. Health Minister Jane Philpott can only approve or reject their application.
"We respect their independence, but, we are saying, if they are making decisions based on the science, and perhaps a gap in the science is the reason for things moving at a slower pace, maybe we can, as a research funder, help with that," the government official said.
Health Canada has discussed with the CBS and Héma-Québec making all of its policies behaviour-based and gender-neutral — something the agencies are already committed to doing.
Health Canada is interested in funding a conference of international blood agencies to share best practices. The government is also offering to fund research on:
experiences in other jurisdictions;
how questionnaires and screening practices can be re-designed;
new technological advances around screening for blood borne pathogens;
"It's fairly open-ended at this point, to be determined in terms of what can be most helpful," the official said.
"We are hopeful that things will continue to move in the right direction, as the science indicates that it should happen, but also not any slower than that," he added. "This isn't something that we want to see on the backburner."
Liberals said ban 'ignores scientific evidence'
During the 2015 election, the Liberals' promised to end the gay blood donation ban.
"It's a ban that ignores scientific evidence, and it needs to end," the party said, noting that the five-year ban on sexually active gay men ignores safe and monogamous relationships.
In March, CBS and Héma-Québec filed a proposal to reduce the deferral period from five years to one year, bringing Canada into line with the standard in the United States, the United Kingdom, Australia and the Netherlands.
"We thought that moving to a one-year deferral period would be a reasonable next step," said Dr. Mindy Goldman, medical director of donor and clinical services at CBS, noting the agency's testing had improved tremendously in detecting evidence of HIV and other potentially deadly transmissible pathogens in blood donations.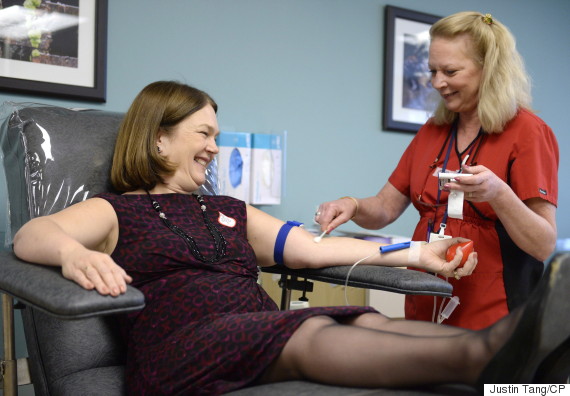 Health Minister Jane Philpott donates blood at the Canadian Blood Services in Ottawa on Monday, Dec. 14, 2015. (Photo: Justin Tang/CP)
Health Canada media relations advisor Rebecca Gilman told HuffPost last week that the one-year deferral period would be accepted only if the data could demonstrate that the change would not compromise the safety of the blood system.
"Canada has one of the safest blood systems in the world due to its strict licensing, inspection and surveillance requirements," she wrote in an email.
On its website, the CBS notes that it is hoping to bring "incremental changes" so it can be as minimally restrictive as possible, while also maintaining the safety of the blood supply.
It notes, that in 2014, Australia's health regulator denied a proposal to move to drop its one-year deferral period for gay men to six months.
"Our aim is to identify a long-term solution that prioritizes patient safety while minimizing the societal impact on certain groups of people," the CBS states.
Grim legacy of tainted blood scandal
Men who have sex with other men still account for the largest proportion of new HIV infections reported in Canada, the agency says in explaining its deferral period.
In the early 1980s, some 30,000 Canadians became infected with the hepatitis C virus and approximately 2,000 more contracted HIV from contaminated blood products, in what became known as the tainted blood scandal.
The finger was later pointed at the Canadian Red Cross Society for, among other things, inadequately screening at-risk groups and not doing enough to notify recipients of potentially contaminated blood.
Health Canada was also blamed for failing to recognize the threat and taking a passive approach to blood regulation.
As a result, the Canadian Red Cross Society banned men who had sexual contact with another man even once since 1977 from giving blood, considering them "high risk" to spread HIV. That changed in 2013 when CBS and Héma-Québec proposed a five-year deferral period.
Full statement from Health Minister Jane Philpott:
Today, Canada took a step forward in reducing barriers that prevent men who have sex with men from donating blood.

Health Canada approved a proposal from Canadian Blood Services and Héma-Québec, submitted earlier this year, requesting the ability to revise current policies with regard to blood donation by men who have sex with men (MSM).

Since 2013, Canada has had a 5-year deferral period for MSM donors – meaning they were unable to donate blood if they have had sexual relationships with men during the past five years. The two blood agencies have requested, and Health Canada has approved, a request to reduce this period to one year.

This change brings Canada in line with many other countries – including the United States, Australia, New Zealand, England, Scotland and France. The evidence that we have seen allows us to move in this direction with the utmost confidence that the safety of Canada's blood system will be maintained.

I recognize that this 4-year reduction in the deferral period is not a radical change, and will not change the circumstances for many MSM donors who are currently prevented from donating blood. That being said, I would rather see Canada take a step in the right direction than stand still.

To that end, I am pleased that Canadian Blood Services and Héma-Québec are reviewing, and will actively consider, changes that ensure blood donation policies are gender-neutral and behaviour-based. I am also pleased that they will continue to review the available research and data to ensure their policies remain evidence-based.

With these objectives in mind, Health Canada will provide a $3M contribution to Canadian Blood Services and Héma-Québec to fund behavioural research to ensure non-discriminatory practices; organize an international seminar with health leaders from around the world to discuss blood donor policy; and encourage further development of technologies (such as pathogen reduction technologies) by working with industry and academia.

In addition, I am hopeful that the House of Commons Standing Committee on Health will decide to undertake an immediate study of the restrictions on MSM blood donation, as proposed by MP Len Webber, to determine how restrictions can be reduced while maintaining a safe blood supply.

I am confident that any remaining barriers to MSM blood donation will be removed – it is only a question of when.
With files from The Canadian Press and previous files
Related on HuffPost:
When Dean Willis' father-in-law needed blood after getting heart-bypass surgery in 1975, he unhesitatingly stepped in to help, News4ajax.com reports. Since then, the coveted O-positive blood donor has given 100 gallons of blood and saved 2,000 lives. "I guess it's a cliché, but you know, it makes me feel good," Willis told the news outlet.

Paul Olsen, 79, donated his 400th pint of blood in August, according to Mainlinemedianews.com. The Pennsylvania native donates platelets, which is key to helping cancer patients, and gives twice a month. "I really feel good [about giving] because it helps other people," Olsen told the news outlet. He hopes to ultimately hit his 500-pint goal.

Honored with the "Golden Heart Award" from the Heartland Blood Centers for having donated blood 200 times, Warren Krup continues to give, despite a disability. "I get to sit and take a break, and it saves a life," the 52-year-old Illinois native told the Courier News. "Why wouldn't you want to do that?"

About 40 percent of dogs are universal donors, making Sparkle, a California-based rescue Greyhound, a critical lifesaver for pooches in need. "For every unit of blood that she gives, she will help at least two other dogs," Mary Beth Bartel, Sparkle's owner, told ABC. Sparkle donates once a month and her name is included on a 24-hour emergency call list.

When Ralph "Rocco" Russo hit his 300th donation at the Dana-Farber Cancer Institute, nurses honored him with a cake, the Boston Channel reports. But, the true reward for Russo is knowing that he's helped save hundreds of lives, including Nicole Sorensen, who battled -- and overcame -- cancer when she was 14. "People will give once. People will give twice," Sorensen told the news outlet. "But to give 300 times every other week religiously is incredibly moving."

Barbara Brinkmann has been donating blood since she was 16-years old, KENS5 reports . "I do it on a regular basis and I enjoy doing it," Brinkmann told the news source. "It's a wonderful way to give back to the community." For her generosity, the San Antonio, Texas resident was rewarded with a brand new 2012 Toyota Tundra pickup truck. Naturally, it's bright red.