World Refugee Day 2016: 4 MPs Reflect On What It Meant To Be Embraced By Canada
They came to Canada with precious little and now exemplify what's possible in this place.
On Monday — World Refugee Day — the Liberal party released a short video online showcasing four MPs who understand better than most what it's like to start over in a strange place.
Democratic Institutions Minister Maryam Monsef found safe haven after escaping Afghanistan, while Toronto MPs Garyanada Sangaree, Arif Virani, and Ahmed Hussen came to Canada from Sri Lanka, Uganda, and Somalia, respectively.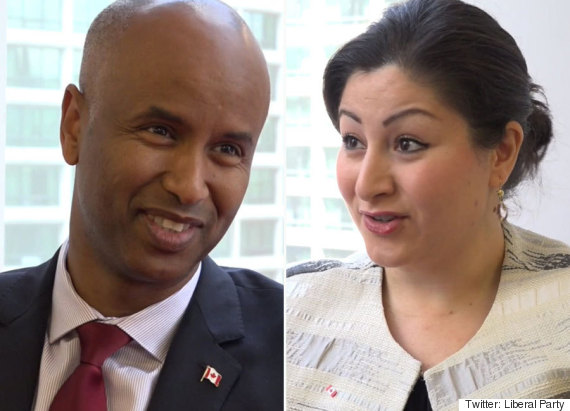 Ahmed Hussen and Maryam Monsef.
In the clip, Monsef notes that Peterborough, Ont. "seemed like heaven" when she arrived in 1996. Both Sangaree and Hussen remember the cold and the snow that marked their arrival.
All suggest that what makes Canada special is the way it embraces diversity.
"Everything was orderly, everyone got along," says Hussen, who arrived in 1993. "There were people of many faiths and ethnicities and yet there was harmony and cohesion."
"You can come from any part of the world, you can love anyone, you could be whatever you are… and still be the same," Sangaree says.
Virani says it's all part of what makes Canada "par excellence."
"A country that allows you to be whatever you want to be."
Watch the full video below:
On #WRD2016, @MaryamMonsef, @gary_srp, @AhmedHussenLib & @ViraniArif recall their experiences as refugees:https://t.co/7a58gR5SS9

— Liberal Party (@liberal_party) June 20, 2016
&nbsp
Monsef touched on many of the same themes in an interview with The Huffington Post last November, shortly after she was named to cabinet.
Monsef said the warm embrace of neighbours in her Ontario city made her family feel like they weren't alone when she arrived at the age of 11, homesick and unable to understand English.
Those who helped her widowed mother get by also showed Monsef and her sisters "that we had a community … that it was going to be OK, [and] that we belonged there."
"Twenty years later ... that kindness stays with me, and I hope that as a member of Parliament, I can repay some of that through my service," she said.
'Somber milestone'
Prime Minister Justin Trudeau also released a statement Monday, calling World Refugee Day a "somber milestone" because of the estimated 60 million people — more than half of them children — who are refugees, internally-displaced persons, or asylum-seekers.
New figures from the United Nations' refugee agency put that number at more than 65 million.
"In a time of economic uncertainty and tightening security, it is easy for countries to shy away from the plight of those seeking shelter from conflict and persecution," Trudeau said in the release. "We must do better than that, and lead with open minds and warm hearts, not closed borders and cold indifference."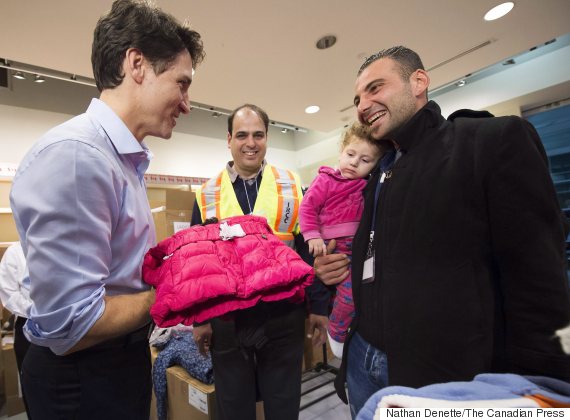 Prime Minister Justin Trudeau gives winter clothes to Syrian refugees, 16 month-old Madeleine Jamkossian and her father Kevork on December 11, 2015 in Toronto. (Photo: Nathan Denette/CP)
Canada was built by those who fled war and oppression, he said, and remains a nation of immigrants.
Trudeau lauded the fact that 25,000 Syrian refugees have been welcomed in Canada since December, with another 15,000 privately-sponsored refugees still to come.
But Trudeau also used the occasion to note "regrettable moments" when Canada has turned away those in need, from the Chinese Exclusion Act to the Komagata Maru incident, for which he formally apologized in the House of Commons last month.
"Today, tomorrow, and all the days to come, let us show the world that Canada truly is the compassionate, generous country that we know it to be," he said.
New @refugees data reveals highest displacement level ever recorded - https://t.co/0k4SSrUkxl #UN4RefugeesMigrants pic.twitter.com/DylZRwEhoV

— United Nations (@UN) June 20, 2016
Also On HuffPost:
Great Things Canadians Have Done So Far For Syrian Refugees
Joe Woodsworth, a senior manager with Surrey, B.C.-based Options Community Services picks up dozens of backpacks, each filled with school supplies for Syrian children. Operation Backpack is the idea of former 24Hours columnist Laila Yuile.

Malak arrived with her family in July after living in a Jordanian refugee camp for two years. Her teeth were so decayed the 5-year-old girl was kept up at night because of the pain until a local dentist stepped forward to help the family for free.

"Hopefully, together, we can prove that Canada in general and the Maritimes in particular are as generous and welcoming as the rest of the world thinks we are," P.E.I. artist Amy Seymour told HuffPost Canada.

In November, the Edmonton Oilers captain gave $10,000 to Edmonton's Mennonite Centre for Newcomers to support their work in helping to resettle incoming Syrian refugees. The donation helped the group meet its two-month goal in a single day.

The Guelph businessman made headlines last month after stepping forward to say he intended to spend $1.5 million to privately sponsor 50 Syrian refugee families to come to Canada. Estill explained he was tired of seeing refugee applications get snarled in long, bureaucratic processes. "I'm a businessperson, I'm very impatient, and we should just do it now," he said.

"It's really good to know that we're so compassionate and that we want to help," said Darrell McLeod of St. Clare's refugee family sponsorship group. "Everybody's very excited about it. Everyone's been really excited to make things happen."

Westbank Developments founder Ian Gillespie is behind many of downtown Vancouver's glitziest skyscrapers.A descendant of Irish immigrants, he made a pledge in November to furnish a 12-unit West End apartment complex and open it to incoming refugees. He also said he's exploring ways to help Syrians get jobs after they arrive in the city.

A small group of from the Keewatin Otchitchak traditional women's drum group gathered by baggage carousels to greet 17 Syrians to Treaty 1 with a song of welcome.

"I need to point out that the people who are desperate refugees are fleeing from the exact same people who perpetrated the kind of violence we saw in Paris and Beirut last week," the Calgary mayor told reporters a week after deadly attacks in France and Lebanon. "They're running away from the bad guys and, as such, we need to be able to open our arms to make sure that we can provide safety to these folks."

Christine Youssef (pictured) greets newly arrived Syrian relatives on a bus near Pearson International Airport in Mississauga on Dec. 11. Youssef and her mother are sponsoring 43 of their Syrian relatives to come to Canada. Thirteen have arrived and are staying at the family's small Scarborough, Ont. bungalow. Soon, nine of the relatives will move out, making room for more relatives to come in.

When CBC News reporter Eman Bare interviewed Mohamed Al-Noury, 21, and Athar Farroukh, 23, she realized the Syrian refugee couple had no wedding pictures. So Bare put a callout on soical media to surprise the high sweethearts with a wedding. Her request spread and within 24 hours people came forward donating a venue, suit, dress, and cake. "Grateful for a community that makes beautiful things happen," wrote Bare on Instagram below a photo taken at the couple's Saskatoon ceremony.
With a file from The Canadian Press