Heritage Minutes Dive Into 'Darker Chapters' Of Canada's History
Two new Heritage Minutes released Tuesday focus on significant moments in Indigenous history.
The clips, produced by Historica Canada, were written by acclaimed author Joseph Boyden, according to a press release.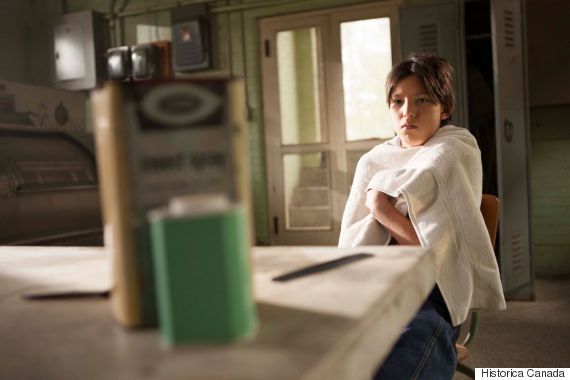 Davin Bomberry stars as Chanie Wenjack in Historica Canada's new Heritage Minute. (Photo: Historica Canada)
Unlike other Heritage Minutes that focus mostly on Canadian inventors and achievements, the two videos "highlight darker chapters of Canadian history." They come on the 20th anniversary of National Aboriginal Day and a year after the conclusion of the Truth and Reconciliation Commission.
One of the videos tells the story of Chanie Wenjack, an Anishinaabe boy who ran away from the Cecilia Jeffrey Indian Residential School in 1966 and died during his escape to go home.
"His death sparked the first inquiry into the conditions faced by residential school students," reads the Historica Canada release.
The Wenjack minute, embedded above, is narrated by his sister Pearl Achneepineskum, a residential school survivor.
"I survived residential school. My brother Chanie did not," Achneepineskum says as she holds up a photo of her brother.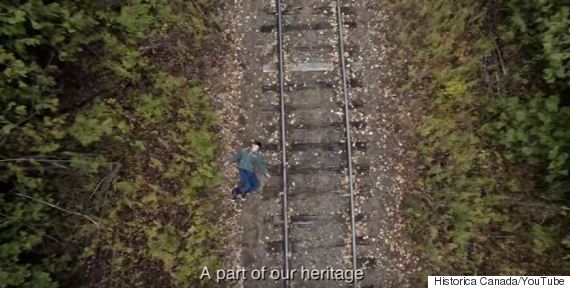 Chanie Wenjack ran away from a residential school in 1966. (Photo: Historica Canada/YouTube)
About 150,000 First Nations, Inuit and Metis children were forced to attend the church-run residential schools over much of the last century as part of government efforts to "take the Indian out of the child.'' Many suffered horrific abuse.
"If Canada is going to move towards reconciliation then we have to engage in some hard truths about residential schools and treaties," said Shane Belcourt, the director of the two videos.
"I survived residential school. My brother Chanie did not."
The second clip is titled "Naskumituwin (Treaty)." It explores the August 1905 signing of Treaty 9 through the experience of 18-year-old Cree man George Spence.
Spence passed the story of the signing down through his family, according to Historica Canada.
"In his life he saw many promises of the treaty go unfulfilled," his great-granddaughter Rosary Spence says in the clip.
You can watch the Naskumituwin video below:
With files from The Canadian Press
Also On HuffPost:
Residential Schools: A Photo History
Children hold letters that spell "Goodbye" at the Fort Simpson, N.W.T, Residential School in 1922.

The blackboard on the left reads: "Thou Shalt Not Tell Lies." Cree students at the Anglican-run Lac la Ronge Mission School in Saskatchewan in 1945.

Inuit children who lived too far away and had to stay at school during the summer at the Anglican Mission School in Aklavik, N.W.T. in 1941.

Sisters of the Soeurs du Sacré-Coeur d'Ottawa and students on the steps of the school on the Pukatawagan Reserve in Manitoba in 1960.

An undated photos of aboriginal students attending the Metlakatla, B.C., Residential School.

La Tuque Residential School's hockey team at a tournament held during the Quebec Winter Carnival in 1967.

Canada's first and only Indian Air Cadet Unit, "No. 610" in 1956. The boys are from the Roman Catholic-run Williams Lake, B.C., Residential School.

Chemistry class at Kamloop's Residential School in 1959

Students play pool at the Norway House Residential School in Manitoba in 1960.

Students at a dormitory of the Shingwauk Residential School in Ontario in 1960

The carpentry shop at a Kamloops, B.C., residential school in the late 1950s.

Children at the Fort Resolution, N.W.T., residential school in 1928.

Undated photo of a group of students and parents from the Saddle Lake Reserve in Alberta en route to the Methodist-operated Red Deer Industrial School.

St-Michael's Residential School in 1959

Shingle Point Residential School & Home For Boys, Mackenzie District, N.W.T. in 1930.

Students from the residential school in Moose Factory Island in Ontario attend a service at St. Thomas Anglican Church in 1946.

Aboriginal children at the Roman Catholic-run Fort Providence Residential Mission School in the Northwest Territories in 1929.

An undated photo of a dog team carrying a hay load near the residential school at Fort Resolution, N.W.T.

Undated photo of children cutting logs at the residential school in Fort Resolution, N.W.T.

Undated photo of boys cutting hay at the residential school in Duck Lake, Sask.

Two Métis children with an Inuit child at the All Saints Residential School, in Shingle Point, Yukon, in 1930.

Students at the Onion Lake Catholic Residential School in 1950.

Adeline Raciette amd Emily Bone study on the lawn of the Assiniboia Residential School in Manitoba in 1958.

Students share dish-washing chores at Portage La Prairie Residential School in Manitoba in 1950.

Fort Qu'Appelle Industrial School in Saskatchewan in 1884.

The Alert Bay Mission School in British Columbia in 1885.