Donald Trump And Hillary Clinton's Free Trade Talk Shouldn't Worry Canada Much. Here's Why.
Donald Trump likes to talk a lot of trash about trade agreements that involve Canada.
In a "60 Minutes" interview last year, he called the North American Free Trade Agreement (NAFTA) a disaster, and said he would renegotiate it.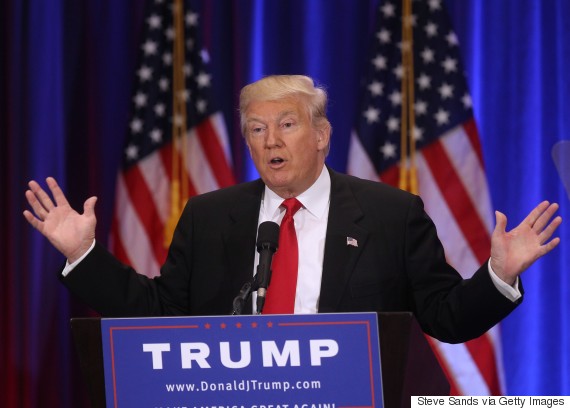 But when it comes to action, Trump's doing a lot more of this.
All this talk has less bite than it does bark, according to a TD Bank report released Monday.
But concerns nevertheless exist among Canadian businesses as both Trump, and presumptive Democratic nominee Hillary Clinton, ramp up the rhetoric on free trade in the race for the White House.
Trump, for example, has proposed a 35 per cent tariff on imports from Mexico. But that could hurt America's businesses as much as it does its neighbour to the south, because many of those products have content that was made in the U.S. to begin with.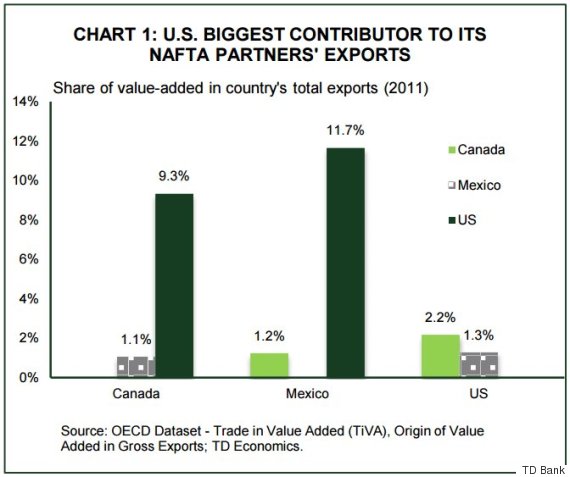 The chart above, from TD Bank, shows that products imported from Mexico could have as much as 11.7 per cent of value that was added in the U.S. Another study says this content could be as high as 40 per cent.
"That shows that tariffs on Mexican imports would heavily impact U.S. suppliers, in addition to raising prices for consumers," TD Bank said.
Then there are questions as to how much presidents can actually do.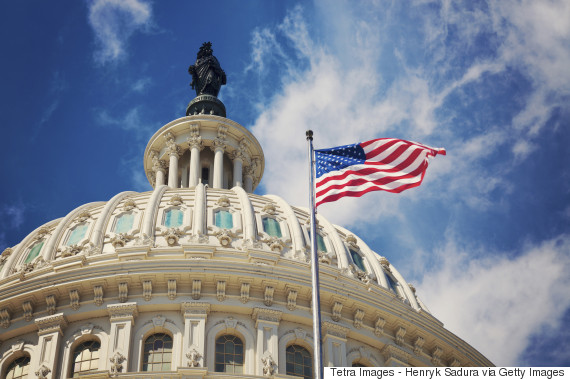 The Capitol Building in Washington, D.C. (Photo: Sadura/Getty Images)
The U.S. can withdraw from NAFTA with six months' notice. But it's not clear whether the president can do this without the approval of Congress.
TD Bank said previous trade agreements such as NAFTA and the Canada-U.S. Free Trade Agreement (CUSFTA) have been treated as "congressional-executive agreements" and have received the stamp of approval from the House of Representatives and the Senate.
And because Republicans voted in support of NAFTA even more than Democrats did, it's tough to believe that a GOP-dominated Congress would stand behind protectionist free trade policies, the bank added.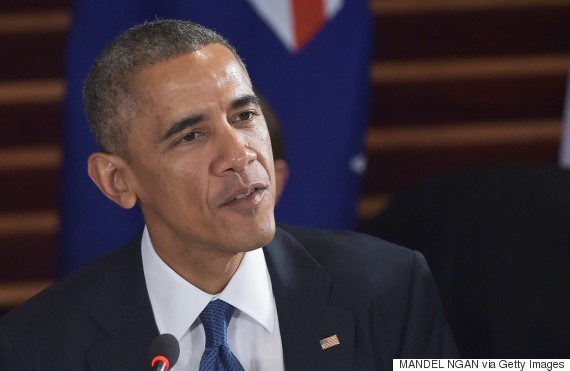 U.S. President Barack Obama speaks during a meeting with leaders from the Trans-Pacific Partnership (TPP) at the US embassy in Beijing on November 10, 2014. (Photo: Mandel Ngan/AFP via Getty Images)
Presidents have also tended to soften their free trade talk when they have reached office.
Take Barack Obama, for example. The outgoing U.S. president made a number of anti-NAFTA statements while running for the Oval Office in 2008.
But once he ended up there, he gave his support to the Trans-Pacific Partnership (TPP), a proposed agreement between 12 Pacific Rim countries including Canada, the U.S., Japan, New Zealand and Australia.
Clinton, meanwhile, voted in favour of free trade deals during her time in the Senate.
"Protectionist policies are like trying to put the toothpaste back in the tube ..."
TD Bank wasn't dismissive of concerns that Canadian businesses might have as Trump and Clinton duke it out for the presidency.
It noted that Canada's meat industry lost as much as $1 billion every year from 2009 to 2015, amid a row over country of origin labelling.
But ultimately, Canada can take solace in one thing: that presidential candidates often talk tougher on the hustings than they do when they reach office, TD Bank said.
"Protectionist policies are like trying to put the toothpaste back in the tube — it's difficult to do, messy, and can be wasteful," the report read.
Also on HuffPost:
Canada-EU Free Trade Deal: What You Need To Know
Then-Prime Minister Stephen Harper preliminary signed CETA with European Commission president Jose Manuel Barroso in 2013. The deal has been slowly moving through the ratification process ever since. Pictured: Canadian Prime Minister Stephen Harper and European Commission President Jose Manuel Barroso shake hands following a joint media availability Friday, October 18, 2013 at the European Commission in Brussels, Belgium.

Canada will partially extend patent protection for brand-name drugs, which would delay the introduction of cheaper generics by up to two years. Officials say it will be eight years before any impact of these changes show up as higher costs for provincial drug plans. Earlier reports have suggested the cost to the health care system of extended drug patents could run between $1 billion and $3 billion annually.

Domestic car producers will be able to increase sales into Europe to 100,000 units from about 10,000 today under relaxed rules. The EU will phase out its 10-per-cent tariff on imports, and Canada will phase out a 6-per-cent tariff on European car imports. That could be good news for Canadian fans of European luxury cars, as those vehicles will be cheaper. But that, in turn, could be bad news for Canadian auto manufacturers.

Canadian beef farmers can increase their quota by 50,000 tonnes, in addition to 15,000 tonnes for high-quality beef. Pork farmers will see their quota rise to 80,000 tonnes from the current 6,000. But producers will have to convert to hormone-free product for the European market, which experts say can add about 15 per cent to costs.

Companies will be allowed to bid on major government procurement contracts right down to the municipal level. A joint study showed the new access will give European companies leeway to bid on federal contracts worth between $15 billion and $19 billion an year, and municipal contracts worth $112 billion a year. Critics say that, because of the common practice of "hiring Canadian" in government contracts, EU access to them could mean job losses in Canada.

Foreign takeovers of Canadian firms now require a formal federal government review if the deal is worth $1 billion or more, but this agreement will raise that to $1.5 billion.