Canada's Rich Population Dropped Like It Did In Few Other Countries Last Year
Last year, rich people in Canada were like ...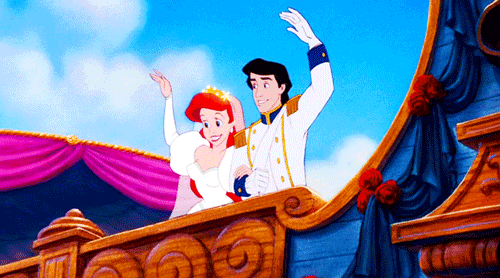 And Canadians were like ...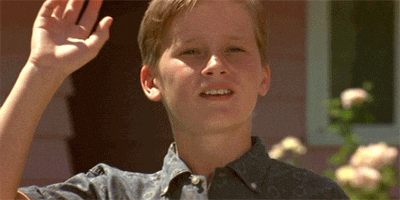 The 2016 World Wealth Report, a study looking at the world's population of rich people and how much money they have, shows that Canada lost as many as 10,000 high net-worth individuals (HNWIs) between 2014 and 2015.
And that helped to put North America behind the Asia Pacific region when it came to wealth growth last year.
Ouch.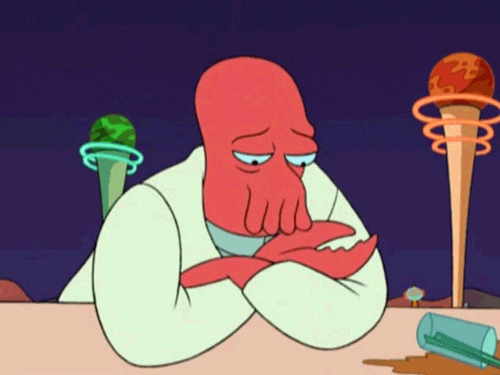 The study, by consulting firm Capgemini, arrived at its conclusions by looking at data from 71 countries that account for 99 per cent of global stock market capitalization and 98 per cent of world gross national income.
The data came from sources such as the World Bank, the International Monetary Fund (IMF) and individual countries.
It defined high net-worth individuals as people who had investable assets worth US$1 million or more, excluding belongings such as a primary residence and collectibles.
Canada ranked eighth in the world last year when it came to the number of HNWIs (321,000) living here. But that was down from 331,000 HNWIs in 2014, for a drop of about three per cent.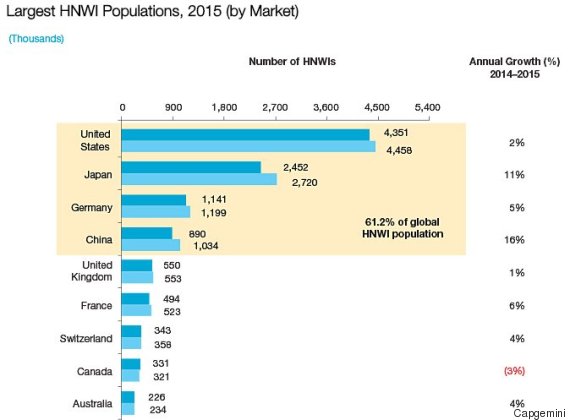 The decline didn't translate to a change in its ranking. But it did prove to be a drag on North America's status as the fastest-growing wealth region.
The continent's population of rich people only grew by two per cent, their wealth by 2.3 per cent. That was well below the Asia-Pacific region, whose wealthy population grew by 9.4 per cent, their wealth by 9.9 per cent.
Capgemini's report said that while North America's real estate market and economy performed solidly, equity markets in both countries "finished 2015 in negative territory," limiting their wealth growth.
But Canada found itself among only five countries whose wealthy population declined between 2014 and 2015.
Those countries included Brazil, whose wealthy population fell by eight per cent; Singapore, where it fell three per cent; and Russia and Mexico, where the number of rich people each dropped by two per cent.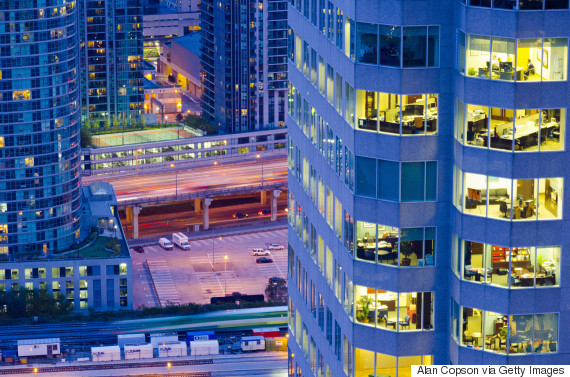 Toronto's financial district. (Photo: Alan Copson/Getty Images)
Canada's negative results came as its stock markets continued to slacken.
Earlier this year, Macleans reported that the S&P/TSX Composite had fallen to 2006 levels, leading to what it called a "lost decade for owners of Canadian stocks."
Reporter Chris Sorensen noted that "now more than ever, [Canadian stocks] rise and fall on the whims of the boom-and-bust world market for oil and various metals and minerals."
Also on HuffPost:
Total net worth: $5.63 billion Up 12% from last year. The Richardsons have owned agribusiness giant James Richardson & Sons Ltd. for 158 years. CEO Hartley Richardson (pictured, left, with Governor-General David Johnston, right) is the fifth generation of Richardson to run the company.

Total net worth: $6.1 billion Up 9% from last year. Paul Desmarais Sr. inherited a troubled transportation company from his grandfather and built it into the international conglomerate known as Power Corp. Desmarais passed away in 2013, and his sons Paul, Jr., and Andre run the company today.

Total net worth: $6.43 billion Up 3% from last year. Giuseppe Saputo opened a cheese making company in Montreal in 1954, and the company has grown into a multinational dairy producer with close to $10 billion in revenue annually. Pictured: Saputo Chairman Lino Saputo.

Total net worth: $6.89 billion Down 12% from last year. Vancouver businessman Jim Pattison typically plays his cards close to the vest as head of Jim Pattison Group , one of the country's largest privately owned conglomerates.

Total net worth: $7.3 billion Tsai is the right-hand man of Jack Ma, founder of Chinese e-commerce giant Alibaba. The company's IPO last year was the world's biggest ever.

Total net worth: $7.5 billion Down 9% from last year. The Irvings have been running New Brunswick-based Irving Oil since 1924. Pictured here is co-owner Arthur Irving, at a Canadian Business Hall of Fame event in Toronto, 2008.

Total net worth: $8.86 billion Up 20% from last year The Rogers family no longer runs publicly-traded Rogers Communications, but Edward S. Rogers, pictured, and other family members sit on the company's board.

Total net worth: $9.18 billion Garrett Camp was still a post-grad student in Calgary when he co-founded web discovery site Stumbelupon in 2002. Six years later, he and friend Travis Kalanick came up with the idea of ordering rides through their smartphones -- and thus Uber was born.

Total net worth: $13.67 billion Up 20% from last year. Besides the Weston Foods baking empire, Weston holds a controlling share in the Loblaws supermarket chain and is chairman of upscale retailer Holt Renfrew.

Total net worth: $36.76 billion Up 20% from last year. The family behind international media empire Thomson Reuters maintain their position as owners of Canada's largest private fortune. Pictured: David Thomson, chairman of Thomson Reuters.