Brexit's Impact On Canada? A Good Chunk Of Our Growth Gone, TD Bank Predicts
Canada risks losing a significant part of its economic growth this year as a result of the Brexit vote, TD Bank warned Friday.
An early-morning bloodbath washed over global markets as the world digested the news that the U.K. had voted to leave the European Union, and Canada was not immune.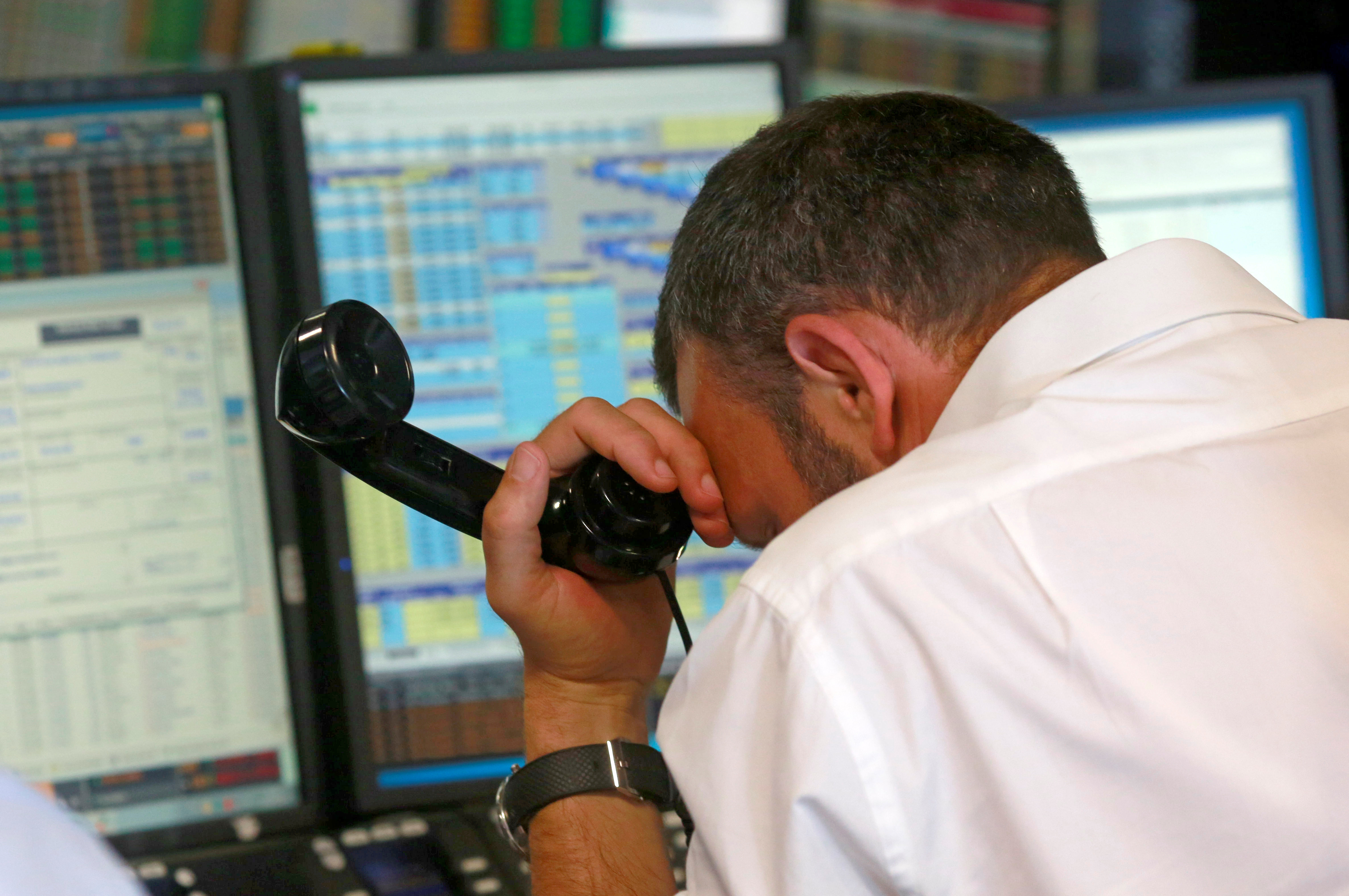 A trader from BGC, a global brokerage company in London's Canary Wharf financial centre, reacts during trading June 24, 2016 after Britain voted to leave the European Union in the EU Brexit referendum. (Photo: Reuters/Russell Boyce)
The loonie had its biggest drop in 18 months and was down by more than one cent in early trading, to around 76.8 cents U.S., while the TSX plummeted on opening, but recovered partly and was trading down 1.35 per cent as of noon ET. Oil prices fell by some 3 per cent, to around US$47.60 per barrel for the North American benchmark.
Investors are engaging in a "flight to safety" — abandoning riskier investments in favour of safe harbours like the U.S. dollar and government bonds, some of which hit record heights Friday.
The U.K., predictably, had it worse. The British pound fell more than 10 per cent to a three-decade low of around $1.32 U.S., before recovering somewhat to around $1.38, still down 8.5 per cent from the previous day's close.
British Prime Minister David Cameron has announced his intention to resign in the wake of the Brexit vote, and will likely step down in the fall.
Beyond that, no one is entirely certain what happens next.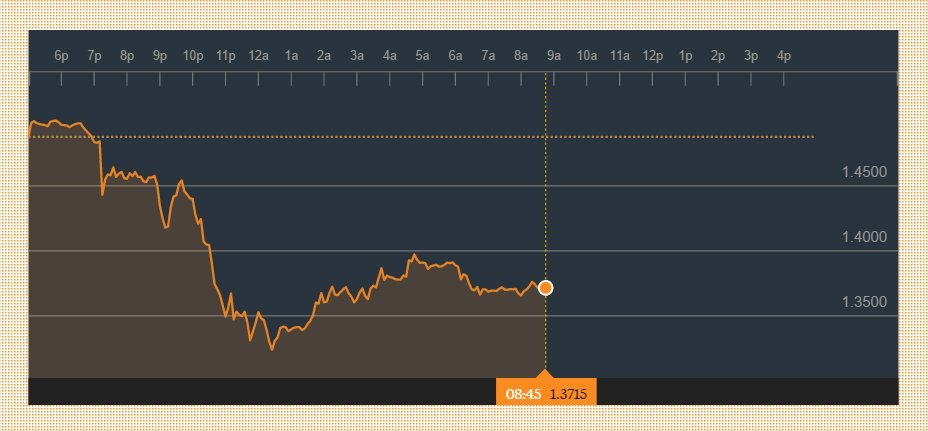 The British pound plummeted overnight as Brexit results began to come in, hitting its lowest point in 30 years. (Chart: Bloomberg)
For Canada, the result could be a considerably weaker economy for the rest of this year than previously estimated, TD Bank said in a client note Friday morning.
"We estimate that confidence and financial spillovers from a leave result could shave about 0.5 to 1.0 percentage point off GDP growth for the U.S. and Canada in the second half of 2016," economists Beata Caranci and Fotios Raptis wrote.
TD's forecast before Brexit was for Canada's economy to grow at a 2.7-per-cent pace in the second half of this year. Assuming the more optimistic end of TD's Brexit scenario, the country could lose nearly a fifth of that predicted growth.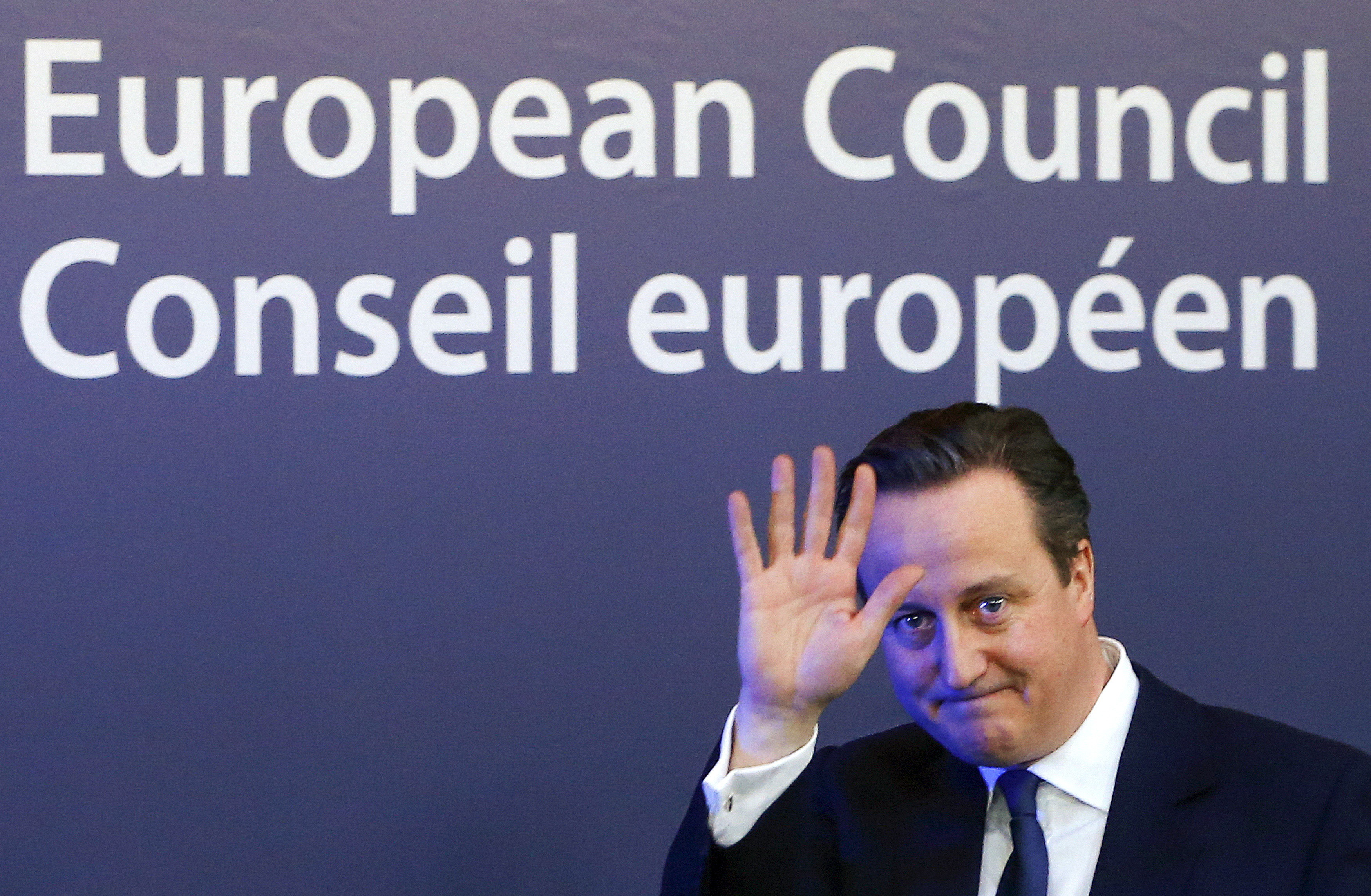 British Prime Minister David Cameron waves as he leaves a European Union leaders summit in Brussels Feb. 20, 2016. Cameron has announced his intention to resign following a "leave" vote in the Brexit referendum. (Photo: Reuters/Yves Herman)
It's not because Canada is heavily dependent on trade with Britain; only about 3 per cent of Canadian trade is with the island nation. But uncertainty in the markets will cause business investment to drop, including in Canada, TD Bank said.
Canada's situation could be even worse if the Brexit vote leads to a prolonged commodity price slump, TD warned.
But that could be good news for Canada's indebted mortgage holders, who may have been given a respite from rising interest rates thanks to Brexit.
"A more prolonged slump would likely delay any plans by the Bank of Canada to increase its interest rate target," TD said, noting the same is true of U.S. interest rates.
"The Canadian regions most likely to feel the brunt of reduced U.K. demand are Newfoundland & Labrador, which ships about 8 per cent of its total annual goods exports to the U.K., and Ontario, which sends about 6 per cent of its annual goods exports to the U.K.," TD Bank wrote.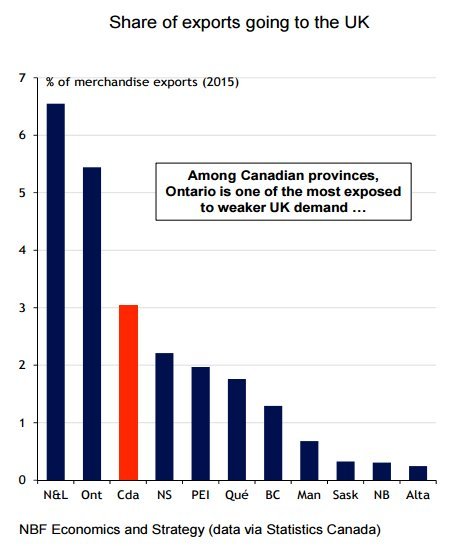 Chart: National Bank Financial
But the economic damage to Canada and the U.S. will pale in comparison to the damage estimated to be headed Britain's way. Forecasts call for Britain's economy to shrink in the short term by anywhere between 1.5 and 6 per cent.
"There is little doubt that U.K. economic momentum will be revised down," TD Bank wrote. "Some will mark estimates into recession territory, and others, like ourselves, anticipate growth at roughly half the previous pace."
Like HuffPost Canada Business On Facebook
Also on HuffPost:
European Villages Straight Out of a Fairytale
Mostar will take your breath away with its Ottoman-era architecture. A main attraction is the Old Bridge, destroyed in 1990's and recently rebuilt. Thrill-seekers can jump off the bridge into the cold water; it's allowed. Mostar was almost completely destroyed during the Bosnian War; the village was under siege for nine months. Today, it's a charming little heaven on earth, but you can still see the bullet holes in the walls of the Red Cross building. Photo Credit: Thinkstock Click Here to See European Villages Straight Out of a Fairytale

The medieval village, whose biggest attraction is the ominous Conwy Castle, a World Heritage Site, and magnificent dockside, is surrounded by the Snowdonia Mountains and shores. Other preserved castles and historic houses are somewhat of a trademark in Conwy. It is there where you'll find the smallest house in all of Great Britain. The house was lived in until 1900, when the owner was a 6 ft. 3 inch fisherman named Robert Jones. The rooms were too small for him to stand up in and he was eventually forced to move out. Photo Credit: Shutterstock

This is the village for the ultimate Swiss holiday regardless of whether you come in the winter or summer. One of the best things about the resort is that it's car-free. The timber houses and hotels going back to the belle époque era, Wengen have maintained their fairytale postcard-perfect mountain look. Visit in the summer for more than 300 miles of trails and a dozen of mountain cableways to take you to the best viewing spots in the region. Photo Credit: Shutterstock Click Here to See European Villages Straight Out of a Fairytale

This beautiful fishing village in the Lofoten archipelago within the Arctic Circle will take your breath away with its natural splendor. About 300 people live there, and they take very good care of their home. Reine is one of the most isolated small communities in Europe. The village is also one of the best places to witness the Northern Lights. Camping under the stars on beaches and fishing, obviously, are other favorite activities. Photo Credit: Shutterstock

The most popular place in historic Colmar is Petite Venise (Little Venice). It's the village's most eye-catching quarter. Much of the small city's best architecture is crammed there. The half-timbered Alsatian houses on the edge of Lauch River are stunning. Just like in the real Venice, the best way too explore the village and see where fishmongers, leather tanners, and other merchants lived and worked is by boat. The House of Heads, built in 1609, is another must-see. Click Here to See European Villages Straight Out of a Fairytale Photo Credit: Thinkstock
CORRECTION: Prior to Brexit, TD Bank forecast 2.7-per-cent growth for Canada's economy in the second half of this year. An earlier version of this article implied the forecast was between 1.2 per and 1.5 per cent. HuffPost Canada regrets the error.