Jason Kenney Tweets Brexit Voters Chose 'Hope Over Fear,' Slams Trudeau
Perhaps the most-watched Conservative in Canada says the British people have chosen "hope over fear" by voting to leave the European Union.
Veteran MP Jason Kenney — a possible top-tier candidate for the federal Tory leadership who is also reportedly mulling a bid for the Alberta Progressive Conservatives — has taken to Twitter to celebrate results of the referendum that have already sent shockwaves around the world.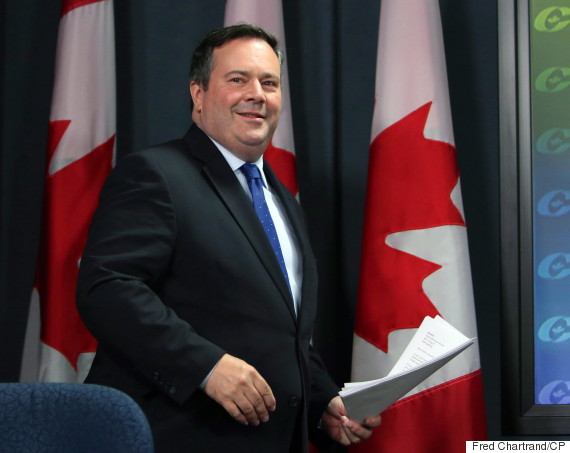 Conservative MP Jason Kenney arrives at a news conference to discuss the NDP's spending plans, in Ottawa, Sunday, August 30, 2015. (Photo: Fred Chartrand/CP)
His tweets also blasted Prime Minister Justin Trudeau for publicly arguing Britain would be better off in the EU. Kenney said the prime minister interfered in another country's decision and made a "terrible, short-sighted gaffe."
Congratulations to the British people on choosing hope over fear by embracing a confident, sovereign future, open to the world! #Brexit

— Jason Kenney (@jkenney) June 24, 2016
Justin Trudeau was wrong to interfere in the British people's internal democratic decision on EU membership. A terrible, short-sighted gaffe

— Jason Kenney (@jkenney) June 24, 2016
Canada should immediately demonstrate respect for the choice made by the British people, & prioritize negotiation of Canada-UK free trade.

— Jason Kenney (@jkenney) June 24, 2016
Kenney urged the federal government to get to work on a "Canada-UK free trade deal" now that the Comprehensive Economic and Trade Agreement (CETA) negotiated by Tories is in jeopardy.
National Post columnist John Ivison challenged Kenney on how he can reject the divisive politics of presumptive Republican nominee Donald Trump while applauding the same "dog-whistle racism" of UK Independence Party Leader Nigel Farage. The "leave" side argued exiting the EU was necessary to give Britain more power to control immigration.
@jkenney You reject Trump but applaud the same dog-whistle racism propounded by Farage and his fellow anti-establishment travellers.

— John Ivison (@IvisonJ) June 24, 2016
Kenney responded that he respects the right of Brits to pursue more global free trade. "This had nothing to do with freedom and everything to do with bigotry," Ivison shot back.
@ivisonj No, I respect the decision of the British people who will be unencumbered to pursue more global free trade & non-EU migration.

— Jason Kenney (@jkenney) June 24, 2016
@jkenney Right. So in 10 years, we might see a Canada-UK deal? This had nothing to do with freedom and everything to do with bigotry.

— John Ivison (@IvisonJ) June 24, 2016
@ivisonj 52% of the British people are not bigots. A desire to be able to manage borders & migration is not bigotry.

— Jason Kenney (@jkenney) June 24, 2016
Unlike other possible candidates for the Conservative crown, veteran MPs Andrew Scheer and Deepak Obhrai, Kenney did not publicly weigh in on the so-called Brexit before Thursday's vote.
'Magnificent exercise in democracy'
Tory foreign affairs critic Tony Clement, also mulling a run for leader, tweeted that the referendum was a "magnificent exercise in democracy." Canada, he said, should respect the choice that has been made.
What a magnificent exercise in democracy as Britons vote #Leave. Canada should respect this choice & engage with both UK & EU. #BREXIT

— Tony Clement (@TonyclementCPC) June 24, 2016
On Thursday, Clement released a video on Facebook saying he would not take a position on the Brexit while also lauding that Brits got to have their say. Clement used the occasion to push for a referendum on electoral reform in Canada, something federal Liberals have so far ruled out.
"If the U.K. can vote on whether they're in or out of the EU, we should have the ability to vote on … how we elect our MPs in the future," he said. "One referendum for the U.K. and of course, a referendum here in Canada is what we need."
Obhrai, who earlier this week told The Huffington Post Canada that he blames the EU for Canada's humiliating failure to win a United Nations Security Council seat, took to Twitter to repeat his claim that the organization acts like a "sovereign nation."
Wow uk leaving the EU. EU nations can work to ensure EU doesn't Act As a sovereign nation but a voice of sovereign nations #yyc #cdnpoli

— Hon Deepak Obhrai pc (@deepakobhrai) June 24, 2016
But Scheer — who had more than 700 words published in the National Post on this issue four days ago — has yet to share his thoughts.
Scheer's piece calling for an "independent Britain" argued the U.K. would be more "economically dynamic" outside of the EU, but did not address the heated and often toxic immigration debate across the pond.
Former Progressive Conservative prime minister Kim Campbell was left unimpressed by the article. She took to Twitter to call Scheer an "ass."
RELATED: Canada 'Well Positioned' To Weather Brexit Storm, Trudeau Says
Interim Tory Leader Rona Ambrose's statement on the EU referendum:
Regardless of the outcome of yesterday's referendum, Canadians will continue to support the United Kingdom as a steadfast ally, trading partner and friend.

There is no substitute for the direct democratic voice of a country's citizens in determining the answers to critical questions about their own future. I recognize that the UK government, but more importantly the people of the UK, have engaged in a vigorous debate and have made their voices heard.

While there are worldwide implications that will flow from the new path forward that the UK has chosen, for Canada it will be important for our government to maintain strong ties with the UK. At the same time, the Liberal government must also continue to fight for the ratification of the Canada-EU free trade agreement the previous government reached. This significant trade agreement can generate new jobs and new customers for Canadian goods and services, and the Liberal government must show leadership to ensure it does not become a casualty of a period of uncertainty in Europe.

Lastly, I would like to thank Prime Minister David Cameron for his service and dedication to his country after his announcement of his intention to step down. He has been a courageous and principled leader, unafraid to fight for what he believed in, while strong enough to accept with grace the democratic will of those he leads.
ALSO ON HUFFPOST:
The Ukip leader and MEP is the most famous 'outer'. After his party took over a 100 council seats in May's local election's Nigel Farage is hoping to win the 2014 European elections and then gain MPs in Westminster in 2015. He has confirmed he will seek a parliamentary seat himself.

Margaret Thatcher's former chancellor and a true 'Tory grandee' revealed in The Times that if and when there is a referendum "I shall be voting out". He also stuck the boot into the David Cameron by saying the prime minister's attempts to renegotiate the terms of the UK's relationship with the EU would be "inconsequential".

There are quite a few Conservative MPs who would like to wave goodbye to Brussels. Ken Clarke has said the figure is as low as 30 despite the strong eurosceptic feeling on the backbenches. However the exact number is not clear. Mid-Bedforshire MP Nadine Dorries, who remains suspended from the Conservative Party, is currently talk tof the eurosceptic town amid rumours she may defect to Ukip. Other backbench Brexiters include Bill Cash, Douglas Carswell, Peter Bone and Philip Davies and former defence minister Sir Gerald Howarth.

Most of the anti-EU focus is on the Tory benches. But there are more than a handful of Labour MPs would would like to quit Brussels as well. Eurosceptics include Frank Field, Kate Hoey, Austin Mitchell, and Gisela Stuart. Stuart has argued the status quo is "not sustainable" and Britain should leave.

Rupert Murdoch has warned that the EU will "sink" the UK. The News International and boss caused a stir when he met Nigel Farage for dinner in London recently and said the Ukip leader was "reflecting opinion" with his anti-EU views. In November 2010 Richard Desmond's Daily Express became the first UK newspaper actively to call for Britain to leave the EU, launching a 'Get Britain Out' campaign

Of course no campaign is complete without a bit of star power. The pro-EU camp have Eddie Izzard, who do the Brexiters have? Joan Collins, a 'patron' of Ukip, wants the UK to leave. "The EU, controlled from Brussels, cares only about itself," she said in March.

Most business leaders do indeed seem content with what Lawson called the "warm embrace of the European single market", but there are a few dissenters. Private equity guys Jon Moulton and Edmund Truell are two and Next boss and Tory peer Simon Wolfson has said: "Britain should stay in Europe, but only on the right terms".

There are a number of loud voices whinnying on the sidelines to say "neigh" to the EU notably Melanie Phillips, Richard Littlejohn, Tom Utley, Simon Heffer. Basically the Daily Mail stable.

Several high-profile politicians appear to be on the verge of calling for the UK to exit the EU - but just are not there yet. Former defence secretary Liam Fox - pictured here with a big gun - has said "life outside the EU holds no terror" should David Cameron's hopes of negotiating a new treaty fail. Education secretary Michael Gove is said to have told friends the UK has "nothing to be scared of" by leaving Europe. And many other eurosceptic cabinet ministers, including Iain Duncan Smith and Owen Paterson are likely to share that view.