Toronto's Tech Scene Beats Vancouver's, Report Says
Vancouver loves to hold up its tech sector as a bright light of its economy.
The Vancouver Economic Commission (VEC) brags that the city is "rapidly evolving while drawing global attention and the world's top talent."
It boasts of hosting companies such as Hootsuite, Avigilon and Slack (which has a Vancouver office, but is based out of San Francisco).
But the city doesn't rank very highly when it comes to tech hubs across North America. Heck, it isn't even Canada's top city for tech talent, according to a Scoring Tech Talent report out of CBRE, a commercial real estate company.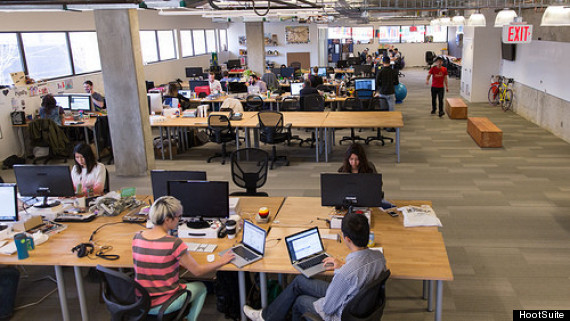 Hootsuite, a Vancouver tech company. (Photo: Zi-Ann Lum/HuffPost B.C.)
Toronto ranked 12th among 50 North American markets cited in the report, with a score of 55.89. Vancouver came in 20th with a score of 50.90.
The cities were scored based on 13 metrics that gauged each market's competitive advantages and their ability to attract talent.
This included factors such as local wages and operating costs.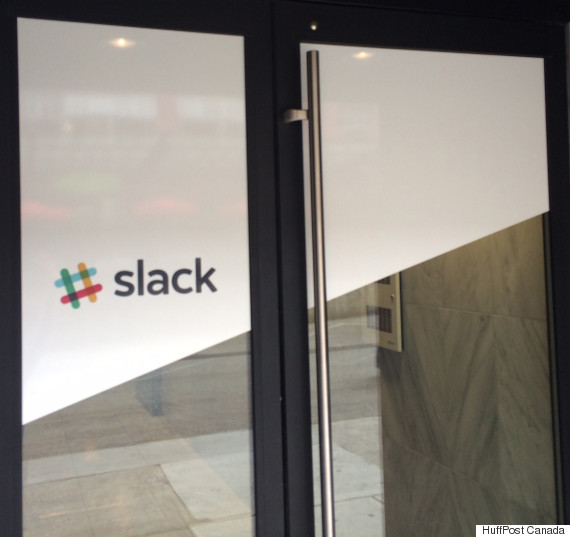 The front doors to Slack's office in Vancouver's Yaletown neighbourhood. (Photo: Jesse Ferreras/HuffPost Canada)
Vancouver is used to topping lists of most expensive real estate. But it ranks at the very bottom when it comes to what it costs to operate a tech company.
The cost to rent office space there was highest among all cities at $2,994,750 per year (CBRE arrived at this figure by multiplying average rent by 75,000 square feet).
But Vancouver wages ranked lowest in every category that CBRE examined, including low-level and management-level tech jobs.
All told, it would cost $29,184,572 to operate there, less than any other city among the 50 examined in the report — and all because its workers make less money.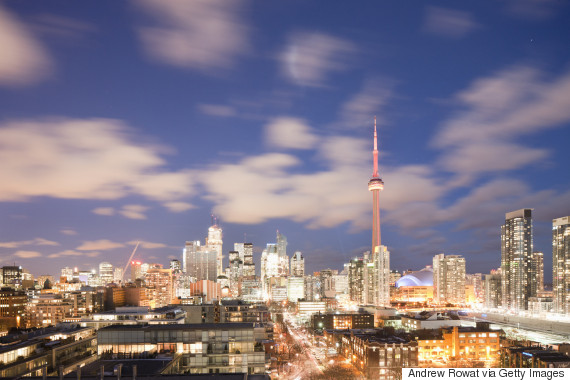 Toronto's skyline. (Photo: Andrew Rowat/Getty Images)
Toronto, meanwhile, ranked second-to-last when it came to the cost of operating a tech firm. The total cost was pegged at $30,919,100 — and that, too, had a lot to do with comparatively low wages.
Neither city, however, ranked near the top of the list. That spot was reserved, unsurprisingly, for California's San Francisco Bay Area, which had a score of 84.62.
It was followed by Washington, D.C., with a score of 67.24.
Much higher average wages are attainable in both cities.
Also on HuffPost:
Countess Augusta Ada Lovelace (1815-1852), English mathematician and writer. The daughter of Byron and friend of Charles Babbage, she devised the programme for Babbage's analytical Engine. She is often referred to as the first computer programmer ever.

Dr. Grace Hopper, the originator of Electronic computer automatic programming for the Remington Rand Division of Sperry Rand Corporation. She was a key figure in the development of the computer programming language COBOL. Because of that, she is famously known as Grandma COBOL

Shakuntala Devi was known as a human computer. She had an amazing ability to carry out difficult mathematical calculations mentally. She holds a place in Guinness book of world records for multiplying two 13-digit numbers in 28 seconds.

Marissa Mayers was the first woman employee of Google. She developed the layout of the famous Google Search page. Over the years, she was a key figure in the products such as Google Search, Maps, News, Gmail and many more. In 2012 she assumed the position of CEO at Yahoo!

She was the first woman to work in General Electrics as a scientist. Her major achievement was developing an 99% transmissive 'invisible glass', which was used in movies and submarine periscopes later.

Susan was on the Apple team working alongside Steve Jobs on the Macintosh team. She worked as a graphic designer for the Macintosh user interface. After Apple she worked with NeXT, IBM and Microsoft too.

Hedy Lamarr was an Austrian film actress who invented radio guidance system along with the composer George Antheil. She developed the technique of frequency hopping which involves sending a signal through multiple frequency channels.

The American video game designer is known as the creator of the video game King's Quest. Later on, she founded the company Sierra On-line. She retired in 1999. Her other famous video games were Mystery House and Phantasmagoria.

Radia Pearman is a software designer and a network engineer. Her biggest contribution is in the development of Spanning Tree Protocol (STP) which is used in network bridges. She also developed a child-friendly version of programming language LOGO called TORTIS.