Calgary Stampede 2016: 10 Things To See And Do
It's almost time for the annual 10-day whirlwind of rides, rodeos and the rallying cry "Yahoo!" that heralds the Calgary Stampede.
The Greatest Outdoor Show On Earth can seem a little overwhelming, so we've narrowed down all the great activities to 10 that are absolute musts for Stampede greenhorns and old hats alike.
1. Watch the Stampede Parade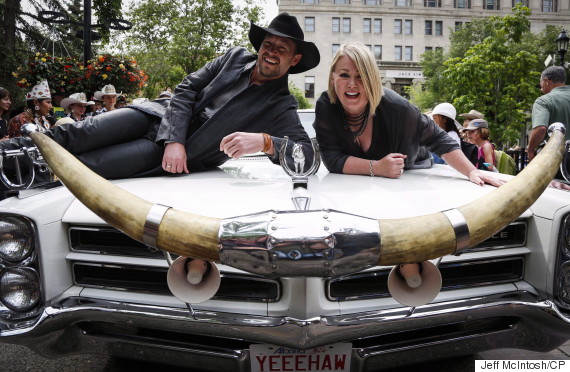 Musicians Paul Brandt and Jann Arden will be the parade marshals for the 2016 Calgary Stampede. (Photo: Jeff McIntosh/CP)
The Stampede Parade kicks off the Greatest Outdoor Show on Friday with over 150 entries — that's 30 marching bands, 40 floats and 750 horses.
Parade marshals and musicians Jann Arden and Paul Brandt will lead the procession, which also be paying homage this year to the firefighters of Fort McMurray.
2. Sample the strangest foods on the midway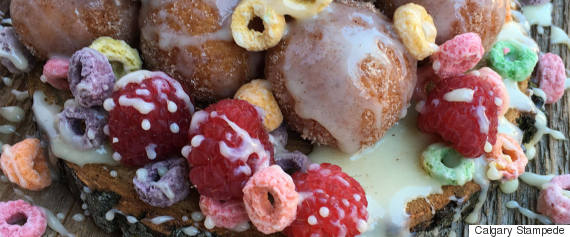 This concoction is called a Saturday Morning Beaver Ball. (Photo: Calgary Stampede)
This year, the Calgary Stampede has 34 strange new foods including sweet grasshopper popsicles, savoury poutine corn dogs, and the difficult-to-describe fruit-infused grilled cheese.
3. Try axe-throwing
Axe Throwing Calgary will give aspiring lumberjacks the chance to show off their skills in Stampede's Adventure Park.
Competitive visitors can also challenge their friends to a game of paintball or race up a double-climbing wall.
4. Have a bannock picnic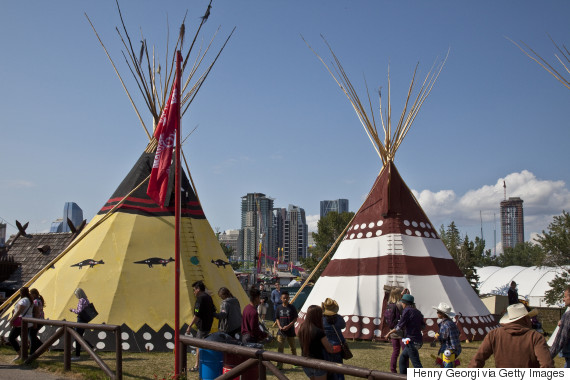 Visitors stroll past the tipis in Indian Village in 2015. (Photo: Gettystock)

Visit the Stampede's Indian Village for a bannock picnic. Picnic bags include a blanket, two drinks, and two bannock meals. Spread out on the grass and watch the tipi-raising contest while you chow down on the traditional aboriginal treat.
Or head off the grounds to nearby Scotsman's Hill for a perfect view of the evening fireworks with your picnic.
5. Escape from the Wild West Jail
A Calgary-based escape room company has created a specialized experience for Stampede-goers.
Teams will have 10 minutes to escape from a distracted sheriff by solving Western-themed puzzles.
"It's going to be a great option for people looking for a break from the sun, or rain (knock on wood)," said Kyle Fitzgerald, co-founder of The Locked Room, in a release.
6. Find out who's top dog at the Dog Bowl
The Stampede bid farewell to the Superdogs after 37 years, replacing them with a new outdoor attraction called the Dog Bowl.
This new show features The Canine Stars, a group of rescue dogs that will perform incredible stunts from dock diving to high jumps.
7. Chow down on free pancakes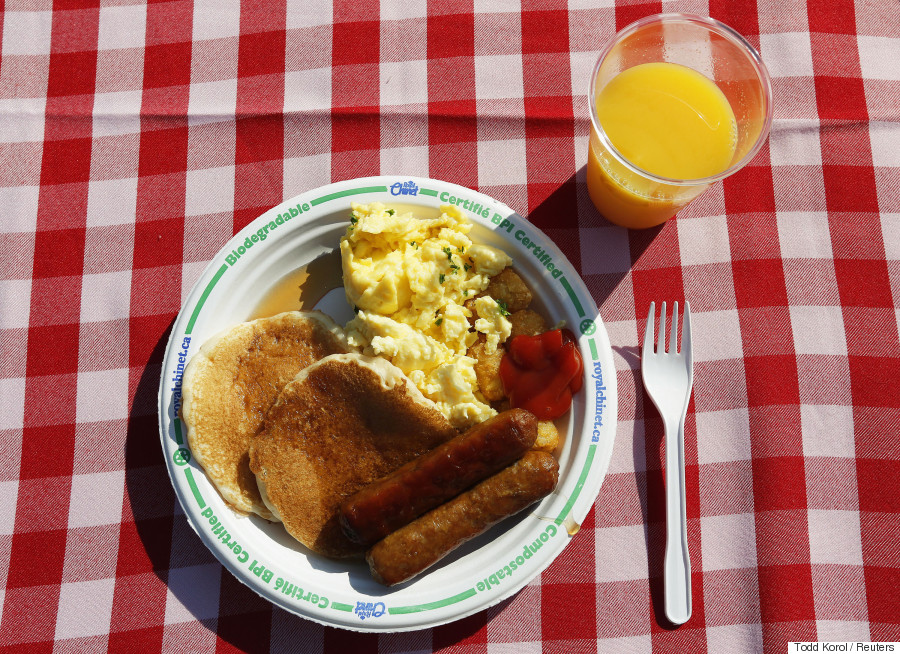 Now that's a Stampede breakfast. (Photo: Reuters)
Stampede is the only time of year it's easy to eat for free for almost every meal — if you're willing to line up and fill up on flapjacks. Hundreds of stampede breakfasts are staggered across the city, and entrepreneurial eaters have created websites and apps to keep track of it all.
8. Learn how to live like a cowboy
The Agrium Centre celebrates the best of Alberta agriculture while allowing visitors a glimpse of what it really takes to live life on a ranch.
Everything from sheep-shearing to blacksmithing will be on display, as well as plenty of chances to visit some adorable farm animals.
9. Star in a Canadian GIF
Here's a chance to show off your creative side. The National Film Board (NFB) is bringing its GIFnTAKE videobooth. The studio gives you and your friends a chance to insert yourselves into a favourite Canadian short film.
The finished product is exported as a GIF to share on social media. The best part? It's free!
10. Explore Calgary's cultural diversity
The Calgary Stampede partnered up with Globalfest to transform the Big Four building into a new International Pavilion. The top floor will showcase diverse performers from both around the globe and right here in Calgary, while the basement food market will be chock-full of new flavours to try.
Pop downstairs first to grab some carnitas from Anejo before watching the high-flying Peking Acrobats perform.
Like Us On Facebook
Follow Us On Twitter
Also on HuffPost:
The Weirdest Foods Worth Trying At The 2016 Calgary Stampede
Blueberries, strawberries and kiwi turn regular grilled cheese into a chance to taste the rainbow.

Naan topped with cowboy beef or bean chili, desi chips, a curry slaw, cheddar cheese, tamarind chutney, chipotle crema and "Crunchies Sweeties" — whatever that is.

Deep fried dough balls are toped with cinnamon, sugar, Fruit Loops, raspberries and a splash of condensed milk. The perfect balanced breakfast!

Toffee sauce covered deep fried dough balls and medjool dates, with a little extra crunch (meal worms and crickets). Squeamish folks can just pretend these tasty treats are topped with chopped nuts!

This looks SO refreshing. This freshly smashed cantaloupe and lemon drink is made right before your eyes. You can even request a splash of coconut!

The Calgary Stampede is bringing this Canadian delicacy to the next level. The whole thing gets topped with whipped cream and caramel — yummmm.

Somehow,this treat is non-alcoholic. Tequila-flavoured cake gets deep fried, then topped with icing sugar. Unlike a regular tequila shot, you'll probably remember this one. Like a regular tequila shot, you still might have some regrets.

This treat from local Calgary vendor Family Freezed looks absolutely glamorous. The creme de menthe and chocolate cookie popsicle is filled with crickets, before being dipped in dark chocolate and sprinkled with edible gold flakes.

Popcorn + chocolate + caramel = deliciousness.

It's a meatball sub, but easier to eat on the go. What more is there to say.

These might look like some weird kind of licorice but they're actually churros! Made with real Oreo cookies and filled with the cookie's delicious cream centre.

If you like this, you might just have found a new use for your home rice cooker. Rice cooked in coconut milk is infused with and then topped with Oreos.

We can guarantee these will be the only barbells we'll be lifting Stampede week. Goey peanut butter bacon balls are battered and deep fried before being topped with chocolate sauce and more bacon.

This tasty treat is a Reese's Peanut Butter Cup smooshed between two Oreo cookies and deep fried.

Everything's better on a stick. Hot dogs are filled with hash browns and cheese, before being dipped in corn batter. No word on if the cheese is actually cheese curds. #PoutinePurists

Take care of your caffeine craving in the most delicious possible way. Deep fried coffee treats are drizzled in caramel and Himalayan sea salt.

Hand-made beef burger patties are stuffed with mac and cheese. DROOL.

Cheddar potato perogies are pan fried in butter, before getting the teriyaki treatment. Sauteed onions, sriracha mayo, sweet ginger teriyaki sauce, green onions, crispy chicken and nori.

Forget about skipping this treat. Mac and cheese is topped with Italian meatballs and tomato sauce for a tasty lunch.

This one is for anyone with a sweet tooth. This Hong Kong-style egg waffle is filled with your choice of five different kinds of ice cream, before being topped with fresh strawberries, candy and Pocky.