'Gay Day' At Canada's Wonderland Cancelled After Homophobic Incident
'Gay Day' at Canada's Wonderland is no more.
The outing at the amusement park north of Toronto was planned annually by Parents and Friends of Lesbians and Gays Canada (PFLAG) in collaboration with Pride Toronto, but after a homophobic incident at this year's, planners are calling it quits, the Toronto Star reports.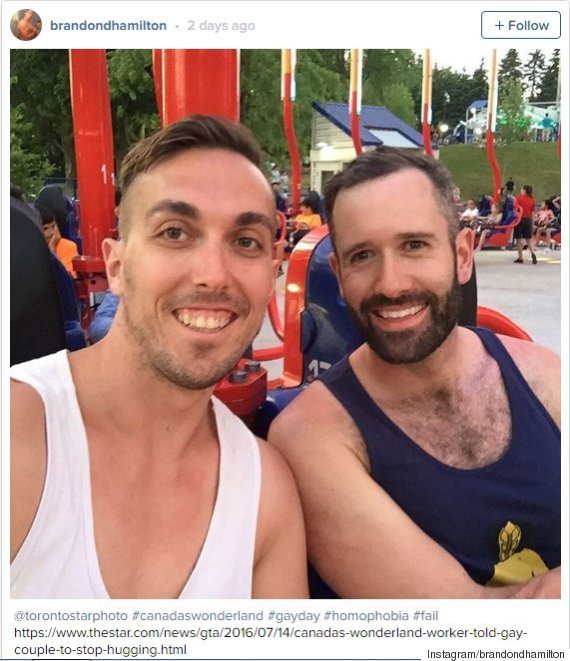 Brandon Hamilton and Barrett Morrison attended 'Gay Day' last month for Pride month.
According to Buzzfeed Canada, the two were hugging while waiting in line for the Lazy River, when a park employee approached them and asked, on behalf of another guest, that they stop, saying it was "a family park".
"It's so offensive and absurd that anyone would consider that not family friendly. It's just flat-out homophobia."
"We don't necessarily blame the kid who approached us," Hamilton told Buzzfeed Canada. "I think he was just relaying a message [from a woman in line] and didn't think about what he was saying."
At the time, they "told off" the worker, and he agreed the request was out of line and apologized, according to Toronto Star, but it was still a frustrating experience.
"It's so offensive and absurd that anyone would consider that not family friendly. It's just flat-out homophobia," Morrison told Buzzfeed Canada.
Morrison and Hamilton wrote Wonderland's general manager Norm Pirtovshek, who apologized, writing "This behaviour will not be accepted by any of our employees or guests."
Wonderland spokesperson Soulla Lindo, told the Toronto Star that the park does not tolerate discrimination and that each of their 4,000 employees receive human rights training.
Morrison told Buzzfeed that they made suggestions on how to improve, such as making Gay Day a park-wide event and improving anti-discrimination training, but they said Pirtovshek's apology felt "dismissive" of these concerns.
PFLAG Canada, the advocacy group that organizes 'Gay Day' was also unsatisfied with the response they got from the park, which is what prompted them to end the event.
PFLAG issued two statements regarding the decision on Facebook, writing that it was not "impulsive."
After PFLAG's offer to provide free diversity training for the park's staff went unanswered, the board voted to pull the event after having collaborated on the event for eight years.
"We can't offer a safe space, so how can we continue?" PFLAG Canada president, Bev Belanger, told the Toronto Star.
"Gay Day must be a safe and welcoming space for our LGBTQ family and friends and moving forward, it must be with an organization and venue that truly wants to celebrate and take ownership of Gay Day with PFLAG Canada," PFLAG's statement reads.
Also on HuffPost:

B.C.-born model Jenna Talackova made waves in 2012 when she was initially disqualified from competing in the Miss Universe Canada competition because she's transgender. She later mounted a legal challenge and the decision was reversed. She would go on to star in the reality show "Brave New Girls."

Lucas Silveira is the lead singer and guitarist for Toronto-based alternative act The Cliks.

Michelle Josef was a member of Canadian country band Prairie Oyster when she came out as transgender in 1997. She was later fired from the band, but has continued to perform with other acts.

Transgender singer/songwriter Rae Spoon doesn't identify as female or male, instead preferring the pronoun "they."

Hamilton, Ont.-born actress who has starred in films such as "Air Force One," "The 6th Day" and shows such as "24" and "Saving Hope." The 58-year-old came out in December, and said she was "scared to death" to tell her kids.

Thompson was a member of the "Kids in the Hall" comedy troupe who has also starred on other series, including "Hannibal" and "Tim and Eric's Awesome Show, Great Job!" Performed as his character Buddy Cole on "The Colbert Report." Thompson was also one of the first openly gay actors on TV.

An author and poet (and former poet laureate of Toronto), Brand's works often focus on discrimination about the LGBTQ community.

Playwright, author, actress, CBC host. Her novels "Fall on Your Knees" and "The Way the Crow Flies" were shortlisted for the Giller Prize. Her play "Goodnight Desdemona (Good Morning Juliet) won the Governor General's Award. She has also hosted CBC's "Life and Times" and "Doc Zone."

Svend Robinson became the first politician to come out in office in 1988, while serving as an NDP MP in Burnaby, B.C.

Halifax-born actress who has starred in major films including "Juno," "Inception" and "X-Men: Days of Future Past." When she came out in 2014, she said she did it because "maybe I can make a difference. To help others have an easier and more hopeful time."

After playing a gay character on Degrassi, actor Adamo Ruggiero came out in an eTalk interview, saying, ""I thought, you know, I was learning and I learned and what better way to kind of share my knowledge than right now."

Olympic gold medallist in 100-metre backstroke at the 1992 Games in Barcelona.

Ontario's first female premier was first elected to the legislature in 2003, and became leader of the provincial Liberal Party in 2013. She later led her party to victory in the 2014 provincial election.

Rex Harrington (left, with fiance Bob Hope) was a principal dancer with The National Ballet of Canada from 1988 to 2004. He and Hope competed on the second season of "The Amazing Race Canada."

Multiple Grammy Award-winning singer behind songs such as "Constant Craving." Sung a particularly stirring rendition of Leonard Cohen's "Hallelujah" at the 2010 Winter Olympics.

Cranston was a bronze medal-winning figure skater at the 1976 Olympics who was credited with revolutionizing the sport. He died in January, aged 65.

Vancouver-born author and poet Andy Quan writes frequently about gay issues, and has worked to fight for better policies for those living with HIV and AIDS.

Twin sisters Tegan and Sara Quin are multiple Juno Award-winning songwriters and performers who also performed "Everything is Awesome," the theme song for the film "The Lego Movie." Last year, they participated in the "It Gets Better" project.

This singer and actress has appeared on a multitude of stages, including Bruce McDonald's film "Dance Me Outside," about a native reservation in northern Ontario.

Brian Orser (seen here with Japan's Yuzuru Hanyu) is an ex-figure skater who won a silver medal at the 1984 Olympic Games in Sarajevo. He would later coach skaters Kim Yu-Na and Hanyu to Olympic gold medals.

Author of four novels and many more short stories, Selvadurai immigrated to Canada from Sri Lanka at the age of 19.

One of Canada's most prominent satirists and political commentators. Mercer was one of the creators of "This Hour Has 22 Minutes" and "Made in Canada" before going on to host the "Rick Mercer Report."

Montreal-raised singer/songwriter and the son of folk singers Kate McGarrible and Loudon Wainwright III. Won Juno Awards for his self-titled debut album and his 2001 effort "Poses." His debut also saw Rolling Stone recognize him as "Best New Artist."

This Canadian composer and Arcade Fire collaborator was nominated for an Academy Award for scoring the movie "Her" alongside William Butler.

Vancouver minister Gary Paterson became the United Church of Canada's first openly gay moderator in 2012.

Wade MacLauchlan became the first openly gay premier of Prince Edward Island in the 2015 election. He also previously served as president of the University of Prince Edward Island.

The playwright and musician was born, as he says, "in a snow bank on the Manitoba/Nunavut border to a family of nomadic caribou hunters." He's one of the country's most acclaimed theatre writers, who has been with his partner Raymond Laldone for over 30 years.