Cory Ray Steeves, Vancouver Teacher, Disciplined For Showing Students 'I'm On A Boat' Video
A B.C. teacher who showed students a video with vulgar lyrics by a comedy group was suspended without pay for five days.
Last fall, Vancouver teacher Cory Ray Steeves played a Grade 10 class "I'm On A Boat," a music video by The Lonely Island. The song, which features auto-tune aficionado and artist T-Pain, was released in 2009. It parodies several aspects of rap videos.
In a conflict resolution agreement posted in June, the B.C. Teacher Regulation Branch found that the song consists "primarily of profanity."
It disciplined Steeves for professional misconduct, contrary to standards set out for teachers in the province.
(You can watch the video, which does indeed contain profanity, embedded below.)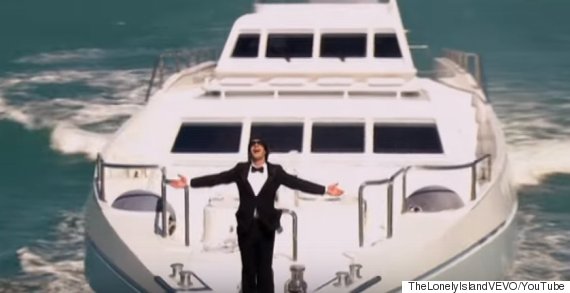 A screengrab from The Lonely Island's "I'm On A Boat" shows comedian Andy Samberg, oddly enough, on a boat.
Steeves used the clip in a lesson on satire in music videos for a Grade 12 class as well, according to the provincial office. He told students it could be offensive, however, and that anyone who wanted to leave the class could do so.
Another video by DJs Duck Sauce, called "Big Bad Wolf," was also shown to students. The regulation branch said the video "depicts different people with human heads as their genitalia."
Steeves served his suspension in December and was ordered to take a course on professional boundaries.
Also On HuffPost:
Celebs You Didn't Know Were Teachers
Hugh Jackman is known for playing the super-fit Wolverine in "X-Men," so it's no surprise he used to be a phys-ed teacher. The Aussie actor briefly taught at England's Uppingham School in 1987 before he began his Hollywood career. Funnily, in 2013, the 46-year-old actor ran into his former student at a red carpet event.

Before Mr. T landed his first major role in "Rocky III," he worked as a gym teacher and bouncer in Chicago in the 70s.

Before J.K. Rowling gained fame for penning "Harry Potter," she taught English as a foreign language in Portugal. She then moved back to the UK in 1993 and began plotting out an early version of the acclaimed series.

Sylvester Stallone is a former teacher! In the 1960s, the action star worked as a gym teacher while he studied at the American College of Switzerland.

Interestingly, Tony Danza decided to pursue his passion for teaching after he already established his acting career. In 2010, the former "Who's the Boss?" star taught tenth grade English at Northeast High School in Philadelphia and filmed it for a reality show called "Teach: Tony Danza." The show ran for two seasons.

After graduating from university, Jon Hamm taught eighth-grade drama for two years at his Missouri high school, John Burroughs. Interestingly, his former student was Ellie Kemper, who starred in "Bridesmaids" and now plays the lead in the Netflix series "Unbreakable Kimmy Schmidt." Hamm then moved to L.A. in 1995 to pursue his acting career. We now know him as Don Draper in AMC's "Mad Men."

Believe it or not, the KISS frontman has a Bachelor's Degree in Education! Before he became famous for his wicked bass solos, he taught sixth grade.

Can you imagine having Billy Crystal as your substitute teacher? For a lucky few, this actually happened. In the 70s, Crystal taught at his former high school, Long Beach Junior High, in California. "I taught everything from English to auto shop," he said in an interview with The Oprah Magazine.

Sheryl Crow taught music at Kellison Elementary School in Missouri before she decided to pursue a full-time singing career.

Believe it or not, Teller, of comedy magic duo Penn & Teller, used to be a high school Latin teacher in New Jersey.

Considering the fact that Stephen King is a best-selling author, it's no surprise that he was once a teacher. Before his first novel "Carrie" was published in 1974, King taught English at Hampden Academy in Maine.

You probably recognize Jesse Williams as Dr. Jackson Avery from "Grey's Anatomy." But before he got into acting, the 34-year-old actor was a public high school teacher in Philadelphia. For six years, Williams taught American Studies, African Studies, and English.

Sting, nee Gordon Sumner, taught at St. Paul's Middle School in England for two years before launching his music career.

Celebrities With PhDs And Other Surprising Degrees

Although Shaquille O'Neal left Louisiana State University early to play in the NBA, he later returned to earn his bachelor degree. Following this, Shaq completed an MBA online from the University of Phoenix and went on to complete a doctorate degree in Leadership and Education from the University of Phoenix. Now 43 years old, Shaq is an accomplished man and proud father to three daughters and two sons.

Mayim Bialik can certainly relate to her brainy role as Dr. Amy Farrah Fowler on "The Big Bang Theory," seeing as she too is incredibly smart. Bialik, who is a mom of two, has a PhD in Neuroscience.

Ken Jeong is known for his hilarious roles in movies like "The Hangover" and "Knocked Up," but what most people don't realize is that he's actually a licensed physician. In 1995, Jeong graduated as a medical doctor from the University of North Carolina. But while he loved medicine, he eventually gave up his practice to pursue acting. The 45-year-old is a father to two girls: Alexa and Zooey.

Model Christy Turlington has beauty and brains! The 46-year-old has a master's degree from Columbia University in Public Health. In 2014, Turlington made Time Magazine's list of 100 most influential people because of her efforts as an ambassador for maternal health. The model is a mom to two kids: Finn and Grace.

The "Mr. Bean" actor surprisingly has a master's degree in electrical engineering! Today, Atkinson continues to have a successful career and is a father to two kids: Lily and Benjamin.

Hayden Panettiere's boxing beau proves there's more than meets the eye! Wladimir Klitschko has a PhD in Sports Science from Kiev University. Just last year, Klitschko and Panettiere welcomed their first child together. They named her Kaya.

Lisa Kudrow might have played the wacky role of Phoebe on "Friends," but the actress is actually quite brainy. The 51-year-old has a bachelor's degree in psychobiology from Vassar College. Kudrow has one child with her husband Michel Stern.

Despite dropping out of college at the age of 20 to pursue a music career, Kanye West was recently given an honorary doctoral degree at the School of the Art Institute of Chicago. His late mother Dr. Dondra West used to be the English Department Chair at the school. The 37-year-old rapper has a daughter, North West, with his wife Kim Kardashian.

Interestingly, Weird Al has a bachelor's degree in architecture, but found success as a parody singer. Not only that, but the 55-year-old is a record and film producer, actor, and author. Yankovic has a 12-year-old daughter named Nina.

Natalie Portman not only has an impressive acting resume, but the 33-year-old has also accomplished quite a bit in her university career. Portman co-authored two scientific studies while she attended Harvard University and graduated with a bachelor of arts in psychology. Portman is now a mom to a son named Aleph, who she had with husband Benjamin Millepied.

Funnyman Ray Romano has a bachelor's degree in accounting from Queens College in New York City. The 57-year-old actor is a dad to three sons and a daughter.

Impressively, Brian May, the lead guitarist of Queen, has a PhD in astrophysics! He originally began his doctorate in the 1970s, but when Queen started to have international success, he stopped his studies. Years later, in 2006, May re-registered for his PhD and finally graduated in 2008. May, 67, is a father to three kids: Jimmy, Louisa, and Emily.

Before he got into acting, David Duchovny completed a bachelor's degree from Princeton University and a master's from Yale University, both in English Literature. He then began his PhD, but did not complete it. The 54-year-old actor is now a father of two. He has a daughter named Madelaine and a son named Kyd.