An elementary school in Sydney, Australia, is raising eyebrows after it banned clapping to respect students who are "sensitive to noise."
Elanora Heights Public School announced in a newsletter that clapping would be replaced with "silent cheering." This means students are allowed to "punch the air, pull excited faces and wriggle about on the spot" when prompted by a teacher.
While the ban on clapping seems bizarre in itself, what's really baffling people is the fact that the school believes this new policy will "reduce fidgeting."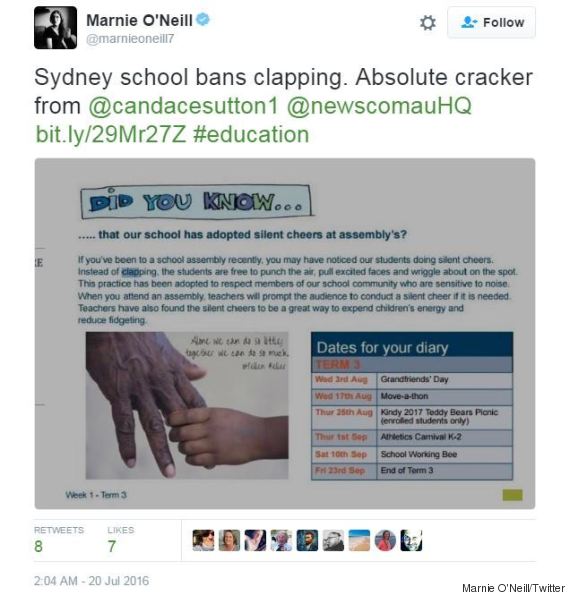 On Wednesday, News.com.au's report on the ban was posted to Reddit where users were quick to point out the school's inconsistencies.
In reference to the fact that students can "wriggle on the spot" and that this will "reduce fidgeting," one Redditor noted: "This is the best part because it just completely defies logic."
The Reddit thread also led to a discussion about how a ban on clapping was not the answer to helping noise-sensitive students cope.
"I have Asperger's Syndrome and this may be the dumbest thing I've ever heard!" one wrote. "Yes, noise sensitivity can be extreme at times, but this is NOT the way to deal with it. These kids need to learn how to interact with others (to the best of their individual capabilities), not to be the reason that all the other kids cannot have fun. This will only serve to further alienate kids on the spectrum and cause a backlash against them."
Another user called the policy "extremely ass backwards," noting that "making noise in response to happiness and excitement is an inborn trait and a part of normal human psychosocial behavior."
"I believe we should be respectful to people with disabilities and if we can slightly change what we do to accommodate them, then we should."
Offering an alternative solution to noise-sensitive kids, one user revealed that her son used to carry noise-cancelling headphones around school.
"Worked fine for years," she said. "Now he has the courage to cover his ears, or move to a quieter space."
Following initial reports on Elanora Heights Public School's ban on clapping, Education Minister Adrian Piccoli revealed that the policy was put in place for a teacher who wears a hearing aid.
"The school is supporting a teacher with a disability," Piccoli said on a radio interview on Wednesday. "The teacher has asked for instances where there is cause for applause, for this not to be done loudly. I believe we should be respectful to people with disabilities and if we can slightly change what we do to accommodate them, then we should."
The Education Minister then stated that there is no ban on clapping. News.com.au notes that the newsletter does not explicitly say there is a ban, but that children will be prompted to silent cheer "if it is needed."
Nonetheless, this isn't the first time an Australian school has introduced a controversial policy. Previously, a number of elementary schools have banned hugging.
Principal John Grant, of St. Patrick's Primary School in Geelong, said his school introduced the policy to protect students and "encourage all of us to respect personal space."
ALSO ON HUFFPOST: