Cycling Is Better Than Walking For Weight Loss: Study
A study published in The Lancet confirms that cycling is one of the best forms of exercise for losing weight or keeping trim.
Researchers from the London School of Hygiene and Tropical Medicine, UK, investigated the relationship between commuters' chosen means of transport and obesity risk. They studied 72,999 men and 83,667 women aged between 40 and 60.
Comparing the daily modes of transport of 150,000 participants revealed that cycling was one of the most effective forms of exercise for keeping trim and even for losing weight.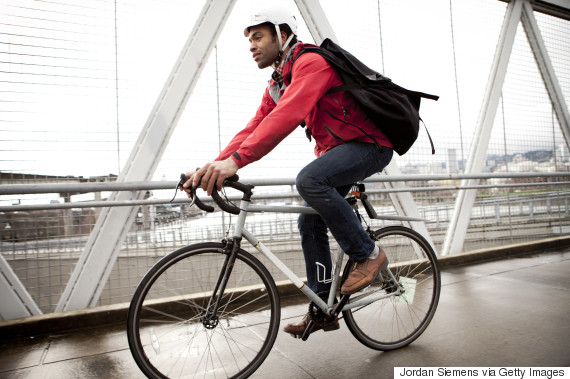 The scientists drew information from the U.K. Biobank data set, set up to improve the prevention, diagnosis and treatment of chronic disease.
They found that the most common means of commuting was the car or public transport, used by 64 per cent of men and 61 per cent of women. Active modes of transport such as walking and cycling were used by 23 per cent of men and 24 per cent of women.
Overall, those who didn't commute to work by car or public transport had lower levels of body fat. Plus, active commuters getting to work by bike had lower BMIs (Body Mass Index) than those who walked to work.
Commuters who favored cycling had the lowest BMIs. For the average man in the sample (age 53 years, height 176.7cm, weight 85.9kg), cycling to work was associated with a weight difference of 5kg compared with driving or taking public transport.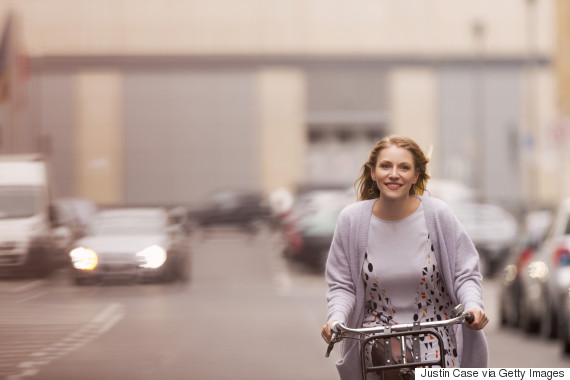 The results revealed that BMI was 1.71kg/sq m lower among male cyclists and 1.65kg/sq m lower among female cyclists, compared with commuters using "passive" modes of transport.
Similar results were seen with body fat measurements, which were 2.75 per cent lower for male cyclists and 3.26 per cent lower for female cyclists.
Other active modes of transport, such as walking, were also associated with significantly reduced BMI and body fat, albeit to a lesser extent.
The scientists remind commuters that it's important to use every opportunity to fit physical exercise into the working day, especially for those with sedentary lifestyles.
ALSO ON HUFFPOST:
Biking in Amsterdam is a quintessentially Dutch experience and there is a reason it defends the title as the world's most bicycle-friendly city in the 2013 Copenhagenize Index. Bikes come first. In Amsterdam over 60% of trips are made by bike in the inner city and 38% of trips are made by bike overall in the greater city area. Bicycles are used by all socio-economic groups because of their convenience, Amsterdam's small size, the 400 km of bike paths, the flat terrain, and the arguable inconvenience of driving an automobile. Each bike path (Fietspad) is coloured brown, in order to differentiate it from a footpath.

Trondheim has come up with a novel solution to riding uphill: The city features bicycle lifts that act like ski tows and allow the rider to glide up a hill without having to pedal.

Paris has left London and New York in the dust over the past six years. The city has steadily increased its network of bicycle paths since the late 1990s. As of 2010 there were 440 km (270 mi) of cycling routes in Paris, including bike paths and bus lanes that had been widened for use by bike riders. Paris launched a system of rental bikes free service called Vélib' in 2007 – there were originally 10,648 bikes available, now, Paris may eventually have 50,000 Vélib' bikes for hire with the main aim being to replace car use in the city for short trips.

With the Olympics and World Cup around the corner, Rio de Janeiro is looking to expand its cycle system after putting in tracks along the Copacabana beach in the lead up to the Rio Climate Summit in 1992. The city now has a modest network and to insure greater safety for cyclists is increasing the number of lanes. According to the city municipal planning, which performs bicycle path network expansion, there will be 30km of new bike paths and bike lanes this year, 40km in 2014, 50km in 2015 and 30km in 2016, for a total of 150km, and investments that are expected to reach R$98.65 million.

Barcelona also has created a green ring that runs the perimeter of the city centre. This bike path is peppered with 100 different bike stations as part of Barcelona's bike -haring program, allowing riders to rent and drop off at different locations.

Japan is, of course, no stranger to the bicycle. 15% of the population ride bicycles for transport and the national government has a goal of 25%. Some cities have built fully-protected lanes on some of their busiest streets, modelled on the Copenhagen cycle tracks. Japan also has a complex series of cycling laws, which, although being quite difficult to work out, are intended to enhance safety for everyone on the road.

Two years ago, Montreal embarked on an ambitious $134 million plan to revamp the city's bike trails and create a more bicycle-friendly atmosphere. It is now North America's premiere bicycle city. With cycle tracks dating from the late 1980s, Montreal has long been ahead of the curve. The city currently boasts 2,400 miles of trails with plans to expand. Montreal also has the first urban bike-share infrastructure in North America, the Bixi program.

Many towns and cities throughout Germany have designated bike lanes with more than 70,000 kilometres of cycle routes spanning the country. Munich and Berlin are currently in eighth and eleventh place on in the 2013 Copenhagenize Index.

From an urban design perspective, Copenhagen is second-to-none when it comes to a well-designed and uniform bicycle infrastructure network. 32% of Copenhagen residents are biking to work on a regular basis and the city's pro-bike culture goes so far as to allow you to rent a public bike for free.

Dubbed 'the Great Bike Hope among Emerging Bicycle Cities', Dublin's incredibly successful bike share programme has been instrumental in reestablishing the bicycle on the urban landscape. The dublinbikes scheme provides 40 public bike stations around the city with 450 bikes available for general public use.