Gender-Neutral Washrooms May Be Coming To Calgary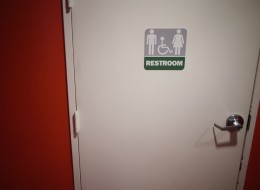 A Calgary councillor hopes to make all of the city's single-occupancy bathrooms gender neutral.
"The City of Calgary's Action Plan is moving Calgary towards a bold vision for the future by improving livability for people of all abilities and backgrounds, and by developing facilities and infrastructure that are accessible by all," reads a notice of motion put forward by Coun. Brian Pincott on Monday.
Pincott says he decided to put the motion forward after speaking with members of Calgary's LGBT community about how to make the city more inclusive for transgender residents.
"Unequivocally, they said without hesitation: washrooms," Pincott told the Calgary Herald.
Pincott also wants to institute a policy for developing more gender neutral washrooms in city facilities in future.
Motion is 'logical:' Nenshi
Calgary Mayor Naheed Nenshi is likely to vote in favour of Pincott's motion.
"Why do they have gender on them if they're single stall anyway? Everyone ought to be able to use them and that seems very logical to me," Nenshi said, according to Global News.
Calgary would be following in the footsteps of other Canadian cities including Edmonton, Regina and Vancouver.
"It just makes sense. It's an easy step we can take to start moving us down this path as a city," said Pincott in an interview with Metro News.
Like Us On Facebook
Follow Us On Twitter
Also on HuffPost:
These 8 Celebrity Bathrooms Are Amazing
The celeb: Rosie Huntington-Whiteley & Jason Statham The 'hood: Beverly Hills The impossibly good-looking British duo dropped a whopping $13 million on this 90210 pad. Previously owned by designer Jenni Kayne, it has stylish touches throughout — and the bathroom, of course, is no exception. With floor-to-ceiling windows, a glamorous copper tub, and marble walls, it would be tempting to stay in this room all day.

The celeb: Pharrell The 'hood: Laurel Canyon Back in May, Pharrell spent $7 million on this hilltop house with top-notch views of all of L.A. Fun fact: It's the same house Ryan Gosling milled around in shirtless in Crazy, Stupid, Love. When even your bathroom has 180-degree views, you know you've got it made.

The celeb: John Legend & Chrissy Teigen The 'hood: Hollywood Hills The power couple parted ways with this tropical stunner of a home late last year, selling the pad for $2 million. It may only have two and a half bathrooms, but we're talking quality over quantity here, folks — just imagine soaking under the stars in this glass-roofed bathroom.

The celeb: Leonardo DiCaprio The 'hood: Palm Springs Like what you see? Guess what: You can live like Leo for just $4,500 per night. Yep, his swanky, 7,022-square-feet Palm Springs estate is available for rent. It's pricey, to be sure, but you not only get to frolick around the six-bedroom, eight-bathroom house (complete with a tennis court and pool), you also get bragging rights for being a part of Hollywood history: The home was originally built in 1964 for actress/singer Dinah Shore.

The celeb: Caitlyn Jenner The 'hood: Malibu From her Vanity Fair cover to her ESPYs dress, Caitlyn has made a thoroughly glamorous debut, so it's only fitting that she has a stunning place to get primped in. She bought this $3.5 million home in Malibu back in March and has since filmed scenes for I Am Cait in the new digs — you may even recognize this bathroom from the first trailer.

The celeb: Cindy Crawford The 'hood: Malibu Crawford didn't just own this $15.45 million Malibu home — she and her husband Rande Gerber painstakingly renovated the house, top to bottom, before putting it on the market in May. No doubt the new homeowner is basking in the fact that this cozy, light-filled room has the supermodel's official stamp of approval.

The celeb: Beyoncé & Jay Z The 'hood: Beverly Hills Okay okay, so the power couple didn't actually end up purchasing this pad, but this insane house was too good not to include. Back in December, the pair eyed this $85 million home, only to be outbid by the creator of Minecraft. We're not sure how they could pass up this gorgeous bathroom — complete with a giant, stand-alone boat tub that boasts endless views of L.A. — but we're sure they had a good reason.

The celeb: Beyoncé & Jay Z The 'hood: Holmby Hills So, where did they end up on the left coast? They settled on this $150,000-a-month house in the exclusive Holmby Hills area. This sleek, ultra-modern room is just one of the sprawling abode's eight (and a half) bathrooms. Perhaps Blue Ivy laid claim to this one?