Laid Off Alberta: Photographer Captures Portraits Of Hard Times
A Calgary photographer is using his craft to tell the stories of people hit by Alberta's recession.
Mike Heywood, a self-employed commercial photographer, was reading the news when a headline struck him. It said that Alberta was experiencing the worst economic downturn since the early 1980s.
"I'm quite accustomed to the ups and downs of the economy," Heywood told The Huffington Post Alberta. "However, this time it has been particularly harsh."
"I really thought I'd be hearing from oil and gas people only but that's not the case."
On a whim, he posted an ad to Kijiji, hoping to document some of the downturn's stories.
Within 48 hours, he had more than a dozen responses.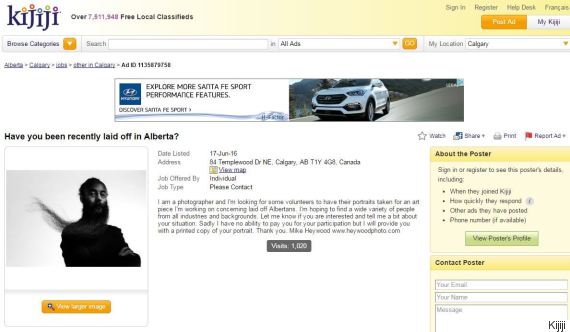 Mike Heywood posted this ad to Kijiji looking for photography subjects. (Screengrab: Kijiji)
"A few [people] didn't want to be photographed, but they definitely wanted to tell their story," he said.
"I think there's a sense of frustration — so an opportunity to express your story in any way gets a lot of feedback."
Heywood's project, Laid Off Alberta, consists of stories and black and white portraits of Albertans who have lost their jobs.
Heywood has photographed a wide range of subjects, including a pastor, a welder and an electrician.
"I really thought I'd be hearing from oil and gas people only but that's not the case," he said.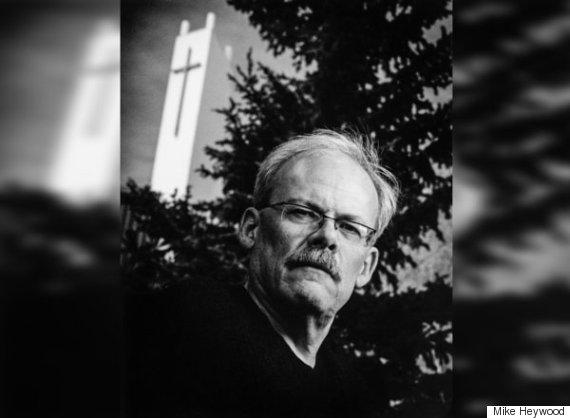 Steve is a pastor who was laid off from a Calgary church after donations declined. (Photo: Mike Heywood)
"Each of these portraits, I'm hoping, will fit a large section of the population who might be able to identify with what they're going through."
Heywood said the first photo he shot for the series sums up the project.
It was a portrait of Cindy Rechlo, a young grandmother who moved to Calgary from B.C. to help her daughter raise a new baby girl and two-year-old autistic son.
Shortly after arriving, Rechlo lost her job at a medical clinic and was forced to move back to B.C. Meanwhile, her daughter's husband moved their family to the East Coast for work.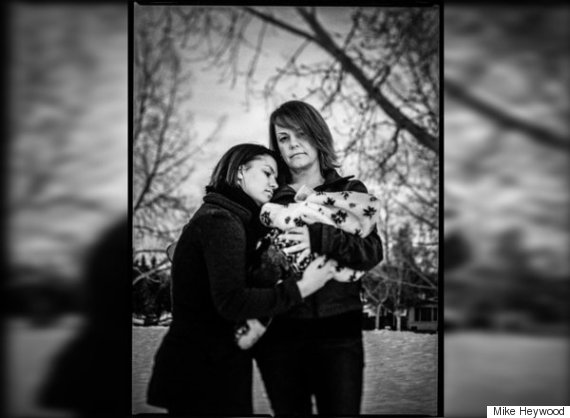 Cindy Rechlo is one of the subject's of Mike Heywood's "Laid Off Alberta" photo series. (Photo: Mike Heywood)

"What went from being a family that was trying to become connected, ended up being torn apart, basically, coast to coast. That one hit me a bit," Heywood said.
Once he's collected about 20 portraits, Heywood hopes to host a show to benefit the Calgary Food Bank or an employment-based charity.
"It's very unfortunate. These are hard-working, average people, who pay taxes. They're the backbone of our tax base ... it's negative all around."
Like Us On Facebook
Follow Us On Twitter
Also on HuffPost:
Alberta's Best Photos Of 2015
Two kids play hockey on a make-shift rink.

Edmonton Eskimos quarterback Mike Reilly hoists the Grey Cup after his team's win over the Ottawa Redblacks during the 103rd Grey Cup on Nov. 29, 2015.

A pilot snapped this photo of the devastating wildfires in Saskatchewan this summer.

Husband-and-wife wildlife photography team Chad Larsen and Andrea Halwas captured these two elk squaring off.

Edmonton photographer Randee Armstrong captured this dreamy image of a dirt bike speeding down a gravel road.

Four-year-old painter Cosette Swart has raised thousands for charity in her short career.

A meteor from the Taurid meteor shower streaks through the night sky in November 2015.

Alberta NDP leader Rachel Notley holds a can of orange Crush soda pop as she enters a campaign rally in Calgary, shortly before her party's historic win that toppled the Tories' decades-long dominance.

A bird perches in an evergreen tree near Claresholm.

Twisted Chasers, a group of nine amateur weather enthusiasts, chase wild weather phenomenon across Alberta.

Fireworks light up the Calgary Stampede.

Canada and China face off during the 2015 FIFA Women's World Cup in Edmonton on June 6, 2015.

Calgary couple Helen Knight and Owen Chan pose for a wedding photo just before a massive hail storm strikes on July 4, 2015.

Methane bubbles up creating columns underneath Abraham Lake.

People play a round of flaming skeeball at Beakerhad, a science and arts festival that takes place every September in Calgary.