Edmonton International Airport's Best Parking Spots Are Lexus-Only
Sorry, non-luxury car owners — if you're parking at the Edmonton International Airport, you'll have to walk a little farther with your luggage.
Thirty parking stalls in prime locations at the airport have been strictly reserved for Lexus owners. The stalls are painted with the luxury brand's logo and the "Preferred Parking" label.
Edmontonians on social media had mixed feelings about the campaign.
@ryanjespersen @FlyEIA dumb marketing on both Lexus and the airport's part. alienating 99% of people isn't a winning strategy

— Josh McLean (@RadioMcLean) August 8, 2016
@SarahNKraus @FlyEIA @Lexus meh, that's roughly 0.23% of all available stalls, so nbd. smart marketing tactic that I'm sure you'll see again

— Robbie Campbell (@robbeecampbell) August 8, 2016
Lexus paid for the 30 spots through Pattison Outdoor Advertising. The airport noted that it has 13,000 parking spaces altogether and that no handicapped spaces were removed for the ads.
Airport spokesperson Heather Hamilton said the campaign isn't unusual.
"We have a service called executive parking and many companies pay for that service. This is just the first time a company has chosen to brand it, label it, then offer it back to their consumers," Hamilton told 630 CHED.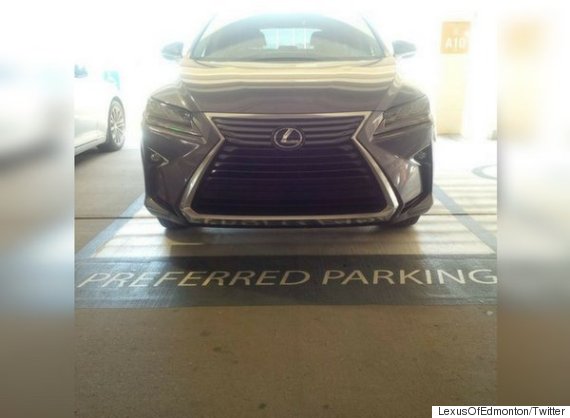 A Lexus vehicle is parked in one of the brand's preferred spots at the Edmonton International Airport. (Photo: LexusOfEdmonton/Twitter)

"Our revenue last year was a little over $200 million; $58 million of that comes from parking, concessions and advertising. Every dollar that comes to us from that route is a dollar that we don't have to charge a passenger and we don't have to charge an airline," Hamilton said in an interview with the Edmonton Journal.
Lexus said it won't be ticketing people that park in the spots.
"There won't be anything consequential happening to them," Lexus employee Cam Rutten told CTV News. "They may have an urge when they get back to buy a Lexus, hopefully, but otherwise they're happy to park there."
Like Us On Facebook
Follow Us On Twitter
Also on HuffPost:
Unique Airports In The World
The main airport on the Caribbean island of Saint Martin, this airport's runway is situated in close proximity to Maho beach.

The main international airport in Maldives, this airport is also known as Malé International Airport. It has been constructed at an elevation of 2 metres above mean sea level. Adjacent to the aiport is a waterdrome that has four water runways for seaplane operations.

This is reputed to be the most dangerous airport in the world with a sloped runway that is 527 m long, 20 m wide, and inclined at an amazing 12 degrees.

Spread over 45.9 acres, this is the only airport on the island that lies off India's west coast. It features one runway and its terminal can handle a maximum of 50 passengers at peak time.

A challenging airport to land in, flights are restricted to land/take off only during daylight hours.

The Kansai airport is Japan's second largest airport is built on an artificial island that cost 17 billion dollars to construct. It was built to relieve overcrowding at Osaka International Airport.

Build during World War II, the Gibraltar International Airport features an astounding view of the Rock Of Gibraltar, however is another difficult airport for pilots to manoeuvre around, because of the same reason.

Oddly enough, this airport features a railway line (Pamerston-North to Gisborne) that cuts rights across the main runway.

One of the highest airports in the world (3,256 metres above mean sea level), there is heavy level of this security at this airport: police and soldiers from the Indian army patrol the airport at all times.

Commonly known as DIA, this is the 5th busiest airport in the United States and the only airport (in that country, at least) to feature an ISO 14001-certified environmental management system.

Close to the McMurdo station, this runway (out of three) is the main runway for the US Antarctic Program. It is used until early December, after which the operations are shifted to Williams Field, another snow-ice runway.

This altiport features a short runway (537 m) in the French Alps, and has gained a reputation for being a dangerous landing area due to its mountainous terrain.