Edmonton's Best Patios To Visit This Summer
Summer weather in Edmonton can be fleeting, so it's worthwhile to make the most of it. Whether it's brunch or cocktails — or both — there are plenty of great patios around the city to enjoy.
Here are the best patios in Edmonton to soak up the sun:
5. Little Brick
This beautiful heritage home and café has the coziest garden, full of picnic tables and a fire pit for those chilly summer nights. If the patio's tables are taken, pull up a picnic blanket on the grass.
4. Parlour Italian Kitchen And Bar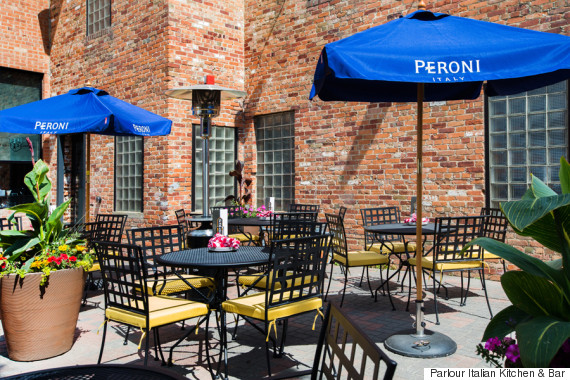 (Photo: Parlour)
Parlour's patio is more charming than you'd expect. You'll forget about the surrounding parking lot, nearby chain restaurants and MacEwan College as soon as you step inside its high wood walls. Plus, its got wine on tap and delicious local gelato to help you cool off.
3. El Cortez
The mosiac tiled tables, giant mural and neon lights make for an electric atmosphere at El Cortez. The tacos are delicious and pair great with any of the 140 types of tequila they offer.
2. Leva
PSA: We opened our PATIO today. Summer drinks, summer menu, summer everything!#yegcoffee #yeg #yegsummer pic.twitter.com/dusIvY1x6r

— LEVA Cappuccino Bar (@cafeleva) April 2, 2016
Leva has been a staple in Edmonton's Garneau neighbourhood since it opened 10 years ago, and for good reason. This little coffee shop does everything right, from Italian espresso, thin-crust pizza to breakfast pastries.
1. Fairmont Hotel Macdonald
This just might be the best view in all of Edmonton. Whether it's brunch or evening cocktails, the stunning river valley backdrop adds something special to a meal.
Like Us On Facebook
Follow Us On Twitter
Also on HuffPost:
Edmonton's Best Live Music Venues
Location: 10030 102 St. N.W., Edmonton, Alta. Capacity:600 Formerly The Bronx, The Rev, Lush, the Starlite Room has gone through a number of reinventions over the years, but it's always been a staple of Edmonton's music scene. The old Salvation Army Citadel building has been home to hundreds of incredible performers of all genres over the years. The venue's best feature? The sloping, wood dance floor that gives attendees at the back of the room just as good of a view as those at the front. Also worth visiting is Brixx downstairs, a pub that hosts plenty of local shows. (Photo: Red Fang warms up before a show at UP+DOWNTOWN Music Festival in 2014.)

Location:10351 82 Ave. N.W., Edmonton, Alta. Capacity: 80 The Almanac is a new addition to Edmonton's live music scene. The micro-venue French gastropub on Whyte Avenue hosts small rock, indie and punk shows in a back room on the weekends. (Photo: The Lion,The Bear, The Fox play The Almanac's inaugural show in January 2015.)

Location: 9910 109 St. Edmonton, Alta. Capacity: 150 The Common is a nightclub/gastro-lounge known for its great music — hip hop, soul, electronic, funk — but it's also worth a vist for the incredible eats. Chef Jesse Morrison-Gauthier's umami burger is to die for. While you're there, head downstairs to check out 9910 — the room has a floating sound system and incredible acoustics. (Photo: DJ Yella from NWA plays a show in October 2015.)

Location: 10203 86 Ave. N.W., Edmonton, Alta. Capacity: 150 Yardbird Suite is the only volunteer-run jazz lounge in Canada — fully operated by members of the Edmonton Jazz Society. Named after the Charlie Parker song, the lounge has been the home of Edmonton's jazz scene since 1957. Every Tuesday, local jazz musicians host a jam session. (Photo: Thee classic jazz greats — Al Muirhead, Tommy Banks and PJ Perry — share the stage at the Yardbird in January.)

Location: 10217 97 St. N.W., Edmonton, Alta. Capacity: 84 Bohemia is a chameleon-like venue. Host to everything from artsy, spoken word performances to noise groups, it's never a dull time. (Photo: Vancouver's Soatoa takes the stage at Bohemia in June 2015.)

Location: 8130 Gateway Blvd. N.W., Edmonton, Alta. Capacity: 150 DV8 is a dive bar host to anything outside the mainstream. Punk, metal, hardcore, you name it. Unfortunately, DV8, like many of Edmonton's live music venues, hit some hard times — the owners are currently hosting a GoFundMe to keep the venue open.

Location: 10575 114 St. N.W., Edmonton, Alta. Capacity: 120 Delicious vegan restaurant by day, intimate music venue by night. The Mercury Room is a perfect place to get to know some of the best of Edmonton as part of arts and local business incubator Blue Skys Arts Lofts.