Kate Hudson Instagram: Actress Is Unrecognizable In This '80s Throwback
Kate Hudson just posted the best throwback to the '80s.
On Thursday, the 37-year-old actress shared an old photo of her family, who appear to be on vacation. In true '80s fashion, Hudson's famous parents – mom Goldie Hawn and stepdad Kurt Russell – are seen donning eccentric, oversized sunglasses.
"OG Squad," she captioned the photo.
At first, we almost didn't recognize Hudson in this snap! Considering how much the actress now looks like her mother, it's amazing how different she looks at such a young age.
The "Mother's Day" star is actually the little girl on the left. She and her famous brother Oliver (who is on the far right) are the children of Hawn and ex-husband Bill Hudson. Her parents divorced when she was just three years old. Hawn then got together with Kurt Russell a year later, and Hudson has been calling him "Pa" ever since.
The two other kids in the throwback are Russell's children: Boston and Wyatt. Boston, the elder boy, is Russell's son from his first marriage to actress Season Hubley. Wyatt, the baby, is Russell's only child with Hawn.
If you don't believe that Hudson looked that different as a child, then get a load of these throwback pics the actress previously posted. While Hudson was certainly adorable, we would never have guessed this was her!
Today, Hudson looks just like her famous mom in every way. Their hair, smile and fun-loving aura are exactly the same. Just take a look at these photos.
Here's Hawn and husband Russell in the '80s.
And here's Hudson sporting a similar hairstyle and big shades.
And here they are together at Hawn's annual "Love in for Kids" benefit back in May. The resemblance is seriously uncanny.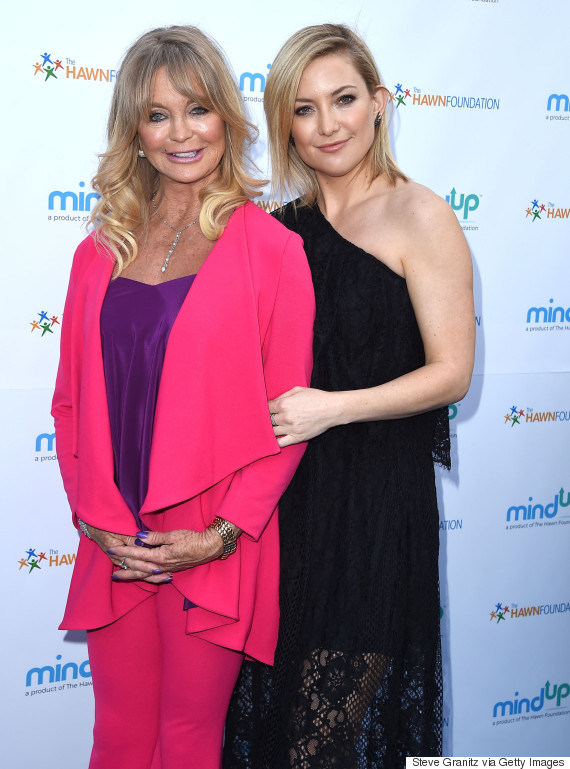 Earlier this year, Hudson opened up about her close relationship with her mother. "I've always had a really super open relationship with her," she told E! News. "I've never felt like I've had to hide anything from mom. If anything, she's always been my confidante."
She later added: "My mom, as busy as she was, was a very present parent."
Hudson is also a mom herself and has two boys. Her eldest son, 12-year-old Ryder, is from her marriage to Black Crowes frontman Chris Robinson. She then had her youngest, five-year-old Bingham, with ex-fiancé Matt Bellamy.
ALSO ON HUFFPOST:
Celeb Kids And Their Family Lookalikes
Meryl Streep's second child, actress Mamie Gummer, is her spitting image. The mother-daughter duo look so much alike that in 2007, they both starred in the film "Evening" and played the same character at different ages.

The Eastwoods are one good-looking family. Although Clint is a father of seven, his youngest son Scott, 29, looks the most like him.

Speaking of the Eastwoods, Clint's second youngest daughter, 22-year-old Francesca, looks just like her mother, Frances Fisher.

Lourdes Leon looks just like her mom Madonna when she was younger. Madonna had her daughter with actor Carlos Leon in 1996.

Jude Law's 19-year-old son Rafferty is a model and it's not hard to see why. The teen inherited his famous father's dashing good looks.

Wow! Bette Midler and her 28-year-old daughter Sophie Von Haselberg are identical! The two made us do a double take when they stepped out together last year at New York Fashion Week. Read more here.

Everything from this father-son duo's eyes, hair and style are exactly the same.

Most people don't realize that Jon Voight and Angelina Jolie are related, but when you put the two side-by-side, the resemblance is uncanny. Voight had his daughter Jolie with late ex-wife Marcheline Bertrand.

Jackie O's granddaughter looks just like her! Rose Kennedy Schlossberg is 27 years old and an aspiring comedian. Read more here.

Caroline Kennedy is the only daughter of the late John F. Kennedy and Jackie Kennedy Onassis. Caroline's daughter Tatiana Schlossberg, 25, looks just like her and is a New York Times writer.

John Schlossber is the youngest grandchild of the late JFK and Jackie O. The 23-year-old closely resembles his late uncle, John F. Kennedy Jr.

Dylan Penn is definitely her mother's mini-me. All grown up, the 24-year-old is now a model. Wright is also a mom to a son named Hopper, who she also had with ex-husband Sean Penn.

Diana Ross has good genes and she passed them on to her gorgeous daughter Tracee Ellis Ross.

Pierce Brosnan is a father of five, but his 32-year-old son Sean looks just like him! Sean is also an actor.

Whoa! Can you believe this is Sting's son? The two look more like twins than father and son. Joe Sumner, 39, followed in his father's footsteps and became a musician as well. He is the lead singer and bass player for UK band Fiction Plane.

James Jagger might not have his father's moves, but he's certainly got his looks! The 30-year-old is the son of the Rolling Stones frontman and Jerry Hall. The former couple also has three other kids: Elizabeth, Georgia and Gabriel. Read more here.

There's no denying it: Kris Jenner has passed on her good looks to all her kids. However, Kris and daughter Kim look eerily the same.

Eminem's daughter Hailie is all grown up at 20 years old and looks just like her famous father! The rapper had his daughter with ex-wife Kimberly Anne Scott.

There's no doubt that Bon Jovi's son Jesse Bongiovi is his carbon copy! The 20-year-old is a junior on the Notre Dame Fighting Irish football team. Read more here.

Susan Sarandon passed on her good looks to her daughter Eva Amurri.

Kiefer Sutherland is definitely his father's mini-me.

Goldie Hawn and daughter Kate Hudson make one attractive duo. You know what they say: like mother, like daughter.

This father-son duo looks so much alike!

Blythe Danner, 73, passed on her good looks to daughter Gwyneth Paltrow, 43.

George Harrison, of the Beatles, and his son Dhani are identical.