60th Birthday Gift Ideas: 25 Ways To Fete The Big 6-0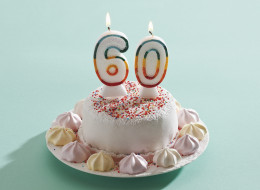 All birthdays are worth celebrating, but the milestone ones just seem all the more special — and 60 is definitely a landmark year.
Some people might dread this birthday, feeling that hitting 60 makes them officially old. It is, after all, when you might start getting pension cheques from the government and seniors' discounts at your favourite stores.
But making it to 60 is something to be proud of: it means you've got a life filled with rich and meaningful experiences, valued friends and family and the excitement of more great years to come.
Celebrate the 60th birthday of someone you love with a gift that says, "You are valued and deserve something nice" not "You're over the hill." (Or even better, buy a gift for yourself to remind yourself of that!)
Here are 25 60th birthday gift ideas to get the birthday list started.
Personalized Whiskey Barrel Get it at Uncommon Goods for $115

Six Rings Necklace Get it from Jewelry by Netsuko at Etsy for $120.

Personalized Song Sound Waves Print Get it from House of Yve at Not On High Street for $42.

Wild Savannah: Deluxe Edition By Millie Marotta Get it from Indigo for $35.15

Toronto Blue Jays Used Game Uniform Wallet Get it at Tokens & Icons for $150.

Bone-Handled Bar Set Get it at Cocktail Emporium for $79.

Birthstone Wishing Balls Get it from Jill Henrietta Davis at Uncommon Goods for $43.

Personalized 1956 Print Get it from aFewHomeTruths at Etsy for $26

Name A Constellation Star Get it at Star-Registration.com for $69.90.

Matrix Multi-Photo Display Frame Get it at Umbra for $80.

Refillable Leather Journal Get it from Rustico at Indigo for $70.

Rose Gold Japanese Glass Shaker Get it at Cocktail Emporium for $135.

My Life Story—So Far Book Get it at Uncommon Goods for $40.

1956 Sixpence Necklace Get it from Peregrin Vintage at Etsy for $44.

Rose Gold Marble Watch Get it from Christian Paul Bondi at Indigo for $215.

Linen Hardcover Photo Book Get it at Parabo Press for $60.

Personalized Family Birthstone Bracelet Get it at The Bradford Exchange for $129.

Miranda Kerr Teacup And Saucer Get it from Royal Albert at The Bay for $60.

Copper Flask Get it at Cocktail Emporium for $49.

Custom Birthday Book Get it from The New York Times at Uncommon Goods for $134.86.

1956 Penny Bracelet Get it from Wv Works Jewelry at Etsy for $47.

Lotus Copper Rain Chain Get it from Stanwood Rain Chain at Amazon for $89.54.

Matte Dial Watch Get it from Ted Baker London at Indigo for $199.

Maple Leaf Gardens Seat Cuff Links Get it at Tokens & Icons for $170.

Crystal Champagne Flute Get it from Waterford Wedgwood at The Bay for $90.