Credit Card Skimmer Found At Calgary Gas Station
Calgarian Jeremy Ensign had just finished paying for a tank of gas on August 13 when a piece of plastic fell off the pump's card reader.
He called police, who confirmed the object was actually a card skimming device.
"When I saw the chip and wires I knew right away…I was pretty choked, but what can you do?" Ensign told Metro News.
He shared photos of the skimmer on social media to warn others.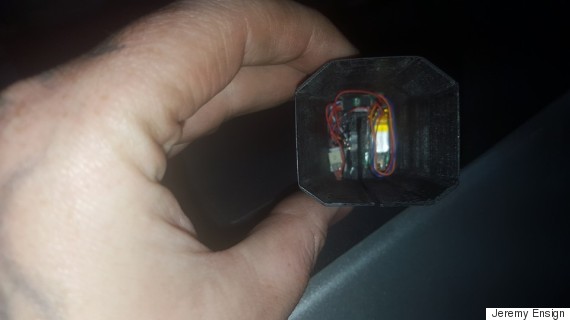 The inside of a credit card skimmer that was found at a Calgary gas station. (Photo: Jeremy Ensign)
The skimmer was found at a Husky gas station. Husky confirmed to CBC News that it is cooperating with police on the investigation.
Card skimmers can be difficult to spot. Often, skimmers perfectly duplicate a card reader on an ATM or gas pump, making it easy for people to duplicate credit card information.
Calgary police said it's important to take a good look at card readers to avoid fraud.
"You want to look for any type of tampering, any anomalies, any abnormalities, anything that appears broken. You're looking for loose bolts. You're looking for plastic coverings over the PIN pad itself," Det. Dean Nichol told CTV News.
Like Us On Facebook
Follow Us On Twitter
Also on HuffPost:
How to Protect Yourself From Fraud
Erase all personal information before disposing or selling electronic equipment. This includes computers, cell phones, CDs, DVDs, diskettes and memory sticks.

Shred or destroy pre-approved credit card applications, credit card receipts, bills and related information when you no longer need them.

Never send confidential personal or financial information by email.

Ask yourself if you really need all the personal identity documents you keep in your wallet or purse. Remove those you don't need and keep them in a secure place instead.

Periodically check your credit reports, bank and credit card statements and report any irregularities to your financial institutions and the credit bureaus.

During debit or credit transactions, swipe the card yourself rather than allowing the cashier to do it for you.

Memorize all the personal identification numbers for your payment cards. Never write them on the cards.

Never use a public access computer or wireless network when banking or shopping online.

Avoid mail or telephone solicitations disguised as promotions or surveys offering instant prizes or awards. These scams are designed for the purpose of obtaining your personal details including credit card numbers.

Don't reply to spam emails, even to unsubscribe, and do not click on any links listed in a spam email. Many of these are phishing scams designed to access the personal information stored on your computer.