'Wonder' Movie: Jacob Tremblay Is Bringing The Book To Life
Every kid's favourite novel Wonder is being brought to life, with Jacob Tremblay as the beloved Auggie.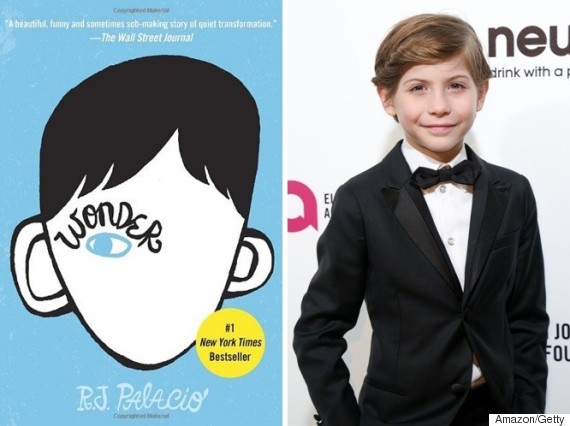 If you're unfamiliar with this bestselling book by R.J. Palacio, it follows a fifth-grade boy named August Pullman — born with a facial deformity — as he tries to fit in at his new school.
Describing the story to People, director Stephen Chbosky said: "The movie 'Wonder' is about family, friendship, love and most of all, it's about choosing kindness at every stage of life."
Although "Wonder" won't be released until April 2017, the film's first photo was recently released showing Julia Roberts and Tremblay playing mother-son duo Isabel and Auggie. Due to Tremblay's character's extraordinary face, it only makes sense that we hardly recognized the Vancouver-born star.
First look: @JacobTremblay and #JuliaRoberts in @WonderTheMovie >>> https://t.co/Q6jghbzNSY #etalk #WonderMovie pic.twitter.com/jUC4pOe55r

— etalk (@etalkCTV) August 13, 2016
Earlier this month, the nine-year-old actor tweeted his excitement over his latest role and reiterated the film's important message.
I am very honored to help bring Auggie to life! Let's #choosekind everyone! 👫 @WonderTheMovie https://t.co/hlJ2N00dis

— Jacob Tremblay (@JacobTremblay) August 10, 2016
Speaking about the film's cast, director Chbosky revealed he wasn't drawn to Tremblay and Roberts just because of their acting.
"One of the special things about the movie 'Wonder' is that we cast the actors as much for their humanity as their talent," he told People. "Both Julia and Jacob are so normal yet so exceptional, not only at what they do, but who they are."
Chbosky is certainly right. While Roberts was dubbed America's Sweetheart early on in her career, Tremblay quickly won over the public last year. The young actor first caught everyone's attention with his stunning performance in "Room." Since then, he has never failed to charm us at every red carpet event.
Tremblay has also been involved in big events like We Day, which strives to empower today's youth.
Clearly, the cast of "Wonder" couldn't be more perfect. We can't wait to see this movie, and neither can Tremblay's fans.
ahhhhh i didnt know there is gonna be a wonder movie and it's starring precious jacob tremblay!!!! 😄😄😄

— lily (@clintcsha) August 11, 2016
Just found out that there's gonna be a Wonder movie and Jacob Tremblay is gonna play Auggie?!?! OMG WHY DID I NOT KNOW

— elly (@ellywithbass) August 23, 2016
julia roberts and jacob tremblay are going to be in a movie together called wonder i am so excited pic.twitter.com/zLxV6UZjvu

— nicole ! (@jhutchersin) August 11, 2016
ALSO ON HUFFPOST:
The Chicken Squad: The First Misadventure, by Doreen Cronin, illustrated by Kevin Cornell" width="52" height="52"/>

My neighbor's chickens do a lot of pecking and squawking and egg laying. Those are normal chickens. Dirt, Sugar, Poppy and Sweetie, however, have bigger plans. Not content with life in the coop, they're out to solve mysteries and fight crime. They'll start with a panicky Squirrel and move on from there.

The Tapper Twins Go To War (With Each Other), by Geoff Rodkey" width="52" height="52"/>

Claudia and Reese Tapper are at war. Maybe. Or maybe they're not. If they are, no one is really sure who started it or why. What starts out with the usual pranks between siblings quickly escalates until these twins have to decide whether they're willing to pay the price to destroy each other. Anyone with a brother or sister will be able to relate.

Pip Bartlett's Guide To Magical Creatures, by Jackson Pearce and Maggie Stiefvater" width="52" height="52"/>

Take a tribble, cross it with Hermione and throw in a bit of Nancy Drew and you'll start to get a sense of what you're in for when you meet Pip Bartlett. Pip can talk to magical creatures -- although not everyone believes her. When the Fuzzles invade town, it's up to Pip to figure out what's going on and stop them from taking over.

Under the Egg, by Laura Marx Fitzgerald" width="52" height="52"/>

Theo Tenpenny is having a rough summer. She's broke, her mom won't leave the house, her neighbor hates her chickens, and her grandfather has just died, leaving her in possession of what could possibly be a stolen (and priceless) Renaissance painting. And you thought summer school was bad.

Anyone But Ivy Pocket, by Caleb Krisp" width="52" height="52"/>

Ivy Pocket is a clueless and slightly deluded orphan with an attitude. She's also the last person you'd expect to be entrusted with the delivery of a priceless necklace. Part Jane Eyre, part Lemony Snicket and a lot of fun, Anyone But Ivy Pocket is a must-read of the summer.

Story Thieves, by James Riley" width="52" height="52"/>

When Owen discovers his classmate, Bethany, climbing out of a book, school goes from boring to life-changing in an instant. When Owen learns that Bethany is half-fictional and is jumping in and out of books to find her father, Owen blackmails Bethany into taking him into his favorite series. What he finds there, however, will change his life forever.

Shivers! The Pirate Who's Afraid of Everything, by Annabeth Bondor-Stone & Connor White, illustrated by Anthony Holden" width="52" height="52"/>

Most pirates are brave and bold and a little rough around the edges. Not Shivers. He's the scarediest pirate who ever lived. Still, you can't help but love him and his loyal fishmate. Read this book and you'll never look at pirates the same way again. Or giant squid, for that matter.

Circus Mirandus, by Cassie Beasley" width="52" height="52"/>

If you're looking for a magical and heartwarming story for your summer reading, this is it. Micah's grandfather has long regaled him with stories of the Circus Mirandus and its host of extraordinary creatures and performers -- including the Man Who Bends Light, who owes Grandpa Ephraim a miracle. When Micah realizes his grandfather is dying, he sets out to find the Circus and collect on the Lightbender's promise to save his grandfather. But what happens if he doesn't succeed?

Dorothy Must Die, by Danielle Paige" width="52" height="52"/>

Sometimes, things happen. Bad things. Sometimes, you get ripped up by a tornado and sent to Oz, to discover that the story you've been told all your life may not, in fact, be true. Dorothy might be evil -- and if she is, maybe she has to die. For anyone who likes a good story turned on its head, Dorothy Must Die is a must-read. Then, check out the sequel, The Wicked Must Rise, to see what happens next.

The Iron Trial, by Holly Black and Cassandra Clare" width="52" height="52"/>

Callum Hunt has to pass the Iron Trial to be admitted to the Magisterium -- it's every kid's dream. At least, it is for everyone but Callum. His father warned him against the dangers of the Iron Trial and the magic it involves. So now Callum is doing his best to fail -- but at what cost?

Hellhole, by Gina Damico" width="52" height="52"/>

Max Kilgore didn't mean to unleash a devil. Really. But now it's here and living in Max's basement. In order to protect everything he loves, Max has to comply with his new houseguest's demands, which stretch to lots of junk food and a hot tub. There's plenty of hilarious to balance out the troubling in this new novel from the author of Croak.

Red Queen, by Victoria Aveyard" width="52" height="52"/>

Mare Barrow has red blood, which in today's world wouldn't be anything remarkable. In her world, however, Mare is a second-class citizen at best, ruled by those with silver blood and supernatural powers. But one day, Mare discovers that she has powers, too -- and becomes embroiled in a dangerous game set in motion by the king in order to save her life and those of the people she loves.

Say What You Will, by Cammie McGovern" width="52" height="52"/>

Amy Van Dorn has a problem. She doesn't have any friends, which could be because she can only speak with the help of a computer and has been surrounded by person aides her entire life. Cerebral Palsy has its downsides. But this is her senior year of high school, and Amy is determined to change everything. And that's when she meets Matthew and things change in ways she could never have imagined.