Anal Sex Tips: 12 Ways Beginners Can Find Ultimate Pleasure
It wasn't that long ago that anal sex was considered absolutely taboo for heterosexual couples — if you'd tried it, you definitely weren't talking about it.
But several surveys show anal sex and anal play are increasingly popular for couples of all orientations. According to the National Survey of Family Growth conducted in the U.S. in 2014, 44 per cent of straight men and 32 per cent of straight women reported trying anal sex in the past. In a 1992 survey, only 16 per cent of women said the same thing.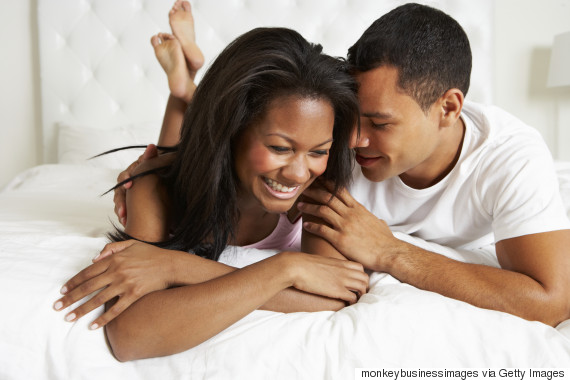 And as more people incorporate anal sex into their sex lives in different ways, the taboo decreases. "A lot of people get overly worked up about trying anal sex, but it's really not that big of a deal! The anus has lots of nerve endings, and anal play can be immensely pleasurable. It's definitely something worth trying at least once," says sex therapist Vanessa Marin.
But as with any new sexual experience, anal sex can be stressful if you haven't tried it before. Or maybe you've experimented with anal play and want to take it further, but aren't sure how to proceed.
This basic guide to experimenting with anal play can help you figure out where to start, where to go for more information, and what to discuss with your partner along the way.
Check out the slideshow below to learn more about anal sex.
Anal Sex Tips For Beginners
Why try it? Because it feels great, basically. According to Toronto sex store Come As You Are, the anal opening has the highest concentration of nerve endings, and responds to feelings of pressure or fullness. For men, putting pressure on the anus' ventral wall also stimulates the prostate. And for women, the internal tip of the clitoral body can be stimulated through the anus as well.

Anal sex misconceptions: The main misconception about anal sex that sex therapist Vanessa Marin encounters is that the only people who do it are gay men. But this misconception is decreasing as more people explore anal play. "Anal play and sex are becoming increasingly popular with couples of all orientations," Marin says. "Additionally, lots of straight men are starting to open themselves up —pun intended— to the joys of anal."

Start slow: "I highly recommend that you start with anal play rather than anal sex," Marin says. "It's much easier to start with fingers or small toys than it is with a penis." Small toys like the Spartacus small glass plug or the Happy Valley Little Snoop are good starter toys.

Fingers are a great starter tool, too: A lubed-up finger is an easy way to start with anal play, Marin says, and one that may be less intimidating than a toy. "If you're nervous, start with having your partner simply press their fingertip against the opening of your anus while you're having sex or they're performing oral. Make sure they use a dab of silicone lube," she says. "If you enjoy that, have them slowly press their finger into your anus, a centimetre at a time. Or you can have them stay still while you press your body against their finger at a rate that feels comfortable for you. Once you feel relaxed, they can move their finger in and out, or can move up to a slender dildo or vibrator."

There's no such thing as too much lube: Get some lube. Apply some lube. Then apply more lube, probably. "I can't understate the importance of using lube during any sort of anal play," Marin says. "Lubricant is a non-negotiable." She recommends a silicone-based lube, but keep in mind that when used with silicone toys they can break the material down over time. Your local adult store will have a variety of silicone-based and water-based lubricant options and can advise you on a good choice.

Communication is important: Some people do experience a bit of discomfort as they begin with anal play or anal sex. For that reason, it's important to always be communicative about how the experience is for you if you're on the receiving end, and to ask lots of questions about what is and isn't OK if you're on the giving end. "Since there is the possibility that you could experience some discomfort initially, make sure to give your partner plenty of feedback about how slow to go and how much lube to use," Marin says. "Your partner should understand that you're in control."

Things to know as a top: If you're the top in the situation, you have a lot of responsibility to ensure that you are communicating with your partner, ensuring his or her comfort, and respecting their boundaries. "The partner being penetrated should always be the one in control," Marin says.

But what about poop?: The possibility of an unwelcome fecal situation puts a lot of otherwise-interested people off anal sex, but Marin says this concern is largely overblown. "Fecal matter only passes through your rectum; it doesn't sit in there. You may have traces of fecal matter along your rectal canal, but we're only talking traces," she says. "Anal sex also won't make you lose control of your bowels. Most people won't ever even notice this issue." If you're worried, clear the pipes before you start — either the old-fashioned way or with a water-based enema, Women's Health suggests.

Don't push it: Sometimes both partners are interested in trying anal play or anal sex, even if they are a bit nervous or unsure of how to start. But there are times when one partner is interested, and the other simply is not. It's important to know the difference, and to respect that. "We all get to choose our own sexual boundaries, so you should never push someone to do something they're not comfortable doing," Marin says. "If your partner is nervous but not opposed to the idea, talk to them about their particular concerns, and educate yourselves together. There are plenty of resources available online."

Keep it safe and clean: The lining of the anus is sensitive to damage, Come As You Are advises. Keep fingernails short, smooth, and clean. Don't put anything with jagged edges in your anus. Use toys with a flared base so that they are easily retrieved — those sphincter muscles are strong. Don't put anything (like toys, fingers or penis) from anus to vagina, because the bacteria in the former is no good for the latter. And if something is painful, don't force it.

Bring in outside help: Anal sex can look unrealistic in a lot of pornography — you don't see any of the lead up or lubrication. But there are plenty of DVDs, websites, and books out there that have helpful tips for everyone from beginners to old pros. Tristan Taormino focuses a lot of her sex-education work on anal play (website NSFW), and adult stores will have other reading material on anal sex education.

Secret bonus orgasm potential: Anal sex or anal play may have one surprising benefit for women: orgasms they might not otherwise have. "I've worked with women who were able to orgasm for the very first time by having their partner incorporate some anal play into their regular activities," Marin says. "Other women report that they can orgasm much faster, or much more powerfully, if their anus is being stimulated."