Calgary Bylaw May Put An End To Anti-Abortion Flyers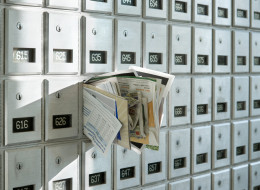 The City of Calgary might soon put an end to those graphic anti-abortion flyers many residents have been finding in their mailboxes.
The city is reviewing its bylaws with an online survey asking citizens for input.
The survey asks if a "no flyers" or "no junk mail" sign should also prohibit the delivery of non-commercial mail. Currently, the signs just ban mail from businesses, but if extended to non-commercial it would also ban literature advocating for particular causes.
"Where we're having difficulty is when groups are putting literature in people's mailbox that people find offensive," Alvin Murray, chief bylaw officer for the city, told Metro News.
Parents upset over flyers
Calgary-based non-profit The Canadian Centre for Bioethical Reform has received flak for delivering disturbing postcards to Calgary neighbourhoods.
Calgarian Jodi Rempel said a card left at her door showing a murdered Rwandan child was spotted by her young son.
"So our kids are grabbing these and seeing them and then running to us asking questions," Rempel said to CTV News.
Murray said the community standards bylaws haven't been updated in a decade.
"We don't want to make wholesale changes if we don't need to. If citizens are happy with the way things are then it's important for everybody to voice their opinions," he added, in an interview with CBC News.
Like Us On Facebook
Follow Us On Twitter
Also on HuffPost:
Top 9 Spam-Sending Countries
Pakistan relays 3.3 percent of all spam.

Poland relays 3.9 percent of all spam.

Brazil relays 4.3 percent of all spam.

Italy relays 4.9 percent of all spam.

Russia is tied with Indonesia for fourth place, relaying 5 percent of all spam.

Indonesia is tied with Russia for fourth place, relaying 5 percent of all spam.

South Korea relays 5.7 percent of all spam.

The United States relays 8.3 percent of all spam.

India relays a whopping 9.3 percent of all spam to computers across the world.

Spam. Depending on your tastes it's a a) delicious or b) vile canned meat product from Hormel. If you're a computer user there is no a) / b) proposition; spam sucks. Michael "Doctor File Finder" explains what exactly spam is and how to eradicate or, at least, lessen its impact on your inbox. Spam is the plague of the Internet and nearly 90% of all the email that's sent is spam. We'll show you some ways to reduce the amount of spam you have to deal with.