When It Comes To High Literacy, Numeracy Rates, Canada Is Low On The List: Report
With the recent news of half of Grade 6 students in Ontario failing to meet the provincial math standard, another report looking at high literacy and numeracy rates around the world has placed Canada on the lower half of the list.
Research from The Organization for Economic Cooperation and Development (OECD) from earlier this year, and a 2012 Survey of Adult Skills report, found teens in South Korea had the highest literacy and numeracy rates compared to the rest of the 34 OECD countries.
According to the OECD report, in 2012, 66 per cent of South Koreans between the ages of 25 and 34 years old attained tertiary education, which was the highest compared to any other OECD country. The east Asian country also had the lowest per cent of teens between the ages of 16 to 19 with literacy and numeracy skills below level two.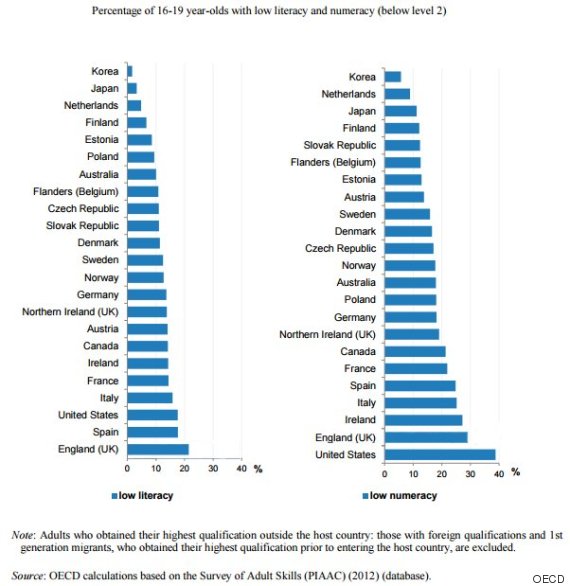 And while South Korea came out on top, England had the lowest rates in literacy, while the U.S. had the lowest rates in numeracy.
"England's teenagers have the worst levels of literacy coming in last place with more than 1 in 5 having a low level of literacy. The country doesn't fare much better in numeracy, coming second to last with more than a quarter of 16-19 year olds lacking basic numeracy skills," the World Economic Forum notes.
For both of these categories, Canada placed 17th.
In 2012, the Globe and Mail reported literacy rates in Canada were high — at 97 per cent — but there is often an ongoing debate about what this measure means. Also note this percentage is a comparison of Canada on a global scale, and not just 34 other OECD countries.
Another report from the Canadian Literacy and Learning network states 42 per cent of Canadian adults have low literacy skills (although the year is not specified).
The OECD report says 81.5 per cent of Canadian teens between the ages of 16 and 19 have formal education and training, while 18.5 per cent of teens don't.
And the report adds while education is key, countries with lower rates of literacy and numeracy should look at the schooling standards of countries like South Korea, Japan and Netherlands who placed high on the list.
ALSO ON HUFFPOST:
World Literacy Day: 7 Easy Ways To Spread The Word
Give a new home to unused children's books by sending them to Kids Need to Read, which will distribute the books to kids nationwide free of charge. The nonprofit caters to kids facing challenges in their lives and who don't have easy access to books.

In the mood for a new novel or have one in mind for someone else? Better World Books gives revenue from donated books sold on its site to literacy programs around the world. The company also provides free domestic shipping and offsets the carbon footprint of each order.

Free Rice is a guilt-free indulgence for logophiles. The site provides a free, increasingly difficult vocabulary quiz to improve your own literacy with a correspondingly higher amount of rice donated by sponsors for each question you get right.

On TheLiteracySite.com, visitors can donate to improve childhood literacy with the simple click of a mouse. The website uses advertising revenue to donate one book per click to a needy child through nonprofit organizations, First Book and Room To Read. Visitors can return to the website every day to contribute their daily click.

Sign up to tutor students or hold a workshop on something you're passionate about at 826 National, which celebrates the power of reading, writing, and self-expression beyond the classroom.

Innovation nonprofit Worldreader is bringing Kindles to children in Ghana, giving every participant an entire library at their fingertips. Supporters can contribute by making an online donation to support the organization's work. A $10 donation funds up to five e-books, while a $200 donation supplies a Kindle for one child.

ThinkFinity.org, a collaboration between the Verizon Foundation and the National Center for Family Literacy, brings you online tools to make a difference by helping children learn how to read. You can use the website to find volunteer opportunities in your community, as well as take free online courses to improve your tutoring skills.