This Vibrating Alarm Clock Will Wake You Up With An Orgasm
There are several ways to reach pleasurable orgasms anytime of the day, but one alarm clock company wants you to wake up happy.
Little Rooster, a U.K.-based company, has designed body-safe and phthalate-free plastic alarm clocks that are meant to be inserted in your underwear rather than the vagina. The top part of the clock — a plastic rod — sits on top of the clitoris, the Daily Mail reports.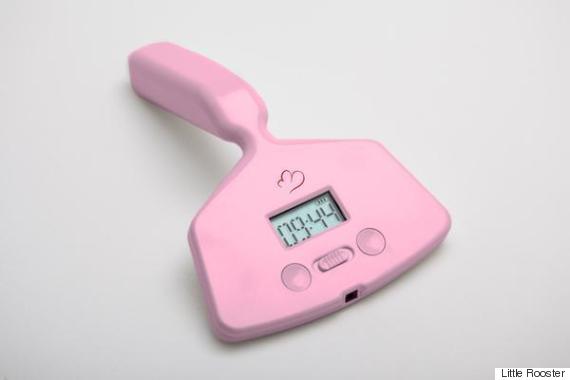 Although the alarm clocks were first released in 2014, Little Roosters are available again to pre-order for an October re-launch. Each alarm clock is equipped with 27 silent levels (how can there be more than one?), 30 power levels that increase as time goes by, and vibrating motions that stimulate the clitoris and labia, the site notes.
"We went through 300 prototypes, tested on over three dozen women of different body shapes to refine the concept of a stabilising flat element against the pubic bone attached to a narrow vibrating part that rests between the legs," Little Rooster creator Tony Maggs told Lost At E Minor in 2014.
One reviewer left this testimonial on the website:
"Early morning is my favourite. I like to lie on my side with my partner behind me. What I love about Little Rooster is how it gets stronger without me having to fiddle with it. I wear it in my g-string, I don't have to hold it, I don't have to adjust the power. It just does its thing, slowly increasing, leaving my partner free to run his hands all over my body."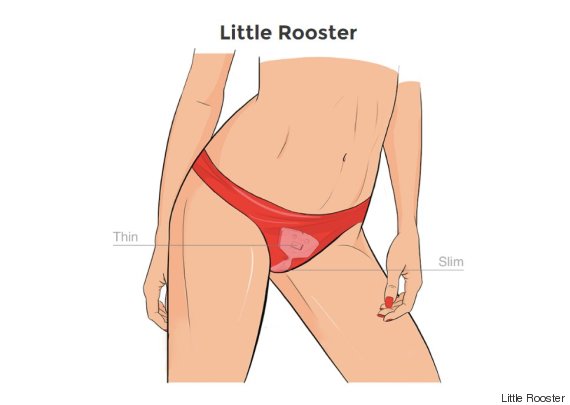 Wake-Up Vibe is another alarm clock vibrator designed with similar features, including six vibrating levels and a silicone layer.
But if you're not up for switching alarm clocks completely, we still suggest starting your day with the big-O. According to Cosmo, some studies suggest starting your day with an orgasm (through sex or self-love) will keep you feeling upbeat for the rest of the day. And maybe, with sex on the table, you'll be more likely be able to get up on time.
The Little Rooster costs about $118, and apparently, a male version is in the works.
ALSO ON HUFFPOST:
9 Things You Should Know About Orgasms
Sex therapist Vanessa Marin says a lack of orgasms is much more common in women than in men. "I think this comes down to masturbation," she says. "It's more acceptable for boys to masturbate than girls. So as a result, there are more men who have had experience with learning what they like. They understand what their bodies need. Most women don't have that same level of familiarity with their bodies." Add this to the fact that a lot of women are socialized to think that our genitals are somehow "weird or gross," and the result is that many women simply haven't spent the time figuring out what helps them orgasm.

If you're having trouble reaching an orgasm, whether solo or with a partner, some quality time with yourself is the way forward, Marin says. "I wholeheartedly believe that the best way to learn how to orgasm is on your own," she says. "In a funny way, it's sort of like that old saying 'you can't love anyone else until you can love yourself'! Masturbation is the key to learning how to orgasm."

Working with a sex therapist can help you uncover the mental barriers standing between you and an orgasm. "When I coach clients, we spend a good deal of time trying to uncover and understand their mental blockages," Marin says. "There are lots of dynamics that could be at play, including internalized shame, poor body image, feeling unsafe [usually because there's been a history of sexual abuse], fear of the unknown, or fear of losing control."

If you aren't having the results you'd like from sex today, think about what sex has meant as a part of your life through the years. Marin suggests some starting questions: "What were you taught about sex, your body, and masturbation growing up? Have you had any experiences that might make you feel unsafe? What's your general relationship with your body like? Are you able to feel present and comfortable in your own skin? Do you have any fears about orgasm?" Examining these and other areas can help you figure out how your past history with sex is affecting you today.

There are some physical factors that could affect your ability to orgasm. Marin says the one she sees most often is antidepressant use. "Researchers don't fully understand the connection between antidepressants and orgasm, but many people report that it's more difficult or even impossible for them to orgasm while on antidepressants," she says. Other factors like spinal cord injuries can affect your ability to orgasm. But mitigating factors don't mean you can't orgasm, just that you may have a challenge to face that others do not.

If in-person therapy doesn't work for you financially or logistically, there are still other ways to get help from those truly in the know about orgasm and sexuality. Marin recommends her own program of course, but one benefit of it and others like it is that it can be done at home. You can also seek out other online sex courses like Luscious Woman — a site that can help you discover new ways to climax.

There are also plenty of helpful books out that that can help you address the emotional aspects of sexuality, explain the science behind sex and orgasm, or give you helpful tips for working towards orgasm by yourself or with a partner. A few suggestions include Come As You Are by Emily Nagasaki, Oh Joy Sex Toy by Erica Moen, and Slow Sex by Nicole Daedone.

And of course, there's always porn! Watching pornography is one way to explore what turns you on, and to get some idea of the breadth of what works for other people. And what's out there now is a lot more varied than the stereotypical image many of us hold of pornography — so if that doesn't do it for you, don't write off adult entertainment entirely. Look for work by female directors like Nina Hartley, Erica Lust, Tristan Taormino, and Shine Louise Houston as a starting point.

Visiting a local adult store is a great way to find new ways to experiment. There are stores across the country with knowledgeable, non-judgmental staff who are truly passionate about their work and can make great recommendations, whatever you're looking for. Check out Good For Her and Come As You Are in Toronto, Joy Toyz in Montreal, Womyns' Ware in Vancouver, or Babeland online.