Lay's Releases New Swiss Chalet Sauce Chips That Taste Like Chicken
You may be used to dipping your chicken in Swiss Chalet's secret sauce, but now you can get this dip in chip form.
Lay's and Swiss Chalet recently launched Chalet Sauce potato chips that will be available for a limited time at Swiss Chalet restaurants across the country.
"This creation combines a classic Canadian flavour with Canada's favourite potato chips made from homegrown potatoes, giving our fans a new way to enjoy a taste they love," Shereen Yasseen of PepsiCo Foods Canada said in a statement.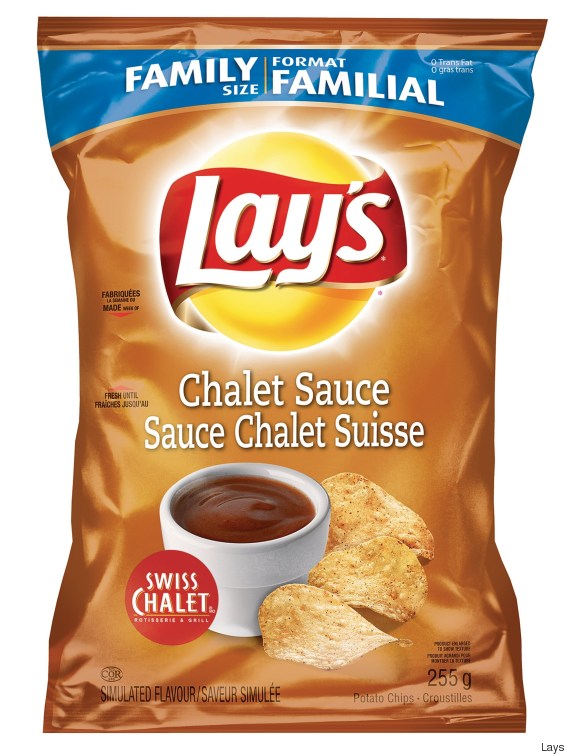 One serving (about 27 chips) has 270 calories, 310 milligrams of sodium and 17 grams of fat.
And although some traditional Swiss Chalet sauce recipes include ingredients like chicken broth, these chips are made with seasoning and onion and garlic flavours — so yes, they are vegetarian friendly.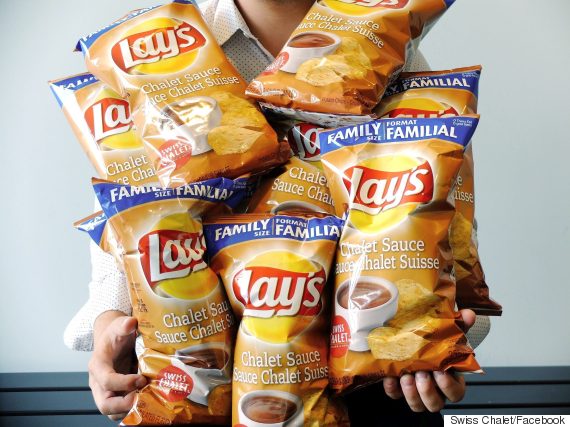 Originally created in 1954, the chain's special sauce has become somewhat of a Canadian staple — especially as a dip.
Doing a little taste test in the office ourselves, we've concluded they taste like a mixture of ketchup and barbecue chips, as well a dash of chicken.
If you pick up a bag in the next few weeks, let us know, do they taste like chicken to you?
ALSO ON HUFFPOST:
Recipes Using Potato Chips
Get the Chocolate Potato Chip Cookie Ice Cream Sandwich recipe from The Velvet Jungle These chocolate chip cookies are taken to the next level with the addition of crushed potato chips for a salty counterbalance. Use them to make ice cream sandwiches.

Get the Oven-Fried Onion Rings with Potato Chip Crust recipe from Zoom Yummy Using yogurt to adhere the breading, as well as baking the onion rings, is a healthier alternative, but the fact is they're coated in crushed potato chips.

Get the Potato Chip Brownies recipe from A Beautiful Mess This recipe for fudgy brownies gets topped with crumbled potato chips. The salty-sweet flavors strike a unique balance.

Get the Mac and Cheese Carbonara with Potato Chip Crust recipe from Kumquat Blog What's better than a baked mac and cheese with a crispy topping? A mac and cheese with a potato chip topping, of course!

Get the Savory Sour Cream Chive Cheesecake with Potato Chip Crust recipe from Spinach Tiger Instead of crushed graham crackers, potato chips form the crust for this cheesecake, which is savory instead of sweet. Sour cream and chives complement the salty crust.

Get the Salt-and-Vinegar Potato Chip Crusted Cod recipe from Live Love Pasta Take your fish and chips and combine them into one dish. These fillets of cod are slathered with mayonnaise and coated in crushed potato chips, then baked.

Get the Potato Chip Shortbread Cookies recipe from Vegetable Matter Shortbread cookies are a perfect match with tea, but these shortbread cookies take on a savory feel with the addition of salty potato chips. Try them with a glass of beer.

Get the Chocolate Covered Potato Chips recipe from Spoon Fork Bacon Isn't everything better when it's dunked in chocolate? These potato chips make a perfect sweet-savory snack with cocktails.

Get the Grilled Ham, Cheese, Pickle and Potato Chip Sandwich recipe from Joy the Baker Have you ever tried putting potato chips in your sandwich? You're missing out on some serious enjoyment if you haven't.

Get the Crushed Potato Chip PB&J Thumbprint Cookies recipe from Butter Me Up Brooklyn When you try these cookies you'll wonder why you haven't thought of the magical combination before: creamy peanut butter, salty potato chips and sweet raspberry jam.

Get the Potato Chip Chicken Fingers recipe from Cooking with Jennifer Forget about breadcrumbs -- potato chips are so much better as a breading for chicken fingers. Crunchy, crispy, salty -- need we say more?

Satisfy your cravings by making America's favorite snack, the potato chip, at home.