Everything You Need To Know About Sleep Paralysis
Many of us have had the experience of waking up and feeling frozen for a few minutes, which can be weird at best and terrifying at worst.
If it's just happened to you once or twice, you've probably assumed you weren't really awake, but sleep paralysis — or more accurately, paralysis you feel just before or just after sleep — is real and can cause serious anxiety in those who experience it often.
Sleep paralysis has likely been around as long as sleep has. Terrifying stories of monsters and demons plaguing people, while they lay unable to move or scream, seem likely to have been hallucinations resulting from the fear of sleep paralysis.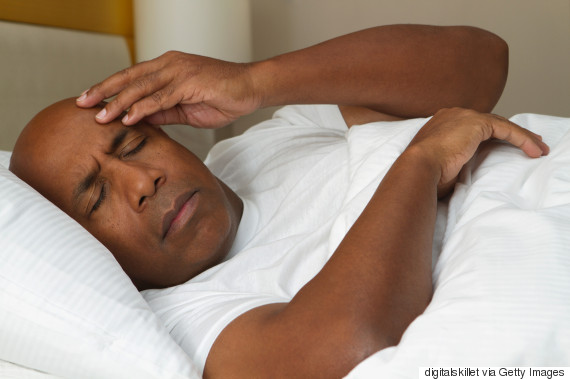 An article in The Atlantic earlier this year explains how people used folklore and stories to explain something they didn't have the scientific knowledge to make sense of. In Moby Dick, for example, Ishmael is frozen in fear (and maybe experiencing sleep paralysis) when he believes there is a ghostly hand within his.
"Like stumbling across a snake which turns out to be non-venomous, or circus clowns, an episode of sleep paralysis can be truly terrifying but ultimately harmless," David Wagner, of The Sleeping Expert, tells the Huffington Post Canada.
Evidence shows that sleep paralysis doesn't cause long-term physical harm and isn't tied to the development of serious psychological disorders, but it is still uncomfortable.
We have the science now to explain a bit better what happens during sleep paralysis, however, more research on the topic needs to be done. Read on to find out what sleep paralysis is, how it feels, and how it can be treated.
What it is: Britain's National Health Service defines sleep paralysis as the temporary inability to move or speak when you're waking up (hypnopompic or postdormital sleep paralysis) or falling asleep (hypnagogic or predormital sleep paralysis). It occurs more often while waking than while falling asleep.

Are you asleep?: Though it's called sleep paralysis, it actually occurs when you are awake. Some people are unable to move or speak for time periods ranging from a few seconds to several minutes.

Diagnosing sleep paralysis: According to MedicineNet.com, sleep paralysis is often diagnosed simply by describing your symptoms to a physician. Some people don't require a diagnosis at all because they may only experience sleep paralysis once or twice — but if you find that it is interfering with your life in any way or that you have poor sleep overall, it is worth talking to a medical professional.

Sleep paralysis and hallucinations: For some, sleep paralysis comes along with hallucinations during the period between sleeping and waking. Some people express feeling a sense of heaviness on the chest, or a strange presence in the room. And the anxiety and fear around the experience itself can cause an elevated heart rate.

Why do you feel paralyzed?: There are always times while we're sleeping when our muscles are paralyzed — we just never realize it because we're asleep. During rapid eye movement (REM) sleep, the body dreams and our eyes move around underneath our eyelids, but the rest of the body is immobile, The Atlantic explains. "It is thought that sleep paralysis is a safety mechanism for when we're dreaming," says David Wagner of The Sleeping Expert. "What isn't normal is when there is an overlap between when we wake up and when this protective-paralysis wears off."

How is sleep paralysis different?: It's thought that a variety of different neurotransmitters are responsible for keeping us immobile during REM sleep by switching off our motoneuron activity, The Atlantic explains. But in sleep paralysis, the mechanism that causes that paralysis doesn't end when you wake up, as it's supposed to, for reasons we don't fully understand yet. The paralyzed feeling that people experience during sleep paralysis is therefore quite real.

Does it cause harm?: The paralyzing effect of sleep paralysis doesn't cause any physical harm, the NHS says, and the paralysis ends quickly. But of course, the experience can cause mental distress, stress, and/or fear. "Sleep paralysis is particularly unnerving as only our eyes are active and able to move, plus we're conscious but breathing can feel very difficult as we breathe differently whilst in REM sleep," Wagner says. "Experts still don't know the whole story, but sleep paralysis passes without causing harm, other than a decent amount of panic."

How often does it happen?: Some people never experience sleep paralysis, and others might only experience it once or twice over a lifetime. A University of Waterloo researcher estimates that it occurs at least once for as many as 40 per cent of us. But for some — up to 6 per cent of people, Waterloo's expert says — sleep paralysis can become a regular occurrence.

Who does it affect?: Though it's more common in teens and young adults, sleep paralysis can happen at any age and appears to affect both sexes equally, the NHS says. Beyond age, other risk factors include the sleep disorder narcolepsy, sleep deprivation and irregular sleep patterns.

Front-line treatments: "To avoid sleep paralysis, the current opinion is to make good sleep habits, as disrupted sleep seems to be the cause," Wagner says. "Going to bed at regular times, avoiding stimulants, keeping your room dark and cool can all help you sleep better and avoid sleep paralysis." A physician may recommend keeping a sleep diary and discussing your wider health history to see if there are any signs of another medical issue, MedicineNet.com notes. If you believe you have sleep paralysis because of narcolepsy, treating that separate condition can improve things.

More serious conditions: If these fixes do not get rid of your sleep paralysis or your problem is severe, the NHS suggests that a sleep disorder specialist be contacted. A specialist can help you improve your sleep patterns and rule out or diagnose other sleep-related conditions like narcolepsy. And some people are helped by a short dose of antidepressants, which should only be taken under the guidance of a certified medical professional.