Katy Perry Sister: The Singer Can Add Midwife To Her List Of Skills
Oh, Katy Perry. What can't you do? The "Rise" singer announced on Twitter that she helped deliver her older sister Angela's second baby on Monday.
Helped deliver my sister's baby at 2pm & am in the studio by 8pm. GET A GIRL THAT CAN DO BOTH❗️👶🏻🎤

— KATY PERRY (@katyperry) September 13, 2016
Then six hours after the special delivery, Perry was back at work in the recording studio.
"GET A GIRL THAT CAN DO BOTH❗️," she joked.
This isn't the first time she has been by her sister's side, acting as doula. Back in 2014, this super auntie also helped deliver her niece.
Finally you can add "helps delivers babies in living rooms" to my resume! It's been a miracle of a day...❤️ Auntie Katy aka Stylist Auntie 👶

— KATY PERRY (@katyperry) February 27, 2014
She revealed a lot more about that momentous occasion during an interview with Jimmy Kimmel. "I'm an assistant doula, that's what they called me the whole time," the singer said. "We had a midwife and there was a tub in the living room, I was holding a leg, and panting like a dog. Like, primal noises coming out."
She also videotaped the whole thing. "[Angela] decided to go the all-natural way, not a single Aspirin. I mean, I don't know how that feels, everything I saw – 'cause I was Scorsese-ing up in there with my video camera, just covering anniversaries and birthdays, y'know what I'm saying – but it was amazing."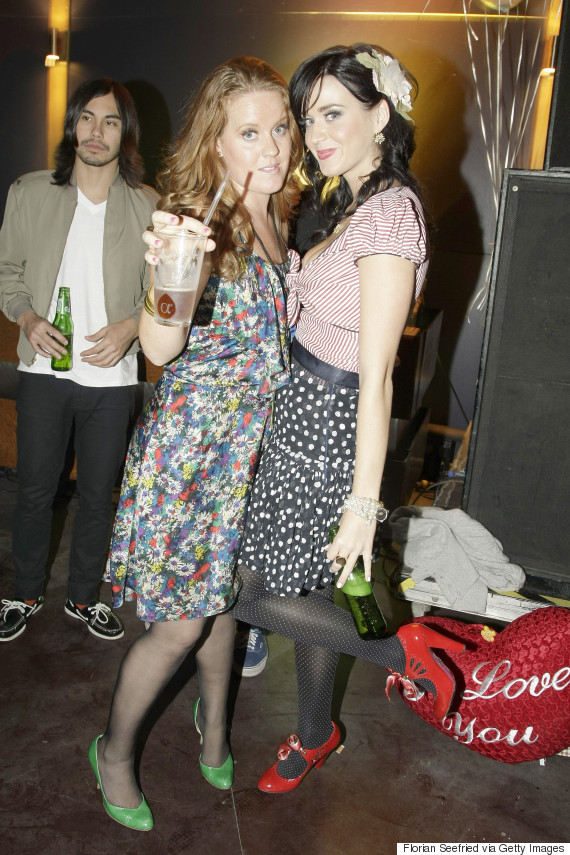 Katy Perry and sister Angela dance at the Katy Perry After Show Party on September 17, 2008, in Berlin, Germany. (Photo: Florian Seefried/Getty Images)
There's no question aunt and niece have shared a tight bond ever since they met in the living room. While she's careful not to reveal too much, Perry has included a few adorable photos of her "lil pepperoni pie" on Instagram.
Besides Angela, Perry has one other sibling, David, with whom she's also close.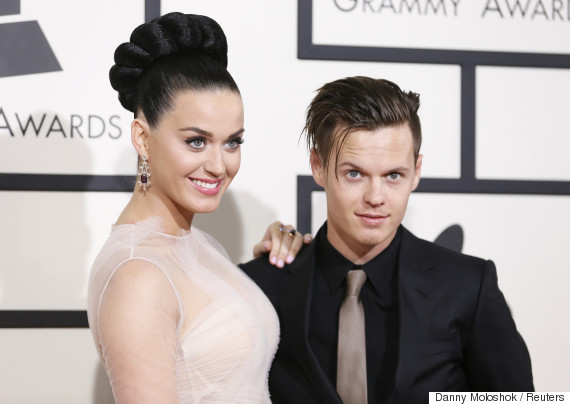 Singer Katy Perry and her brother David Hudson arrive at the 56th annual Grammy Awards in Los Angeles, California, on January 26, 2014. (Photo: Reuters/Danny Moloshok)
And that bond goes way back. Check out this awesome throwback photo of Perry's entire family.
While there's no word on whether Angela had a girl or a boy this time around, we're sure the proud aunt will soon post a photo or two of the family's newest addition. And we can't wait.
ALSO ON HUFFPOST:
Celebrity Siblings Who Look Nothing Alike
Blake Lively has four siblings but looks the least like her older sister Robyn. Surprisingly, the two have a 16-year age difference between them. Like Blake, Robyn is also an actress. She is best known for her roles in "Doogie Howser, M.D." and "Twin Peaks."

The Mara sisters are both actresses. Rooney, 30, is most known for her role in "The Girl with the Dragon Tattoo" and Kate, 32, is most known for her role in "House of Cards."

There's no doubt about it -- Luke and Owen Wilson looking nothing alike. Surprisingly, the two actors also have an older brother named Andrew who looks unrelated to them as well.

The Hemsworth brothers, Liam, Chris and Luke, are all actors. Luke, 33, is the eldest and is most known for the film "Kill Me Three Times." Chris, 31, is known for "Thor" and Liam, 25, is known for "The Hunger Games."

Kim Kardashian is only three years older than her sister Khloe, but the two have very different looks. The two sisters star on the reality series "Keeping Up with the Kardashians" with their family.

Jake and Maggie Gyllenhaal are one of the most famous celebrity siblings in Hollywood, but the two look nothing alike! Jake is three years younger than his sister.

We bet you didn't even know these two were related! Julia Roberts is 12 years younger than her brother Eric, who is also an actor. Eric is also the famous father of actress Emma Roberts.

Prince William and Prince Harry are the sons of Prince Charles and his late wife Princess Diana.

Austin Swift is three years younger than his famous sister Taylor.

Among the Willis sisters, Rumer and Tallulah look the least alike. Rumer, 26, is the eldest, while Tallulah, 21, is the youngest child. The two also have a middle sister named Scout who is 23.

Jared and Shannon Leto might not look alike, but they both share a love of music. In 1998, the two brothers co-founded the band Thirty Seconds to Mars.

You might have known that Gisele has five sisters, but did you know she's a twin?! Gisele and her sister Patricia are fraternal twins. The two took a modelling course in 1993, but only Gisele continued in the industry.

There's seven years between the Franco brothers, but both have made a name for themselves in Hollywood.

Not only do Zooey and Emily Deschanel have different looks, but they both have very different fan bases too thanks to their hit TV shows "New Girl" and "Bones."

Ashton Kutcher and his brother Michael are fraternal twins. Yes, TWINS! Their mother was surprised as well when she gave birth to them in 1978. She was only expecting a boy at the time, but Ashton was born first, followed by Michael.

Believe it or not, Jessica Alba's younger brother is also an actor. Her brother's first role was actually in her hit TV show "Dark Angel" back in 2001. Since then, he's landed minor roles in films and TV.

The Dillon brothers are both actors, but Matt is more well-known since he gained fame in his teens. Kevin, on the other hand, is best known for his role on the TV series "Entourage."

Surprising Celebrity Siblings

Sibling: Abigail Breslin Spencer Breslin is most well-known for his role in Disney's "The Kid" with Bruce Willis. While 21-year-old Spencer is still acting today, his younger sister Abigail seems to be stealing the spotlight. The 17-year-old has appeared in many well-known films, including "Zombieland," "New Year's Eve," and most recently "Ender's Game."

Sibling: Scarlett Johansson Yes, Scarlett Johansson is also a twin. Although her brother Hunter isn't an actor, the twins have actually appeared in a film together. The two can be seen in the 1996 film "Manny & Lo." At that time, they were only 12.

Siblings: Kelly and Jack Osbourne Surprisingly, the Osbourne's have another sister, and she's the oldest! Thirty-year-old Aimee Osbourne opted out of the family's MTV hit show in favour of a more private life. However, she has appeared in film in the 2003 MTV version of "Wuthering Heights." The Osbourne's father, Ozzy, is also a father to adopted son Elliot Kingsley, as well as Jessica and Louis Osbourne who he had with his first wife Thelma Reese.

Sibling: Kate Hudson Oliver Hudson is an actor known for his role on the TV show "Rules of Engagement." While many recognize him, they may not know that he is the older brother of actress Kate Hudson. And the attractive siblings are both children of successful actress and producer Goldie Hawn.

Siblings: Liam and Chris Hemsworth Yes, there is another Hemsworth brother and his name is Luke! The 32-year-old began acting before his brothers and appeared in the film "Neighbours." Later on, he left acting and started his own timber-flooring business. After the success of his two brothers, Luke has since returned to the acting scene and has landed a role in the Australian movie "The Reckoning."

Sibling: Sofia Vergara Modern Family's Sofia Vergara is known for her charm and her curves, but turns out her younger sister is also a burnette bombshell. Sandra Vergara is also an actress and has appeared in films such as "Fright Night" as well as countless TV shows. Sandra can currently be seen on the show "The Bold and the Beautiful."

Sibling: Angelina Jolie Surprisingly, Angelina Jolie has a brother! And they both share the same distinctive facial features: full lips and captivating eyes. James and Angelina are the children of actor Jon Voight and actress Marcheline Bertrand, who sadly passed away in 2007. Like his younger sister, James is also an actor. He plays minor roles in both film and TV.

Sibling: Beyonce Knowles While Beyonce tends to dominate the press, her sister Solange is also a singer and fashion icon.

Sibling: Emma Watson We bet you didn't know that Emma Watson had a brother! Alex is basically a male version of her, considering how much the two look alike. Alex was an extra in the "Harry Potter" films and is currently a model. In 2010, the brother-sister duo appeared together in Burberry's Spring/Summer campaign. It's safe to say that this sibling combo is a winning pair.

Sibling: Jon Heder Funnyman Jon Heder, who you might recognize as Napoleon Dynamite, has a secret. He has an identical twin brother! Dan is an actor and producer and has worked on films such as "47 Ronin," "Monster House," and "Funky Town."

Siblings: Mary-Kate and Ashley Olsen While Mary-Kate and Ashley's fame skyrocketed in the 90s after they had previously starred in the show "Full House" when they were young. Now, their younger sister Elizabeth is taking to the spotlight. The 25-year-old is now an actress and singer. But surprisingly, the Olsen family also has three other siblings who aren't as well-known: Trent, Jake, and Taylor.

Siblings: Luke and Owen Wilson Although Andrew Wilson is lesser known than his younger brothers, he is just as successful. Andrew is actually a film actor and director. He directed "The Wendell Baker Story," which stars his two brothers, and he currently has another two films in the works.

Sibling: Miley Cyrus Surprisingly, Miley Cyrus comes from a big family. In fact, she has five siblings altogether! Her older sister Brandi is often photographed with Miley at events. Brandi is an actress and has appeared in "Hannah Montana: Live in London" and is set to appear in the film "Old 37."

Sibling: Jennifer Lawrence Jennifer Lawrence is such a huge Hollywood star that it's easy to forget she's not an only child! The "Hunger Games" actress has two older brothers, Ben and Blaine, who she usually takes with her to big events. Here they are attending the 2013 Film Independent Spirit Awards, and Jennifer has also taken them with her to the Academy Awards where she won Best Actress for her role in "Silver Linings Playbook."

Sibling: Brad Pitt Contrary to popular belief, Brad isn't the only Pitt boy out there. The Hollywood actor has a younger brother named Doug who is a successful businessman, philanthropist, and Goodwill Ambassador for the United Republic of Tanzania. Wow!

Sibling: Lupita Nyong'o Actress Lupita Nyong'o and her brother Peter are best friends. She even thanked him in her Oscar acceptance piece. Check out Peter's Instagram account to see just how close this family is. Aww!

Sibling: Kylie Minogue Singer Kylie isn't the only famous face in the Minogue family! Overseas, her sister Dannii is known as a singer, actress, TV personality, model, AND fashion designer. With such an impressive resume, it's funny that she isn't more well-known over here in Canada!

Sibling: Hilary Duff Okay, so this sibling pair isn't really all that surprising, but we thought we would include it just in case you forgot! When Hilary was a teen star during her "Lizzie McGuire" days, she started doing films around the same time. In 2006, the sisters starred together in the film "Material Girls," for which Haylie is known for. Haylie is still an actress today, however only in minor roles.

Sibling: Penelope Cruz It's not hard to believe that Monica and Penelope Cruz are related! They look so much alike! While Penelope is famous in the US, her younger sister is famous in Spain! Monica is a Spanish actress and dancer. In May 2013, the 37-year-old gave birth to her first child, Antonella, who was conceived via insemination.

Siblings: Billy, Stephen, Alec and Daniel Baldwin The Baldwin brothers are all very famous and successful! Alec, 55, is the oldest brother probably the most well-known. He is an actor on stage, film, and television and is most recognized for his role in the TV show "30 Rock." Daniel, 53, is the second oldest brother. Along with being an actor, he is also notable producer and director. Billy, 51, also known as William, is an actor, producer, and writer. He is best known for his roles on various TV shows such as "Parenthood," Hawaii Five-0," and "Gossip Girl." Stephen, 47, is the youngest brother and is an actor, director, producer, and author. He is best known for his roles in "The Usual Suspects," "Bio-Dome," and "The Flinstones in Viva Rock Vegas."

Sibling: Ralph Fiennes Although Joseph and Ralph Feinnes look nothing alike, they are in fact brothers! Joseph is the younger of the two and is also a notable actor. However, Joseph's acting isn't limited to film since he is also known for his roles on stage. Most would recognize Joseph for his portrayal of William Shakespeare in the film "Shakespeare in Love" where he stars alongside Gwyneth Paltrow.

Sibling: Ashton Kutcher Ashton Kutcher and his brother Michael are twins. Yes, TWINS! Their mother was surprised as well when she gave birth to them in 1978. She was only expecting a boy at the time, but Ashton was born first, followed by Michael. Recently, Ashton attended his brother's private wedding in March 2014. Of his brother, Michael commented to the Ottumwa Courier, "We're twins ... and I consider him my best friend."

Sibling: Kate Mara Kate and Rooney Mara are both actresses, but we bet you didn't know they were sisters! With two very different names and looks, it's surprising that the two are related. Rooney is best known for transforming herself into Lisabeth Salander for her role in "The Girl with the Dragon Tattoo." Kate, on the other hand, is known as Zoe Barnes on the Netflix show "House of Cards," but the actress has also appeared in other shows like "24" and some films as well.

Sibling: James Franco Dave Franco is the younger brother of James. While Dave has stayed under the radar in his early years, he has recently come into the spotlight with his films. The 28-year-old is most well-known for his roles in "21 Jump Street," "Charlie St. Cloud," and "Now You See Me." But the actor has also appeared on various TV shows like "Scrubs" and "Do Not Disturb." Pretty soon, he just might be as famous as his older brother!

Sibling: Zooey Deschanel It's funny to think that Emily and Zooey Deschanel are sisters, but they are. The two have very different personalities on screen and don't look much alike until you see them side by side. Zooey is known for her fun, quirky character on the show "New Girl," whereas her sister Emily is known in the comedy-drama "Bones."

Sibling: Ryan Gosling Yes, Ryan Gosling has an older sister and she's just as beautiful. Not much is known about her, but we do know that the Canadian actor has brought her along to events before. Here, the siblings are attending the Annual Screen Actors Guild Awards.

Sibling: Lady Gaga That's right! Lady Gaga has a sister and the girls look very much alike – minus the crazy outfits. Natali, like her older sister, has big ambitions. She is currenly an aspiring fashion designer.