20 Of Best Train Routes In Canada And Around The World
There's something romantic about train travel: the old-fashioned feel, the slow pace, the great views. And compared to the special torture that is flying in economy class, the seating and legroom on your average train seem downright luxurious.
That doesn't mean, however, that all trains are created equal. Some are just there to get you where you need to be; the Via route from Toronto to Ottawa isn't first class, but it gets the job done in a serviceable manner. That Eurail pass is a great and relatively inexpensive way to travel the continent.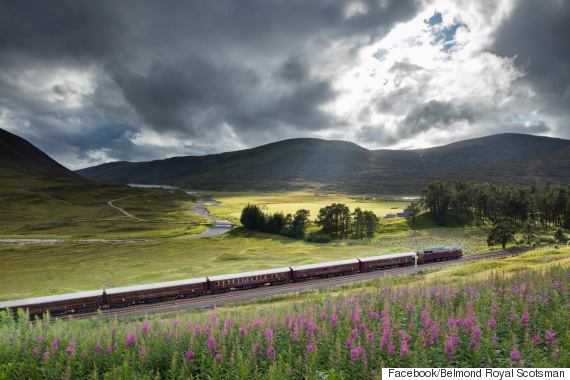 Belmond Royal Scotsman
But some train trips are really something else. They offer unparalleled scenery through mountains or views of amazing sunsets. Some take you through often-untravelled territory, like across northern Norway. Or maybe they've just got legendary status, like the still-amazing Orient Express.
One thing we will note is that luxury train travel comes with an expensive price tag, so if you are doing research on any of these routes below, you should also consider additional costs like air travel or upgrades.
Here are 20 of the best train trips in Canada and around the world.
Best Train Routes In Canada And The World
What: Via Rail — The Canadian Where: Toronto to Vancouver Why: If you've never seen much of Canada, this is a great way to do it. This train travels from Toronto all the way to Vancouver, with views of prairies, mountains, lakes, and adorable small towns along the way.

What: Royal Canadian Pacific Where: Calgary to Vancouver Why: This service started in 2000, but the restored cars originate from 1916 to 1931 — providing a great old-fashioned experience while you chug through the Canadian Rockies.

What: White Pass and Yukon Route Where: Skagway, Alaska to Carcross, Yukon Why: There's a lot of history on this narrow-gauge rail route, built in 1898 during the Klondike Gold Rush. You'll see glaciers, mountains, and waterfalls on this vintage ride.

What: Rocky Mountaineer Where: Vancouver to Banff Why: Travelling through the Canadian Rockies and past several key points in Canadian rail history, this route will please both nature fans and train buffs.

What: John Steel Rail Atlantic Adventure Where: Montreal to Halifax Why: This eastward tour of Canada includes several Atlantic island stops: Prince Edward Island, Cape Breton, and Oak Island.

What: Amtrak Cascades Where: Vancouver to Eugene, Oregon Why: Check out several points along the scenic northwestern coast of the United States, including Seattle and Portland.

What: Swiss Chocolate Train Where: Round-trip from Montreaux, Switzerland Why: A train designed to show the best of Switzerland's famous chocolate? Sign us up! This route includes stops in Gruyeres and Broc, which means Gruyere cheese is also involved. Photo: Instagram/beautyandsparkl

What: Grand Canyon Railway Polar Express Where: Round-trip from Williams, Arizona Why: Children enjoy hot chocolate and cookies while listening to the classic story that gives this moonlit route its name.

What: Eastern and Oriental Express Where: Singapore to Huay Yang, Thailand Why: These trips are a travel classic for good reason. There are shorter trips between Bangkok and Singapore, but the longer journey lets you enjoy both the Cameron highlands and glittering Singapore and Kuala Lumpur.

What: Andean Explorer Where: Round-trip from Cusco, Peru Why: Enjoy unbeatable views of the Andes and Lake Titicaca on this Peruvian route, which travels to Puno and back.

What: The Blue Train Where: Round-trip from Pretoria, South Africa Why: Conceived as a connection between the south and north of the huge African continent, today, the luxurious Blue Train traverses the varied cities and landscapes of South Africa.

What: Napa Valley Wine Train Where: Round-trip from Napa, California Why: Established in 1864, the train is an historic and scenic way to enjoy the wine, food, and views of this gorgeous stretch of northern California. And besides this, the thought of a wine train just sounds like heaven.

What: Golden Eagle Trans-Siberian Express Where: Tehran to Moscow Why: This epic route will take you through gorgeous countries many people never even get close to visiting like Iran, Turkmenistan, Uzbekistan, Kazakhstan, and Russia.

What: Jungfrau Railway Where: Kleine Scheidegg, Switzerland to Jungfraujoch, Switzerland Why: In operation since 1912, Jungfrau brings passengers through the most mountainous expanses of Europe, to the continent's highest-altitude rail station — including through a tunnel carved through rock.

What: Belmond Royal Scotsman Where: Round-trip from Edinburgh, Scotland Why: Enjoy views of the Scottish highlands through the windows of this luxurious train, which passes by castles, distilleries, hills, and gardens.

What: Snow Monkey Express Where: Nagano, Japan to Yamanouchi, Japan Why: There's no shortage of great trips to take in a country renown for its express trains, but this one takes you through Japan's northern regions and to the snow monkeys of Jigokudani Wild Monkey Park.

What: Venice Simplon-Orient-Express Where: Paris to Istanbul Why: Travel the route taken on the train's inaugural trip in 1883, and you'll see Budapest and Bucharest along the way.

What: The Ghan Where: Darwin, Australia to Adelaide, Australia Why: There's a lot more to Australia than Sydney. This extensive route highlights the diversity found throughout the country, from coastlines to the Outback and cities to remote towns.

What: The Flam Railway Where: Flam, Norway to Myrdal, Norway Why: One of the world's steepest train lines, this route is the perfect way to see the remote and beautiful landscapes of northern Norway: mountains, fjords, waterfalls, and a lot of tunnels.

What: China Tibet Train Where: Beijing to Lhasa, Tibet Why: From the bustling city of Beijing (or several others in China) you can travel to remote Tibet and enjoy side trips to Buddhist monasteries, palaces and temples, and private homes.