Pregnant Sex Tips: 15 Ways To Have Better Sex While Expecting
For some women, sex during pregnancy is surprisingly great.
You might find that your libido is ramped up, or that your orgasms are better than ever. But for a lot of couples, sex becomes more complicated during pregnancy — for reasons both physical and emotional.
"Different women can respond differently to the hormonal and bodily changes that they are experiencing, and this goes alongside the changes that the couple may be considering as they prepare to become parents," says psychosexual and relationship therapist Kate Moyle.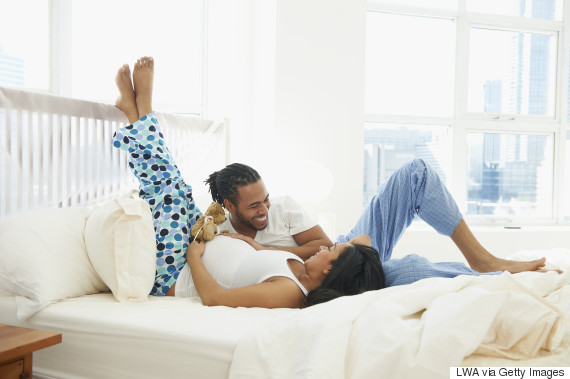 "What can go missing is intimacy, especially if the couple's sex life has been focused on getting pregnant in the first place and so it becomes more about function than enjoyment."
The good news is that sex is perfectly safe during most pregnancies, and there are more ways to express desire and affection than vaginal intercourse alone.
Read on for 15 tips on enjoying sex during the various stages of pregnancy — and enjoying sensuality and intimacy even if you can't.
Sex Tips For Pregnant Women
It may feel different: Sex could feel different when you're pregnant than it did when you weren't— and different at the various stages of your pregnancy, Parents.com notes. Some people may find they like it more, or less. Some positions may be uncomfortable at different points. Pregnancy does increase blood flow to the genitals — and your overall blood volume goes up — which can up the pleasure for some people. Or you may have cramps right after sex or an orgasm. All of these things, and more, are within the realm of normal for pregnant women.

Mix it up: The things that worked when you weren't pregnant might not when you are — and vice versa. "You might find that the way in which you orgasm changes when you're pregnant," says Dr. Jessica O'Reilly, Astroglide's resident sexologist. "For example, I have a number of clients who first discover the power of their G-Spot while pregnant because of the extra pressure from their bladder."

Communicate: Talk to your partner about how sex is (or isn't) different for you now that you're pregnant, and let him or her know if something changes along the way. Good communication is not only important to ensure you both have a good time in the bedroom but also helps strengthen your relationship in general — never a bad thing, especially when a baby is on the way.

Go beyond intercourse: If intercourse is uncomfortable or ill-advised for you during pregnancy, there are other ways to be sexual and have an orgasm. Experiment with toys, oral sex, or mutual masturbation. And keep the intimacy high with lots of touching, sexual or otherwise, Parents.com adds.

Enjoy those bigger breasts: For many women, pregnancy means an increase in cup size — sometimes right away. "I have a client who says she 'got boobs for the first time' while pregnant and this changed the way she felt about her body," O'Reilly says. "She said she felt more 'womanly' and actually initiated sex more often during her pregnancy than in the five years leading up to it." But keep in mind that breasts can also become more sensitive during pregnancy, so talk to your partner if stimulation you used to like is now uncomfortable.

And those orgasms!: There are lots of great reasons to hit the Big O during pregnancy. It can increase your self esteem and boost your body image at a time when physical changes might be throwing that out of whack, Parents.com says. You might be particularly in the mood, especially during early pregnancy. And of course, they're just plain fun.

Try different positions: As your body changes during pregnancy, break out that Kama Sutra. "You'll probably want to experiment with new positions as your body changes to accommodate your new shape and the ways in which engorgement can put pressure on your vagina, bladder and uterus," O'Reilly says. She recommends trying with the woman standing facing a wall, lying on her side supported by pillows, and lying on her back with pillows under her hips.

What about lube?: You might not need it! For many pregnant women the vagina produces more vaginal discharge than normal, which might make lube unnecessary. But if you feel you need it, that's also normal. Using lube during pregnancy resulted in higher levels of sexual satisfaction, according to a 2010 study from Indiana University. Try a water-based lubricant but avoid those with glycerin, parabens, or fragrances — they can be irritating.

Don't just make it about sex: Some couples can lose sight of being a couple during pregnancy, because so much focus is on what is happening to the woman's body and the baby on the way. "Making time to be sensual as well as sexual can be really helpful here, especially in terms of building sexual arousal," psychosexual and relationship therapist Kate Moyle says. Explore sensual touch like massage, spend time cuddling, and try an app like Pillow Play, developed by Moyle, to get new ideas for keeping that spark alive, even when you aren't having sex.

It's OK to be uninterested: Some people find their sex drive goes up in pregnancy. Others can't imagine anything they'd be less excited to do. If morning sickness or exhaustion hits you hard, sex may go from potentially uncomfortable to near impossible. As your pregnancy continues, symptoms like sciatica or heartburn might get in the way of sex. Talk to your partner and talk about other ways you can show physical affection — don't beat yourself up about it.

Sometimes proceed with caution: There are some times when sex during pregnancy isn't a great idea. "If you are at increased risk of preterm labor, your water broke, your placenta is at the level of your cervix, or you have a floppy cervix, herpes outbreak, or any vaginal bleeding, your OBGYN or midwife will recommend no sex — aside from oral sex, which is perfectly safe as long as there is no risk of you getting an STD," says Dr. Draion M. Burch, a sexual health adviser for Astroglide.

Protect against STDs: If you and your partner haven't been tested for STDs, be sure to have safe sex — not only do you not want the discomfort of STD symptoms during pregnancy, they can also cause complications for your fetus. "Your baby can get infected if you contract any kind of STD," Burch says.

On bed rest?: If so, we have depressing news. "If you are on bed rest, proceed with caution," Burch says. "Orgasms can make your uterus contract." Talk to your doctor about what is and isn't OK if you are on rest. A similar recommendation may be made if you are at risk for preterm or premature labour.

Other times to avoid sex: There are other circumstances when sex during pregnancy might be advised against: if you have unexplained vaginal bleeding, if you are leaking amniotic fluid, if you have placenta previa, or if you're carrying multiples. As always, talk to your doctor about your particular situation and any concerns you might have.

Will it put me into labour?: It's a myth that an orgasm can get labour going once you're full term. Orgasms and nipple stimulation can cause mild uterine contractions, but it won't get things going in a normal pregnancy if they otherwise aren't ready to begin.