Aishwarya Rai Daughter: Aaradhya Is The Actress' Gorgeous Mini-Me
Aishwarya Rai is absolutely stunning, so it's no surprise that her four-year-old daughter inherited her gorgeous genes. Just take a look at this Instagram snap of the mother-daughter duo from last year.
From the photo, it's obvious that Aaradhya is her mother's mini-me. The two have the same hair, complexion and big, gorgeous eyes.
Rai and her husband, Bollywood actor Abhishek Bachchan, welcomed their daughter in 2011. Right from the get-go, Aaradhya looked strikingly similar to her famous mom. Just take a look at this throwback photo of the Indian actress with her tiny tot.
And here's a photo of the family on stage at the Miss World 2014 final in London. Clearly, Aaradhya looks much more like mom than dad.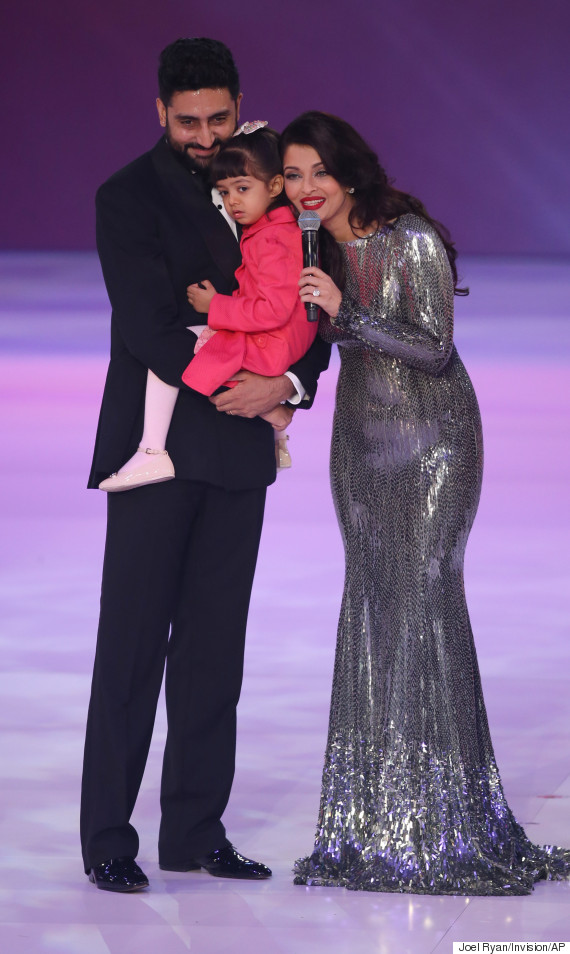 Rai has always been protective of her daughter. Speaking about her family's life in the limelight, the 42-year-old actress told Hindustan Times in June, "Aaradhya has seen [the limelight] since birth and I would like to think she is used to it."
However, Rai recalls that there are times when paparazzi can be too much for her young daughter.
"At one point when we were walking, she was in a great mood, even as people clicked pictures," Rai explained. "She was laughing and saying something funny. But, when people started caving in, I had to pick her up because she is too tiny to handle all that. I had to steer my way through the crowd. It is just a protective instinct, I keep her close."
ALSO ON HUFFPOST:
Most Protective Celebrity Parents
For two celebrities who are known for over-sharing, it's remarkable how private they have been about their newborn daughter, North West. They didn't reveal her name until after she was born, and pictures of her have yet to appear online. Kim Kardashian even distributed fake baby photos to her circle of friends to find out which ones were trustworthy and which ones would be likely to leak information to the media. New reports claim that only three people are allowed to visit the baby at a time, and that a security team has been hired just for her. Even family members have to go through security!

This superstar couple went to great lengths to keep their daughter Blue Ivy out of the spotlight when she was born, even bringing their own security to the hospital. Since her birth they've covered her up with a blanket when she goes out, though they have posted a few pictures of her on their own social media places. Beyonce talked about parenting and her friend Gwyneth Paltrow, saying, "I think for us, protecting our daughters is so important and…keeping things on our own terms, so I will still be protective and make sure [Blue Ivy] has a childhood and a great time."

Halle Berry is going through government to protect her kids, appearing at the California Capitol in late June to testify for a bill limiting paparazzi's ability to photograph the children of celebrities and other public figures. She said, "My daughter doesn't want to go to school because she knows `the men' are watching for her."

Pink posted a scathing letter to paparazzi on her blog, telling them to stay away from her newborn baby Willow. This protective mama had her claws out, fiercely saying, "Here's the bottom line: we don't want you to take our little girl's picture. We don't want you to one day follow our little girl home from school. We don't want our little girl's picture in a magazine or on a blog. If you take or publish her picture, it is against our wishes, and without our consent as parents, as people."

These parents wanted to save their baby from paparazzi hoping to be the first to snap her picture by releasing a photo themselves on Facebook. Tatum said, "We didn't want to go through a tabloid — we just wanted to let it out so paparazzi would stop trying to hound us. You know, here it is, that's it. Now, let us be," in an interview with "Entertainment Tonight" Canada.

Julia Roberts doesn't want pictures taken of her three children, and can get aggressive about it when it comes to their privacy. In 2007 and 2009 she chased down paparazzi in her car to berate them for hanging around her children's schools.

Until recently, Suri Cruise was almost exclusively photographed in the arms of her mother or father, who are both extremely protective. Given the amount of paparazzi that surrounds all of them, it's pretty understandable.

The bombshell explained that she doesn't want any pictures taken of her child, and has sometimes asked publications to remove images of baby Noah.

Christian Bale is very private about his family, not even wanting the public to know his daughter's name. He said in an interview, "I've absolutely fallen into that cliché of a dad who could just happily talk about my daughter endlessly. But it's not what I'm about in terms of being an actor. I don't want people to know about that."

Erykah Badu keeps her kids far away from the limelight, and is rarely photographed with them.

Gwyneth goes to great lengths to protect her children, not just from the paparazzi but also from poor health. She is very strict about their eating habits, sticking mainly to foods that are non-dairy and gluten-free.

Adele refused to reveal her son's name for a long time, saying in January, "I am not sharing his name at the moment. It is very personal to me. I am enjoying him on my own."

Many people don't even realize that Grammy-winning Pharrell Williams of The Neptunes has a son at all. He rarely talks about him, but once revealed that he is named after the Elton John song, "Rocket Man."

Michael Jackson went to great lengths to keep his children safe and guard their privacy, putting light scarves or masks over their faces when they went out in public to prevent photographers from snapping them. His daughter Paris Jackson, now 15, says, "He was protective. The masks we wore were his idea. He didn't want anyone to see what we looked like. That way we could have what he didn't... a normal childhood."