14 Ways To Fight Those Painful Period Pains
Any woman on her period feels some type of discomfort throughout the day. Whether it's painful cramps or bloated abdomens or even discomfort from a tampon, let's just say these things are quite common and sometimes, expected.

Studies show more than half of women report some pain from their periods at least once or twice a month, and family doctor Christopher Calapai of New York City believes what women eat and drink can also play a role in how they feel.
"Although the causes of premenstrual syndrome aren't well understood, fluctuating levels of hormones and brain chemicals are thought to play a role," he said in a statement.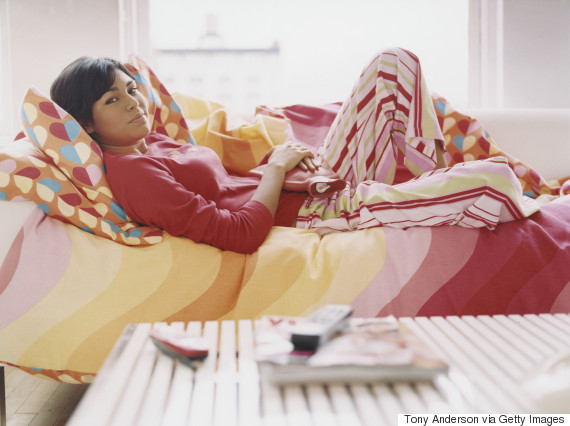 There are of course other ways to soothe painful periods, including taking a safe painkiller, using a heating pad or hitting the gym to boost your endorphins.
WebMD notes if your period is heavy, bleeds in between regular cycles, or is regularly missed, you should always get more insight from a doctor.
Heavy or painful menstruation can even signal endometriosis, a condition where tissue that lines the uterus begins to form in other parts of the body, WebMD adds.
Below, Calapai suggests 14 ways we can make changes to our diets to help relieve some pain from cramps, bloating and even headaches.
How To Fight Period Cramps
Get your calcium: "Some studies have shown that calcium levels are lower in women with PMS, and that those with the highest intake of calcium reported the mildest PMS symptoms," family doctor Christopher Calapai of New York City said in a statement. Calapai suggests consuming foods like low-fat milk and dairy, calcium-infused cereals and dark, leafy greens to fight cramps.

Cut back on salt: Calapai says for those of you who suffer from bloating, avoid excess sodium in the days leading up to your period. "Eliminate the salt shaker, and cut back on the canned foods, processed foods and condiments, all of which are overflowing with sodium," he says.

Drink up!: "Although this sounds counter-intuitive, water can actually alleviate PMS-related fluid retention," Calapai says. He suggests aiming for eight to 10 glasses of water per day. And as SheKnows.com notes, although some people still believe drinking water during your period causes bloating, this is a complete myth.

Satisfy your cravings: If you feel the need to eat sugary treats during your period, Calapai says to focus on dark chocolate. "Try and reach for dark chocolate when you need to satisfy your sweet tooth. A bonus is, it will boost your mood."

Sorry, coffee isn't always your friend: "Your blood vessels contract when caffeine is present in your body, which worsens menstrual cramps," he says. Also, if you have loose stool during your period, adding more caffeine to your diet may make it difficult for your body to retain water, he says, leading to diarrhea.

Load up on the greens: For some, losing a lot of blood can lead to iron deficiencies, so if you tend to have a heavy period add more leafy greens like spinach, kale and broccoli to your diet, Calapai says.

Alcohol isn't helpful: If you rely on booze to stabilize your mood, Calapai says this isn't the best idea on your period. "One study published in the British Journal of Obstetrics and Gynecology also found that regular alcohol consumption increased length of and severity of cramps in women who experience cramps," he says.

Bananas to the rescue: Calapai says eating bananas on your period is great for women who have trouble sleeping. Bananas have melatonin, a sleep-aid hormone that helps regulate our body's natural rhythms.

Fibre is also a good idea: Yes, fibre-rich foods can fill you up, but Calapai says certain ones like artichoke, broccoli, and Brussels sprouts can ease bloating. "Their high water content helps push things along and rid the puffiness, gas and discomfort."

Look to seeds: If menstruation leads to headaches, having more magnesium-rich foods like pumpkin seeds can help. "The nutrient has been found to help relax blood vessels, which can alleviate your headache. Bake some pumpkin seeds or sauté a side of spinach with coconut oil and garlic to up your intake," Calapai adds.

Reach for the guac: Avocados taste delicious anytime of the year, but if you're suffering from period cramps, try a quick guac as a snack. "[Avocados are] high in omega-3 fatty acids, which can help fight inflammation and relieve pain due to menstrual cramping."

Breaking out? Read this: Some women may also experience breakouts before, during or after their periods. Calapai advises eating Brazil nuts (and other foods like cashews, almonds, and pistachios), to protect the skin. "They contain vital nutrients including selenium, vitamin E, and other fatty acids that help hydrate the skin, neutralize oil production, and reduce skin inflammation to prevent unwanted breakouts," he says.

When it comes to periods, chickpeas are a superfood: Chickpeas have it all: they are high in magnesium (fights bloating), B6 (can help with breast tenderness) and manganese (which can help with your mood). "Chickpeas make tasty additions to soups and salads, and they're especially delicious when pureed into hummus with fresh garlic, lemon, and olive oil," he adds.