Woman's Manicure Photo Bends Minds And Fingers On Twitter
It started off innocently enough. A woman decided to grace Twitter with a close-up of her latest manicure: a dusty pink matte shade, with a black design.
But something wasn't right...
just got my nails done💅🏾 pic.twitter.com/6ojfjLcYEU

— Omo kekere (@Larose419) October 31, 2016
WE CAN'T QUITE PUT OUR FINGER ON IT...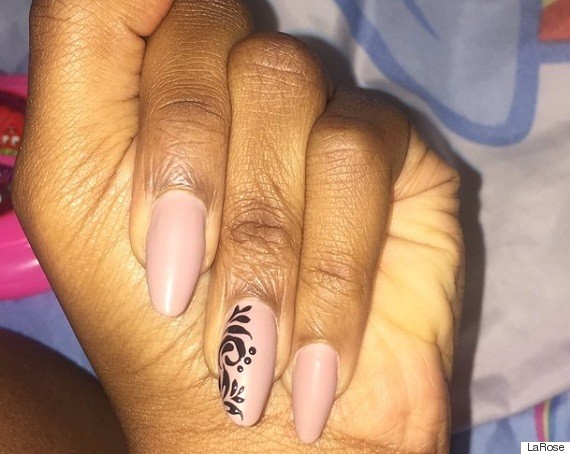 Twitter could not get over the missing finger.
@Larose419 pic.twitter.com/0qORXfWkEv

— K e i t h C u d i (@KeithKayg) October 31, 2016
Simpsons hand on fleek https://t.co/pRPQXip0lD

— Boogie Bousins (@bansky) November 4, 2016
@Larose419 you have 4 fingers? 😰

— Negan (@reiguaLL) November 1, 2016
What was actually going on?
Twitter user Omo kekere revealed to Buzzfeed that she was double-jointed and had tucked her index finger under the others. The photo was meant to be an inside joke between friends who knew her handy talent.
Flexible copycats were quick on the take.
@Larose419 omg same b 💕 pic.twitter.com/nFVM2T2pC9

— angry canjeelo™ (@versacejabi) October 31, 2016
@Larose419 did my own nails, on fleek pic.twitter.com/D1qbRPTpCK

— DonkeyKim (@ItsDonkeyKim) November 4, 2016
Yo @Larose419!! I haven't done mine!!! pic.twitter.com/2fdmjPJ7jM

— El Primo de un Amigo (@manuelgeezus) November 4, 2016
She even helped out her less bendable comrades with a tip.
@bansky 😂 there's an easier way, just put your index finger under your thumb. the way i did it will most likely break your hand

— Omo kekere (@Larose419) November 4, 2016
And if neither methods appeal to you, New York Mag editor Nelson Pecora found a quick cheat called Photoshop.
Your hands can't do this? Sad! https://t.co/AnQniJkbfB

— Nelson Pecora (@NelsonPecora) November 4, 2016
Here's hoping no fingers are broken in pursuit of this new manicure trend.
Follow Huffington Post Canada Style on Pinterest, Facebook and Twitter!