Norman Reedus Son: Mingus Looks Just Like His Supermodel Mom
Norman Reedus might be known as tough guy Daryl Dixon on "The Walking Dead," but in real life, he's a family man.
Believe it or not, the 47-year-old actor has a teen son named Mingus Lucien Reedus with former girlfriend and supermodel Helena Christensen. The couple began dating in 1998 and welcomed their son the following year.
According to Nameberry, Christensen gave Mingus his unique name as a tribute to jazz bassist Charles Mingus.
Here's a throwback photo of the former couple with their son in 2003. Mingus would have been four.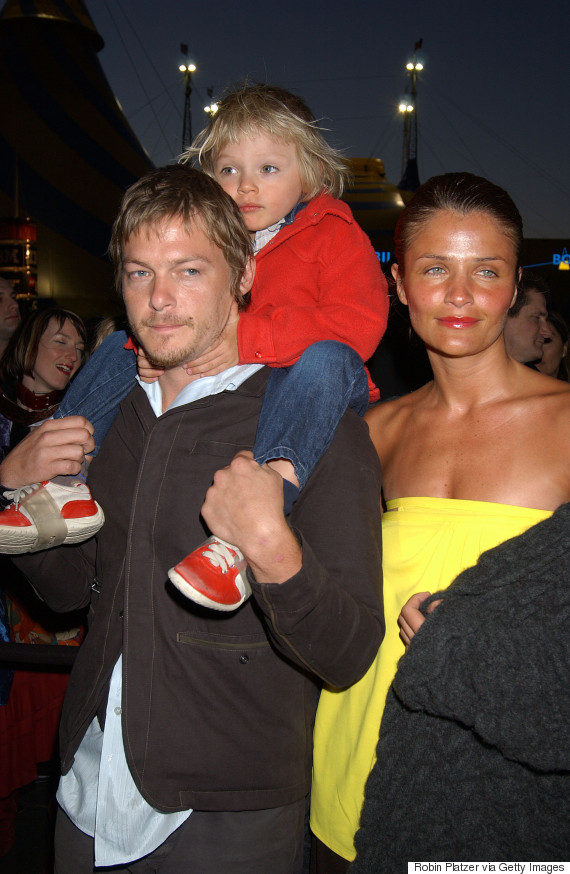 Today, Mingus is all grown up at 17 years old and looks strikingly like his model mom.
Here's what he looks like now:
For reference, here's what his mom looks like today:
There's absolutely no question that these two look alike! All of Mingus' features – from his big eyes to his face shape and even his eyebrows – were clearly inherited from his famous mom.
However, this wasn't always the case. Throwback photos from Christensen's Instagram page prove Mingus used to look like Reedus when he was young. Just check out this adorable snap of the father-son duo.
And this cute candid of the two.
Reedus and Christensen try to keep their son out of the limelight, which is why photos of Mingus are scarce on both their social media pages. However, the "Walking Dead" star has never been shy to gush about his teen boy.
Last year, the 47-year-old dad revealed that Mingus had the opportunity to follow in his acting footsteps, but turned it down.
"We got this call because they are going to make a new 'Spider-Man,' and he's like 14 or 15," Reedus told the Philippine Daily Inquirer in 2015. "They asked, 'Would Mingus want to audition for 'Spider-Man?' He's had a couple of these calls, and he always said no to all of them."
According to the actor, Mingus said he turned down roles because he "didn't want to ruin his life" and "didn't want to be famous."
"He's got such a good head on his shoulders," Reedus gushed. "I'm learning from him more than he's learning from me. He's my role model!"
ALSO ON HUFFPOST:
Celebs You Never Knew Had Kids
The former "Friends" star and his ex-wife Melissa McKnight have a 12-year-old daughter named Marina.

Tilda Swinton is a mom of two. She had her 19-year-old twins, Xavier and Honor, with former partner John Byrne.

Believe it or not, Bow Wow is all grown up and has a kid of his own. The 29-year-old rapper, whose real name is Shad Gregory Moss, is a father to a five-year-old girl named Shai, who he had with former girlfriend Joie Chavis.

Bow Wow's daughter Shai enjoying the summer before school starts.

Melissa McCarthy and Ben Falcone have two children together: nine-year-old Vivian and six-year-old Georgette.

The "Star Trek" actor and his wife Kerri Higuchi have an eight-year-old son named Kage.

Andy Dick is a father of three. He had his eldest son, 28-year-old Lucas, with ex-wife Ivone Kowalczyk, and his youngest kids, 22-year-old Jacob and 19-year-old Meg, with his partner Lena Sved.

Andy Dick and his children Meg Dick and Jacob Dick at the Los Angeles special screening of 'Ur In Analysis' on July 1, 2015.

Sofia Vergara isn't just a gorgeous leading lady; she's also a mom. The "Modern Family" star gave birth to her only son, Manolo, when she was 20 years old. At the time, she was married to her high school sweetheart Joe Gonzalez. However, the two divorced a year later.

Sofia Vergara and her son Manolo at the 68th Primetime Emmy Awards in Los Angeles, California on September 18, 2016.

Tobey Maguire had two kids – Ruby, 9 and Otis, 7 – during his nine-year marriage to Jennifer Meyer. Sadly, the two announced their separation in October.

What's more surprising than finding out Rob Schneider is a father is finding out his daughter is country singer Elle King. The actor had Elle, now 27, during his first marriage to London King. Schneider also has a three-year-old daughter named Miranda with his wife, Patricia.

Musician Elle King and her father, comedian Rob Schneider pose at The Ice House Comedy Club on October 15, 2009 in Pasadena, California.

Beyoncé's little sister became a mother at a young age. At 18 years old, Solange married Daniel Smith and later gave birth to their son, who is also named Daniel. Solange's son is now 12 years old.

Solange and her son Daniel in 2013.

James Marsden is a father of three. His first two kids, Jack and Mary, were born during his marriage to Lisa Linde, who he divorced in 2011. Marsden then went on to have another son named William, who he had with former girlfriend Rose Costa.

James Marsden with his daughter Mary Marsden attend the Nintendo 'Splatoon' launch party at Santa Monica Pier on May 15, 2015.

Clive Owen and his wife Sarah-Jane Fenton are parents to two teen girls: 19-year-old Hannah and 17-year-old Eve.

"Grey's Anatomy" star Ellen Pompeo has two daughters with husband Chris Ivery. Stella is now five and Sienna is two.

Ellen Pompeo's daughter Stella.

Owen Wilson has two sons from previous relationships: five-year-old Robert and two-year-old Finn.

Norman Reedus is a dad! The "Walking Dead" star has a 17-year-old son named Mingus Lucien, who he had during his long-term relationship with supermodel Helena Christensen.

Norman Reedus' son Mingus.

Tom Hardy is a dad of two. He had his first child, Louis, with former girlfriend Rachael Speed, and his second child – whose name has never been revealed – with wife Charlotte Riley. Louis is now eight and Hardy's second child is one.

Surprisingly, "New Girl" star Max Greenfield is a dad of two. The actor had both his kids – six-year-old Lilly and one-year-old Ozzie – with wife Tess Sanchez.

Max Greenfield and his daughter Lily at a screening of "Ice Age: Collision Course" at the Fox Studios Lot in Los Angeles, California, on July 16, 2016.