Michael Chong: 'Lock Her Up' Chant At Alberta Rally Should Have Been Shut Down
A Conservative leadership hopeful is obliquely criticizing one of his rivals for not standing up to a crowd chanting for Alberta Premier Rachel Notley to be jailed.
Michael Chong released a statement responding to what occurred at an Edmonton rally on Saturday, organized by the right-wing Rebel Media, against the Notley government's plans for a carbon tax.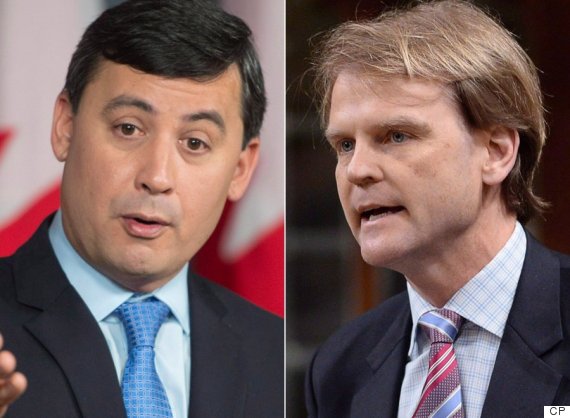 Tory leadership candidates Michael Chong and Chris Alexander. (Photo: The Canadian Press)
Fellow Tory leadership candidate Chris Alexander spoke at the event, which took place outside the Alberta legislature. He did not intervene when some began shouting "lock her up" — a refrain popularized by U.S. president-elect Donald Trump.
Chong's statement did not mention Alexander by name, but he bemoaned that the chant was "not denounced by rally organizers and stage participants."
3,000 Albertans out on an icy day to tell @RachelNotley she does not have social license to bring in a carbon tax. #cdnpoli #ableg pic.twitter.com/R2PUkYuNKj

— Ezra Levant 🇨🇦 (@ezralevant) December 3, 2016
The veteran Ontario MP said in the release that while free speech is a fundamental right, it must still be "used responsibly." He said the crowd was urging undemocratic action "more worthy of a dictatorship" than Canada's political tradition.
"As leaders, we should stand up against language and behaviour that undermines the rule of law and legitimacy of our political system and its office holders, whether that language comes from the left or the right of the political spectrum," Chong said.
However, the release did not mention the rally was specifically organized against the provincial carbon tax that will come into effect Jan. 1. Chong said activists were protesting "job-killing regulations and the swelling tax burden" in Alberta.
"As leaders, we should stand up against language and behaviour that undermines the rule of law and legitimacy of our political system and its office holders."
Chong has set himself apart from other leadership candidates with his proposal for a national carbon tax, coupled with a cut in federal income taxes.
But Chong isn't the only Tory leadership candidate who was put off by what happened at the rally. Calgary MP Deepak Obhrai released a statement Monday blasting the chant and the reported distribution of an anti-immigrant flyer at the event.
'Trump-style politics'
"We're witnessing Trump-style politics invading Canada," Obhrai said in the release. "It is the responsibility of event organizers that they distance themselves from hate-mongering and insults. Otherwise we all lose."
Alexander later told The Canadian Press he didn't agree with the chant, but stressed that politicians need to listen to people who are hurting.
"I don't think it's fair. I don't think it's the right thing to say at a rally or elsewhere, and that's why I didn't join it,'' Alexander said, adding that he tried to shift the conversation to voting out Notley.
Though a Rebel video from the event shows him smiling as the crown chants, Alexander told CBC News he was actually "uncomfortable."
"I was smiling because I was trying to think of a way to change the chant," he said.
Alexander did not lead any chant to "lock her up". Never once uttered those words, it was someone else, you smear merchant @TheKirkHeuser pic.twitter.com/6q0jGPXfDk

— Sheila Gunn Reid (@SheilaGunnReid) December 4, 2016