Candice Bergen Tells Bardish Chagger To Stop Doing PM's 'Dirty Work' On Fundraisers
The Conservative House leader got personal with her rival in question period Wednesday, accusing Government House Leader Bardish Chagger of embarrassing herself by doing the prime minister's "dirty work."
For weeks now, Chagger has repeatedly used the same talking points to defend private Liberal fundraisers, where donors pay up to $1,500 to meet with key ministers, including the prime minister.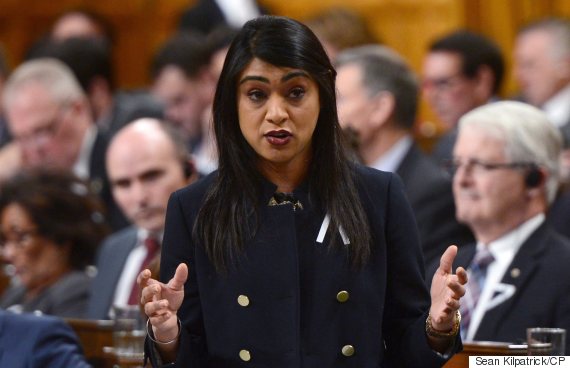 Government House Leader Bardish Chagger speaks in the House of Commons on Dec. 6, 2016. (Photo: Sean Kilpatrick/CP)
Chagger typically points out that federal fundraising rules are "some of the strictest in the country." She has used some variation of that phrase more than 40 times since late October, and several times Wednesday.
Such so-called "cash-for-access" events are legal so long as ministers aren't lobbied or discussing government business, but do appear to run afoul of Prime Minister Justin Trudeau's "Open and Accountable Government" guidelines. Opposition parties have asked the ethics and lobbying watchdogs to probe the events.
In the House of Commons, Bergen said Chagger gets up "day after day after day, and repeats the same lines, over and over." Bergen said they are lines the prime minister has asked her to say.
"Words that she knows are not true," Bergen said.
"Will she at least tell the prime minister that she's not going to keep doing his dirty work for him?"
"Will the House leader show the integrity and the leadership that I know she has, and I ask if she will admit that the Liberals need to clean up their act," Bergen said. "Or will she at least tell the prime minister that she's not going to keep doing his dirty work for him?"
The remark sparked applause from the Tory bench.
Chagger said she was proud to be part of a government that respects the environment and lowers taxes for the middle class.
Then she slipped back to a familiar talking point.
"The member knows very well that when it comes to the rules around political financing, they are amongst the most strict in the country," Chagger said.
'Frankly, it is embarrassing to watch'
Just saying that a thousand times won't make it true, Bergen shot back.
"Frankly, it is embarrassing to watch the House leader allowing herself to be used by the prime minister like this," Bergen said. "She can tell him 'no' after all."
Bergen asked if any Liberal MP has the courage to tell the prime minister to stop "this corrupt fundraising."
Chagger appeared unfazed.
'Let's get to work'
"The member recognizes that I am reminding Canadians, ensuring Canadians, that when it comes to political financing, we have some of the most strict rules across the country," she said.
"What's more interesting is that the member chooses to keep repeating the same question, but doesn't understand why she gets the same answer."
That quip spurred Trudeau to look up from his desk, smile and nod.
Chagger told her counterpart she also had confidence in her and suggested she wanted to work together on other pressing matters.
"Let's get to work. Let us work harder for Canadians."