Justin Bieber Dad: Singer Proves He And His Dad Are Twins
Justin Bieber recently tweeted a throwback photo, proving the Canadian singer is basically his dad's mini-me.
Thanks dad not bad genes #biebergenes pic.twitter.com/m6ariqtwIW

— Justin Bieber (@justinbieber) November 28, 2016
The photo is of Bieber's dad, Jeremy, 41, from many moons ago. He looks to be about the same age of his oldest son now.
Fans couldn't help but notice the resemblance. And we can see why. Just take a look at this side-by-side.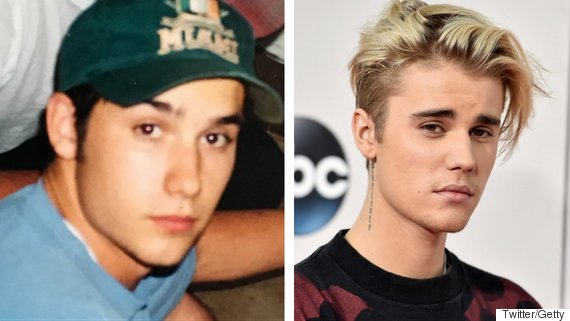 But some claim he looks more like his mom.
@justinbieber what about your mom? she's so beautiful 😍💕 pic.twitter.com/yTsZ0KkKzw

— Andrea (@cxmpany_) November 28, 2016
Obviously Jeremy's genes are strong, because Bieber also looks a whole like his little brother Jaxon.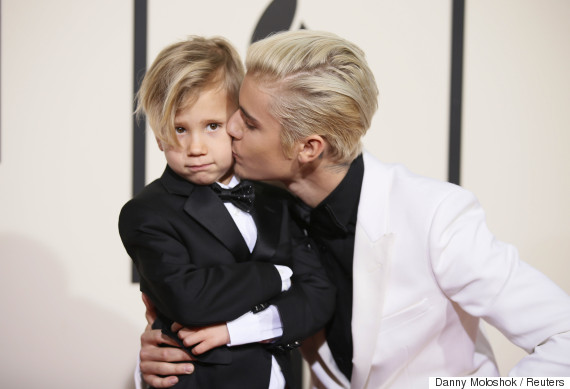 Singer Justin Bieber and his brother, Jaxon, arrive at the 58th Grammy Awards in Los Angeles, California on February 15, 2016.
Want more celebrity lookalikes? Take a look at these celebrity dads and their mini-me kids!
Celeb Dads With Lookalike Kids
Adam Sandler has two daughters – Sadie, 10, and Sunny, 7 – who look just like him! Pictured here is Sadie at age one looking as cute as ever.

This adorable father-daughter duo couldn't look more alike (or adorable!). Fourteen-year-old Simone is the daughter of Johnson and ex-wife Dany Garcia.

Jude Law's 19-year-old son Rafferty is a model and it's not hard to see why. The teen inherited his famous father's dashing good looks.

The Eastwoods are one good-looking family. Although Clint is a father of seven, his youngest son Scott, 30, looks the most like him.

There's no denying that Jaden Smith inherited his famous dad's good looks.

Eminem's daughter Hailie is all grown up at 20 years old and looks just like her famous father! The rapper had his daughter with ex-wife Kimberly Anne Scott.

Pictured here is Orlando Bloom and his adorable lookalike son Flynn at age three. Bloom had Flynn, who is now five, with ex-wife Miranda Kerr.

Pierce Brosnan is a father of five, but his 32-year-old son Sean looks just like him! Sean is also an actor.

Actress Liv Tyler inherited her dad Steven's infectious smile, making them look even more alike.

Four-year-old Blue Ivy is definitely Jay Z's mini-me. Here is the adorable duo at the 2014 MTV Video Music Awards.

James Jagger might not have his father's moves, but he's certainly got his looks! The 30-year-old is the son of the Rolling Stones frontman and Jerry Hall. The former couple also has three other kids: Elizabeth, Georgia and Gabriel.

The resemblance between Billy Joel and his daughter Alexa Ray is uncanny! Joel had his 30-year-old daughter with second wife Christie Brinkley.

Canadian actor John Candy had two kids before he passed away in 1994. Jennifer, now 36, is the eldest and looks just like her famous father. See recent photos of her here. Candy also had a son named Christopher, who is now 32.

Everything from this father-son duo's eyes, hair and style are exactly the same.

David Duchovny's two kids are the spitting image of him! Madelaine "West" Duchovny is 17 and Kyd Miller is 14. "The X-Files" star had both kids with ex-wife Téa Leoni. See more recent photos of the teens here. The resemblance to their father is uncanny!

This father-son duo looks so much alike!

Hopper, 22, is the son of Sean Penn and ex-wife Robin Wright. The former couple also has a 25-year-old daughter named Dylan.

Kiefer Sutherland is definitely his father's mini-me.

Whoa! Can you believe this is Sting's son? Ha! Of course you can! The two practically look like twins. Joe Sumner, 39, followed in his father's footsteps and became a musician, as well. He is the lead singer and bass player for UK band Fiction Plane.

George Harrison, of the Beatles, and his son Dhani are identical.