LIVING
Unpacking My Obsession With Lunchables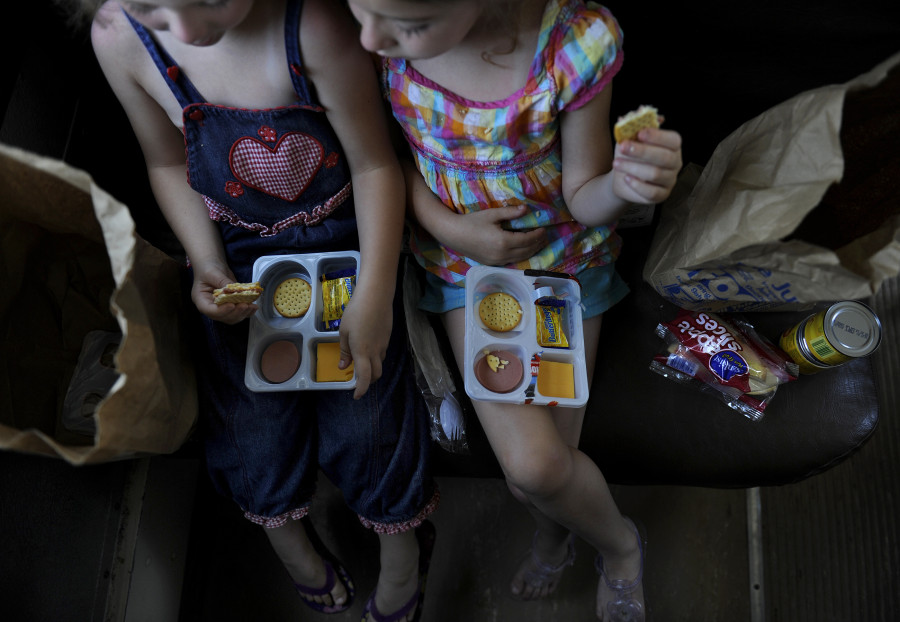 Hannah Knight, age 6 and Kaylee Arwood, age 4, eat some Lunchables snacks as part of their lunch in Greeneville, Tenn. (Photo: Michael S. Williamson/The Washington Post via Getty Images)
Only in America could cold boxes filled with bologna coins, processed cheese slices, crackers and a sugary treat boom into a billion-dollar empire.
This is the legacy of Lunchables, the fast-food product that sent cold-cut giant Oscar Mayer into a panic in the 1980s because it couldn't keep up with consumer demand. It was the lunch every kid wanted.
SUBSCRIBE AND FOLLOW Living
Get top stories and blog posts emailed to me each day. Newsletters may offer personalized content or advertisements. Learn more
And that was especially true for me as a third-grader, walking towards my elementary school's cafeteria, holding my non-Lunchables lunch in hand.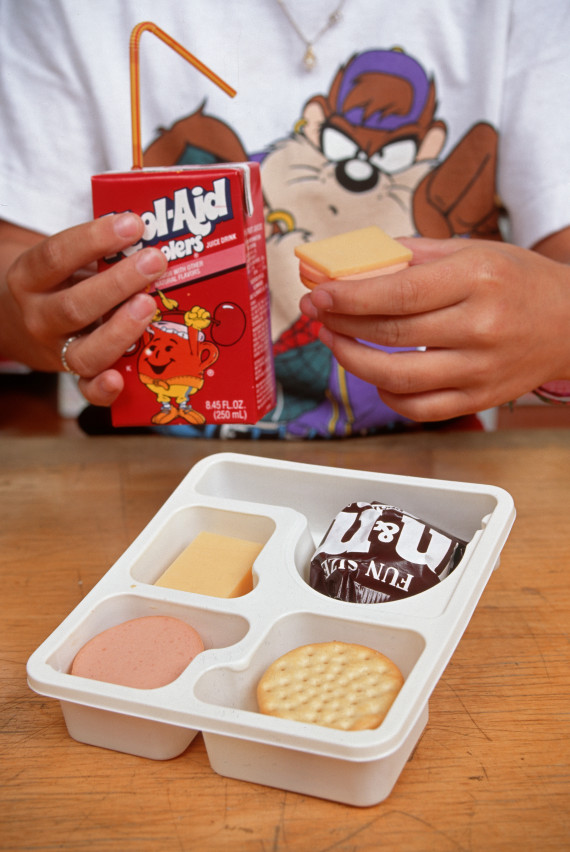 A student sits down to lunch with juice box and Lunchables. (Photo: Ralf-Finn Hestoft/Corbis via Getty Images)
If you grew up in an Asian household in Canada, chances are you suffered that same, dreadful cafeteria rite. It was lampooned on the ABC sitcom "Fresh Off The Boat," when the main character, a young Eddie Huang, is mortified after the mere sight of his container of thick noodles sets off a wave of repulsion in the lunchroom.
"Get it out of here. Ying Ming is eating worms!" heckles a white kid after throwing an arm over his face to cover his nose.
Eddie later begs his mom at dinner:
"I need white-people lunch. That gets me a seat at the table," he tells his mom, played by actress Constance Wu. "And then you get to change the rules. Represent. Like Nas did."
I wanted to represent, too. But not as "Zi-Ann: the weird-name kid with the funk lunches." When my parents emigrated from China, I doubt they expected their home-cooked leftovers would make their future kids wince with dread, let alone spur a ripple of disgust among other schoolchildren. Kids can be dicks, we know that as adults. But see enough of those scrunched-up faces and a sense of shame can develop — and stick.

My mother didn't get the appeal of Lunchables. But I wanted Lunchables because as a non-white kid growing up in a predominantly white Toronto east-end neighbourhood, school lunches were when I first became uncomfortably aware that my Chineseness wasn't a social asset — it could be a liability.
There were nearly 700 kids at Jackman Avenue Junior Public School, and only a handful were Chinese. A yearning to be white naturally developed in me. And somewhere along the way, an Oscar Mayer product was folded into the fantasy.
I dreaded the days I didn't carry a sandwich to school. Seeing my mom slip a container of beef chow fun or soy-sauce chicken and rice into my thermal lunch bag was a morning nightmare. I mean, I didn't ask to look different from the other kids. And I sure as hell didn't want pungent wafts of Chinese five-spiced meats to turn heads and reinforce me as such.
I built up Lunchables in my head as a sort of invisibility cloak. Get it and I could maybe melt in more with the white majority — a weird mystique to latch onto a box of tiny luncheon meat and crackers, I know. In my young head, it was the necessary distraction I needed to soften my racial identity during lunchtime — the one period of the school day where bullies sometimes picked on kids for their ethnic backgrounds, or how rich or poor their families were, based on their lunches.
For an hour, it was all out there for everyone to see.
But with a price tag of around $3 per small package, Lunchables was another luxury item my immigrant parents were reminded they couldn't afford every time we went shopping for food.

Today, holding that plastic tray in the refrigerated grocery section where bacon and Lunchables are stocked makes me feel underwhelmed. Why did that Oscar Mayer voodoo work so well on me? Were Lunchables conceived to prey on the insecurities of kids who just wanted to fit in? I needed to know.
So, I tracked down the man responsible for its invention to ask if Lunchables' appeal to non-white kids like me was intentional.
Bob Drane is the founder of Middleton, Wis.-based consulting firm Growth Catalysts. He devoted two decades of his life to Oscar Mayer, the Kraft Heinz-owned American meat production company, with 15 years as vice-president of new business strategy and development. Today, the former business professor lives in Madison, where he spends his spare time updating a blog about American history and old-time photography.
"It was like riding a rocket right up to the moon. It was also scary," Drane told me of the overnight and continued success of Lunchables. "Which is unusual. It made a whole new section in the grocery store that you can still see."
In the mid-1980s, the processed food industry went through a so-called red-meat crisis. Shoppers had become increasingly health-conscious, and the company's top products — hot dogs and bologna — had become associated with high cholesterol and obesity. Sales dropped, and Oscar Mayer was keen to revamp its offerings to make them "exciting" and "newsworthy on a lunch occasion" to kids and moms. Drane was handed this assignment.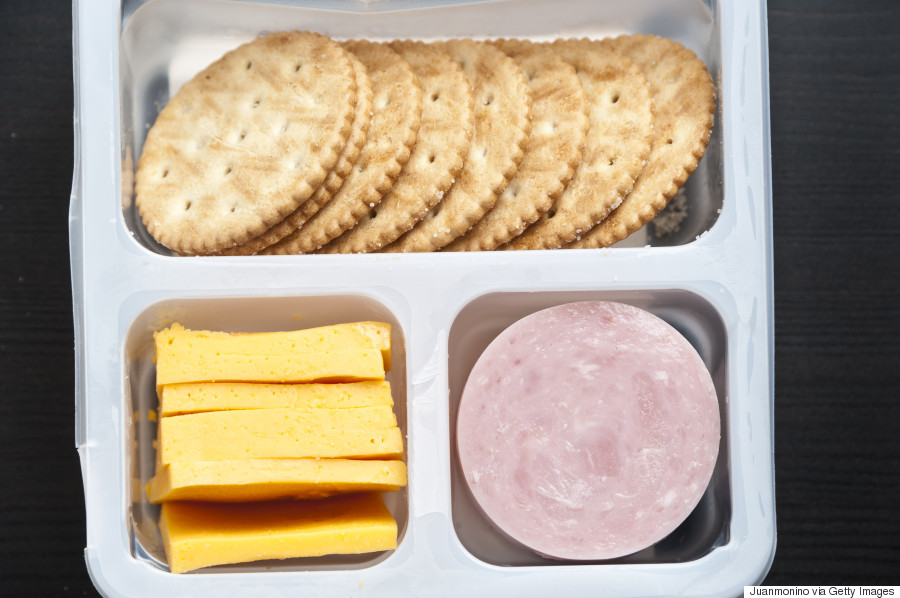 His research found that working moms were slammed with "total chaos" in the mornings. Between making and eating breakfast, and preparing the kids for school, they barely had time to pack their own lunch.
Drane saw an opportunity in that chaos, a need that could be satisfied with one solution. It was this key observation that led Drane to his eventual creation. Oscar Mayer would make a product for working moms, but it was unclear if it would be meant for kids or for adults. So, the company tried both.
Considering storage and transportation, the product would need to have a shelf life of two months. Bologna was the first piece, naturally followed by cheese. And because Wisconsin cheddar was too crumbly to slice, Drane chose a more malleable (and cheaper) processed version. Next was bread. But fresh slices couldn't last eight weeks in storage so they opted for Ritz crackers. A sugary treat was eventually added to entice kids.
When it came to packaging, Drane and his small team locked themselves in a hotel meeting room for days and played with art supplies and bags of Oscar Mayer bologna and other groceries. They came up with all sorts of ideas: tubes with cracker, cheese and meat stacked in a row; individually wrapped cracker-cheese-meat stacks, etc. But like IKEA, they decided to keep the parts separate and leave assembly to the consumer. There was a psychological reason for that.
"Kids love to have control," explained Drane. "And there's probably nothing more important to that product than the notion of giving kids the components to make their lunch on their own however they want it."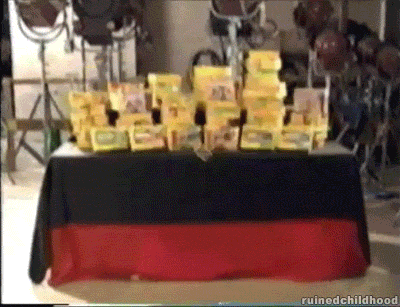 Kids loved Lunchables. They were doing everything sideways, backwards and upside down. But they were also laughing and having fun while doing it, Drane said. "It was a sort of puzzle game. Like LEGOs."
Inspired by the design of the American TV dinner, Oscar Mayer finally settled on a 4.5-ounce package. It hit grocery shelves packed in its trademark bright yellow box. In its first year, Oscar Mayer brought in US$218 million — but because of high production costs, it would be years before it turned a profit.
Months of research went into perfecting the branding of Lunchables to widen its appeal. "Salt Sugar Fat," the book by Pulitzer Prize-winning investigative reporter Michael Moss, reveals how dozens of families in two states participated in the company's research.
They were given pre-loaded shopping cards to track their purchases; special devices on their TVs showed Lunchables commercials that were not broadcast to other families in the neighbourhood.
Moss writes:
The testing, which went on for months, surpassed Oscar Mayer's highest hopes. Not only did the people in the experiment go for the trays after being exposed to the advertising, the familiarity of the contents, however plain they were, proved to a foundational theorem in processed foods, which Drane calls "the weirdness factor": if a new product is too unusual, shoppers get scared. "I used the term, '80 per cent familiar,'" Drane told me. "If you've got a new thing, it better be 80 per cent familiar, or you'll have people scratching their heads wondering what the hell it is."
"80 per cent familiar." The quote hit me like a rock.
Lunchables was advertised to be a sort of "badge" to promote individuality, Drane told me. It was a powerful marketing strategy that infused children's lunchtime with new "little special moments."
"A badge makes you feel special. Like you've been recognized somehow. You've been cheered on. I think that fits. I think that's always been it," he said.
Actually, the exact opposite was true for me, I told him. Lunchables was something I wanted because I didn't want to stand out. I wanted to conform.
Drane laughed and repeated, "How interesting!" four times.
"Marketing is all about making the not-all-that-important in our lives have more value."
"Multiculturalism and sensitivity to all that" in his generation was different from the discussions around it today, he explained. "I think a good thing to happen in our society is that people see the world through the eyes of more than themselves. They're more sensitive to fitting in, and not fitting in, and feeling comfortable.
"So when you said what you said, I don't think I heard it that way before, but it certainly made sense to me immediately."
He continued: "Marketing is all about making the not-all-that-important in our lives have more value."
So obvious, right? But as an eight-year-old, I was oblivious to the advertising forces raining down on me and shaping my perceptions. My obsession with Lunchables stemmed from the anxiety of not being able to fit in because of factors — my family, background, economic circumstance — beyond my control.
And kids love to have control.
To Drane, there was no mystique to his creation. His only pursuit was to create industry in the Madison community during the '80s and '90s.
"I had the joy of creating lots and lots of good, paying jobs for that product," he said of Lunchables.
But there are also forces bigger than Drane, bigger than Lunchables. Oscar Mayer is slated to shut down its Madison plant in March 2017, after nearly 100 years of operation. Almost 1,000 people will lose their jobs.

Times changed eventually in my household as well. My brother and I began helping with the morning chaos, making three Genoa salami and havarti sandwiches every morning for the rest of elementary and middle school. One for each of us, the other for our dad's lunch.
But in this new Chinese-lunch-free reality, a new horror arose. My brother and I would occasionally unwrap egg salad sandwiches for lunch that smelled like farts.
Still, they offered some protection from the lunchtime bully. And like every childhood fad, the allure of Lunchables eventually faded.
But those sandwiches made us ordinary.
These days, I get to make my lunch, on my own, however I want it.
Give me chow fun any day over bologna.
No contest.
_______________
Born And Raised is an ongoing series by The Huffington Post Canada that shares the experiences of second-generation Canadians. Part reflection, part storytelling, this series on the children of immigrants explores what it means to be born and raised in Canada. We want to hear your stories — join the conversation on Twitter at #BornandRaised or send us an email at bornandraised@huffingtonpost.com.
Also on HuffPost
13 Ways Food Is Celebrated In Chinese Culture
Suggest a correction