Robert Fox, NDP National Director, Says Leadership Race Will Energize Party In 2017
OTTAWA — Robert Fox, the New Democratic Party's new national director, doesn't gloss over the party's challenges.
A past executive director of Oxfam Canada who wasn't even an NDP member until he took the job leading the party in September, Fox offers a refreshing change from the usual political spin.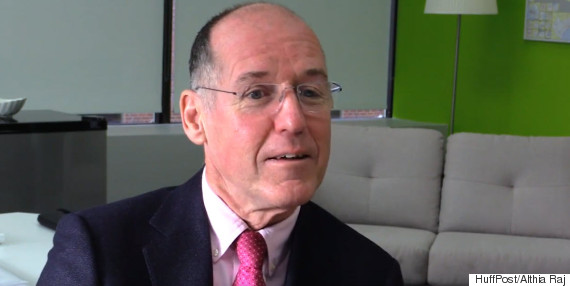 NDP national director Robert Fox speaks to HuffPost Canada. (Photo: Althia Raj/HuffPost)
He notes that no one surprising has shown an interest in the party's leadership contest. Fundraising is in free fall — from an unusually high level of support a year ago of $9.2 million raised to a drastic decline of $973,007, according to the latest quarterly returns this past September.
He even suggests that some New Democrats are happy with what they are seeing from the Liberals under Prime Minister Justin Trudeau.
"We have a lot of our supporters who, their initial reaction is: Let's give them a chance. That makes perfect sense," he said.
Over the past few weeks, however, Fox believes, the gap between what the Liberals promised during last year's campaign and what they've actually done as a government — on pipelines or electoral reform, for example — has grown.
'Sponge mode'
So he's been on the phone calling the party's major donors to gauge their temperature. Those who are paying attention, Fox said, are more concerned, but he leaves hanging the possibility that many donors, like many Canadians, really aren't too bothered with what's going on in Ottawa.
Three months into the job, Fox told The Huffington Post Canada he is currently in "sponge mode."
Many New Democrats are still reeling from last year's loss, he said.
"Many of them are still quite battered and bruised, disappointed at the outcome."
Others are still processing what happened at the party's convention in Edmonton in April, where delegates gave party leader Thomas Mulcair the boot, with 52 per cent saying they wanted a new leadership contest.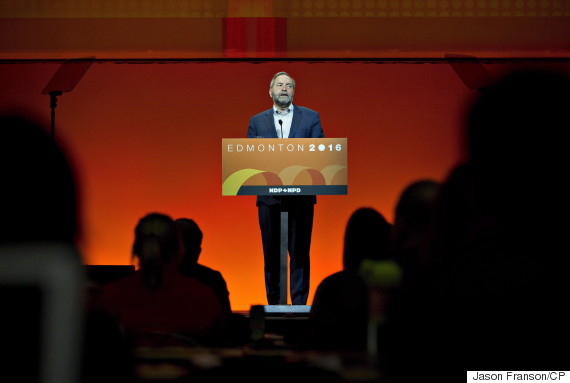 Thomas Mulcair makes a speech during the 2016 NDP Federal Convention in Edmonton Alta, on April 10, 2016. (Photo: Jason Franson/CP)
"Part of my challenge is to stop re-losing the last election and start winning the next one," Fox said from his office in the party's Jack Layton building in downtown Ottawa. "The leadership race is an opportunity for people to stop second guessing the decisions that were made last year and talk about what is our vision of the future of our country."
Asked if he thinks the NDP can win the next election in 2019, Fox settled on: "Well, I think we can have a real impact in 2019." A lot of New Democrats are having buyer's remorse, he said, but admitted being unsure how widespread that feeling is.
Fox described himself as "not a joiner by nature." He's worked on NDP campaigns, even managed one once. But he has in the past resisted the "tribalism and the discipline of a political party." He thinks many in the social justice-human rights-environmentalist movement are just like him.
"Part of my challenge is to stop re-losing the last election and start winning the next one."
The election of Donald Trump in the United States and what's happening with many far-right movements in Europe, for example, however, gave him pause. And he said those events are giving other activists pause, too.
"It's obvious to me that there are a lot of folk who are feeling very disenfranchised, disenchanted, and, right now, I'm seeing that too many of them are looking to the right as giving expression to that frustration, to that anger," he said.
"We are at an important moment where those of us [who] felt more comfortable working on causes … now see how absolutely important it is right now that there be electoral expression to our politics," he said. "That who is the government does matter and that if we are going to affect the systemic change we need to … get involved in party politics and not just cause politics."
Because so many people feel they can't exercise influence through politics or through activism, they are tuning out or being attracted to extremists and ever more radical tactics and organizations, Fox said.
'Canadian Idol' leadership race
"Too often, people's anger is being turned against your neighbour, your co-worker, the immigrant, the other, and they are not the ones who are creating the inequality that you are suffering, or the sense of powerlessness that you are seeing every day in your life. It is powerful elites, it is corporate interests, it is the concentration of wealth and power in the country and in the world."
The challenge for the NDP is to articulate a vision that is compelling and coherent, and which responds to the anger that people feel in their life, Fox said. "Because they have every reason, I think, to feel angry."
The party has big plans to try to make the leadership contest interesting. Imagine a version of "Canadian Idol" but involving politicians.
In the fall, after the party's leadership debates are over — four official ones are currently planned beginning in March — New Democrats will begin voting in rounds over the course of a maximum of five weeks.
Every week, the party's members (currently about 65,000) will be able to vote for whomever they think should be the leader. Losers will drop off the ballot every week — one or several depending on how many candidates enter the race. A maximum of five will go on to round two. Members can change their vote week after week.
Story continues after slideshow:
NDP Leadership Race 2017: Candidates
The Ontario MPP and former deputy leader of the Ontario NDP joined the race in May 2017. A bilingual Sikh known for his social media prowess and fashion sense, Singh is seen as a top contender.

The veteran Ontario MP, first elected in 2004, joined the race in February 2017. He has long been an advocate for indigenous children and has spoken out passionately on behalf of the Attawapiskat First Nation.

The Manitoba MP, first elected in 2008, ran for the federal NDP leadership in 2012 but was eliminated after the first ballot. A strong performer in the House of Commons, she has served in several key critic roles for her party, including indigenous affairs, status of women, and jobs.

The veteran B.C. MP, first elected in 2004, was the first to enter the race. He's fluently bilingual and previously served as the NDP House leader.

An economist by training, Caron was first elected in 2011 and served as his party's finance critic. He joined the race shortly after Julian and Angus.

Who's Almost In?

Stogran is the former veterans ombudsman and a retired Canadian Armed Forces colonel.

El-Khoury, the founder of a Montreal consulting firm, is also registered to run.

UP NEXT: Key NDP MPs defeated in 2015

In the 2015 federal election, Thomas Mulcair's New Democrats fell from 95 seats to 44. And several high-profile incumbents from across the country were defeated, usually to Liberal candidates. Here are a few key names that will not be returning to Ottawa...

First elected: 2006 Riding: Ottawa Centre Shadow cabinet role: Foreign affairs Dewar also ran for the leadership of the party in 2012.

First elected: 2008 Riding: Halifax Shadow cabinet role: Deputy leader, environment

First elected: 1997 Riding: Sackville—Eastern Shore (N.S.) Shadow cabinet role: Veterans affairs Stoffer was named Maclean's magazines Parliamentarian of the year in 2013 and frequently won the most congenial MP award.

First elected: 2008 Riding: St. John's East Shadow cabinet role: National defence Harris was also the longtime leader of the Newfoundland and Labrador New Democratic Party.

First elected: 2011 Riding: Hull—Aylmer Shadow cabinet role: Opposition whip Turmel served as interim NDP leader after Jack Layton stepped down to battle cancer. She was leader of the Official Opposition from August, 2011, to March, 2012.

First elected: 2012 Riding: Toronto Danforth Shadow cabinet role: Democratic and parliamentary reform Scott represented the Toronto riding held by former leader Jack Layton.

First elected: 2008 Riding: Welland Shadow cabinet role: Agriculture and Agri-Food

First elected: 2011 (though she served from 2004-2006 as a Liberal MP) Riding: Gatineau Shadow cabinet role: Justice

First elected: 2011 Riding: Halifax Atlantic Shadow cabinet role: Fisheries, deputy employment insurance Chisholm served as leader of the Nova Scotia New Democratic Party and ran for the federal leadership in 2012.

First elected: 2011 Riding: St. John's South—Mount Pearl Shadow cabinet role: Atlantic Canada Opportunities Agency

First elected: 2011 Riding: Newton—North Delta Shadow cabinet role: Employment and Social Development

First elected: 1997 Riding: Winnipeg Centre Shadow cabinet role: Public Works and Government Services Martin is perhaps the most quotable politician in Canada.

UP NEXT: Defeated Harper cabinet ministers

Though Stephen Harper was re-elected in his Calgary riding in the 2015 federal election, many members of his cabinet went down in defeat. Here are some key figures from Harper's inner circle who will not be returning to Ottawa...

Cabinet position: Minister of citizenship and immigration Riding: Ajax First elected: 2011

Cabinet position: Minister of finance Riding: Eglinton-Lawrence (Toronto) First elected: 2011 Oliver also previously served as minister of natural resources

Cabinet position: Minister of aboriginal affairs Riding: Madawaska—Restigouche (N.B.) First elected: 2011 (though he was a Progressive Conservative MP from 1984 to 1993).

Cabinet position: Associate defence minister Riding: Vaughan First elected: 2010 Fantino is probably better remembered for his controversial tenure as minister of veterans affairs.

Cabinet position: Minister of the environment Riding: Nunavut First elected: 2008 Aglukkaq previously served as minister of health, and was the first Inuk in Canadian history named to federal cabinet.

Cabinet position: Minister of natural resources Riding: Kenora First elected: 2008 Rickford previously served as minister of state for science and technology.

Cabinet position: Minister of fisheries and oceans Riding: Egmont (P.E.I.) First elected: 2008

Cabinet position: Minister of state for multiculturalism Riding: Edmonton—Sherwood Park First elected: 2008 Uppal also previously served as minister of state for democratic reform.

Cabinet position: Minister of state for science and technology Riding: London West First elected: 2008

Cabinet position: Chief government whip Riding: Vancouver Island North First elected: 2008 (though he also served as an MP from 1993 to 2006). Duncan previously served as minister of aboriginal affairs.
"What we are trying to do is replicate the energy and dynamism of the old-fashioned leadership conventions where you would be able to see from one vote to the other, a candidate moving themselves, and hopefully their supporters, in behind another candidate," Fox explained.
Defeated candidates can try to influence the next round of balloting by throwing their support behind someone or trying to prevent a candidate from winning. And those still on the ballot have a week to organize, mobilize, hold telephone town halls, have phone trees, public meetings or rallies, anything to demonstrate that they are in the lead and have momentum, Fox said.
"It actually brings back some of the drama and the dynamism so you can't predict where this is going," he said. "I think that's very healthy for democracy, and it's going to be very healthy for the party and it's going to generate a huge amount of energy and excitement."
Fox said he hopes the debates will be lively.
Leadership contenders urged to bring 'edge' to debates
"Sometimes we are a little bit too polite," he said. "I'm not encouraging people to attack each other, but I do want them to be challenging orthodoxy and putting new ideas on the table and bringing some edge and some urgency to the race, because I think that is what the situation in the country demands, and I think that is what the membership are looking for."
Fox said he isn't concerned that no candidates have come forward with official bids yet. Two veteran caucus members, British Columbia's Peter Julian and Ontario MP Charlie Angus, stepped aside to evaluate their candidacy. And despite Julian being registered by Elections Canada as the first leadership candidate in the race — he's still mulling a final decision to launch an official campaign.
The party's perceived leaders-in-waiting, defeated MP Megan Leslie and popular MP Nathan Cullen, have said they won't run.
"Part of my message to the party is: Take a chill pill," Fox told HuffPost. If he had wanted to enter the leadership contest, he wouldn't have declared this fall either, he said. When a candidate declares, they lose their critic role and lose the ability to have their face on TV often, he explained.
"They have to start reporting to Elections Canada, every five minutes and every five cents, so it makes perfect sense that they are waiting until January, February," he said.
Strong field of candidates will emerge
He doesn't expect 14 candidates as with the Conservative race, he said laughing. "There is a strong field of candidates circling, and they'll be emerging, and we'll have an exciting race," he said.
The staff and NDP headquarters has been meeting with prospective candidates about streamlining membership and donations on their campaign websites. The party will take a 25 per cent cut from all the donations raised, so "their success is our success.
"The more memberships they sell, the more funds they raise for their campaigns, all of that is to our advantage in terms of reaching out and bringing new people into the party. Expanding our base and extending our reach."
The party's leadership contest will begin in mid-March. July 3 is the cut off date for nominations. The contest entry fee is $30,000. There is a $1.5 million cap on expenses.