12 Things First-Timers Need To Know About Swingers Clubs
Swinging may be something some couples like to fantasize about, but in major Canadian cities, you can turn this into a reality.
Swinging is when couples meet and sexually interact with other couples or single people.
In Toronto, Club M4 and The O Zone both offer space for couples and single members to get busy, while Montreal's L'Orage Club, have Saturday nights reserved for couples and single women.
Swingers in Vancouver also have a couple of options when it comes to clubs, including Club Eden where you can meet other swingers online.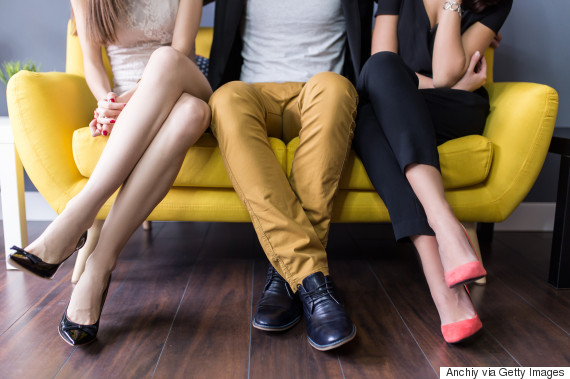 All clubs are different and all come with their own set of rules from pricing to themes to dress codes. However, one thing that is important at all clubs and parties is respecting other people's decision to say, "no."
As The O Zone notes, consent is not always talked about when it comes to swinging.
"Just because there is hedonistic intent and someone seems to be promiscuous does not give the green light to touch without consent. Asking outright is the polite thing to do and is one approach," the site notes.
And swinging doesn't just happen at clubs. Some cities have swingers parties and there are even cruise ships designed specifically for adventurous adults.
Below are 12 things first-time swingers (or anyone interested in swingers clubs) should know before heading out to play.
What You Need To Know About Swingers Clubs
The most important thing to remember about swingers clubs: As Thrillist notes, if you are in a relationship, make sure you and your partner are both on the same page — communication is key. "Because fights about leaving a party early are one thing, fights about getting oral sex from a stranger when you didn't know you weren't supposed to are quite another."

What are the benefits of swinging? Besides connecting with your body and another person's body, Toronto swingers club The O Zone says swinging is a good way to "explore your sexuality and sensuality in new ways that are not easily accepted in 'traditional' society." Swinging can also enhance your own relationship and you can also pick up new sex tips from other couples.

If you're nervous, meet beforehand: If you find yourself talking to other swingers online, either through a group or forum, try breaking the ice by meeting before the party, Your Tango notes. "It is ideal to meet the potential swinger couples the first time first, so you can see whether they look or talk the same as they did online. If you don't feel a connection, simply move on," the site adds.

If you meet a couple, talk alone: Having a one-on-one intimate setting with your partner and another couple will make sure you're all still on the same page, Cruise Swingers reports. "There are usually many couples attending a party and the energy may be infectious prompting couples to experiment farther than they had discussed. On the other hand, the large number of people at a party may be intimidating, preventing first-timers from experimenting or even participating at all."

And if it is your first time, stay together: "Your first party sets the stage for your future swinging experiences. Therefore, it is extremely important that you are both comfortable and have fun," Cruise Swingers adds. And if you do leave your partner to be sexual with someone else, your partner can feel completely abandoned.

Stay protected: Many clubs and parties encourage guests to bring their own protection and some couples even bring their own lube and sex toys. Juicy Pink Box founder Jincey Lumpkin writes couples should never rely on others for contraceptives. "This tip goes for women as well as men. Lesbians/bisexual women: Bring dental dams if you want to go downtown, or just avoid mouth-to-organ contact. If you want lube or toys, bring them from home, too; that way, you know for certain that the item works for you and your body, and that it's free of bacteria."

All clubs and parties have their own rules: Do your research before you go out, this way you and your partner know what to expect (for the most part). Experts at sex toy Lelo's website say some clubs have wristband policies (each band colour means something different) and some use different coloured straws. "If you arrive and there's any confusion at all, just ask someone. Swingers are friendly folk, after all, and it's a good ice-breaker. Speaking generally, it's better to join a swinging club or attend a swinger's event that requires a reservation beforehand, because it means the organizers personally vet all the attendees and work to make sure there's a good mix of people in attendance," the site adds.

Try foreplay before you go out: Lumpkin also advises couples to get into the mood before they go out. "Do whatever rituals make you feel sexy. I have certain songs that I groove to that heat me up from the inside out. Whatever it is that gets you going, whether it's a hot bath or even a little self-pleasure, indulge before you go out. You will feel more relaxed and ready to get hot and heavy."

Keep a signal ready: Cruise Swingers recommends agreeing on a signal before you go to the party or club. "Establish a signal that either partner can give at any point in the experience that says 'Something is up. We need to talk.'" This can be used if one person is feeling uncomfortable and the other person should respond right away.

Don't just approach any couple or person you see: According to blog Swinger Advice, if you walk into a playroom and want to join another couple, observe them for a few minutes first. "Try to meet their eyes and smile. If they smile back, invitingly, they might want you to join! I gently approach and take the woman's hand in mine and squeeze it lightly. If she responds in kind, it's a go."

An open door is not always welcoming: The blog adds if you see a couple getting busy with the door open, it usually means they don't mind visitors. "We usually enter and establish whether we like what we see. If we do, I gently put my hand on the woman's shoulder and wait for a reaction. If she looks up and smiles, or gives some other positive signal, it means 'join us!'" However, this is not an open invitation to get busy. If the couple says, "no," this is your cue to leave them alone.

And like any type of sex, consent is incredibly important: Even if people go to swingers parties or clubs to interact sexually with others, it doesn't mean you can touch someone without their consent. As The O Zone notes, consent is often not discussed when it comes to swingers clubs. "Just because there is hedonistic intent and someone seems to be promiscuous does not give the green light to touch without consent. Asking outright is the polite thing to do and is one approach."