Mark Twitchell, Edmonton's 'Dexter Killer,' Posts Online Dating Ad
Alberta's notorious "Dexter Killer" is looking to find love online.
Mark Twitchell, currently serving life in prison for murdering a man in his Edmonton garage, has set up an online dating profile using Canadian Inmates Connect Ltd.
In his profile, he admits he's "made some terrible, regrettable choices in the past" and how he's come to accept the consequences.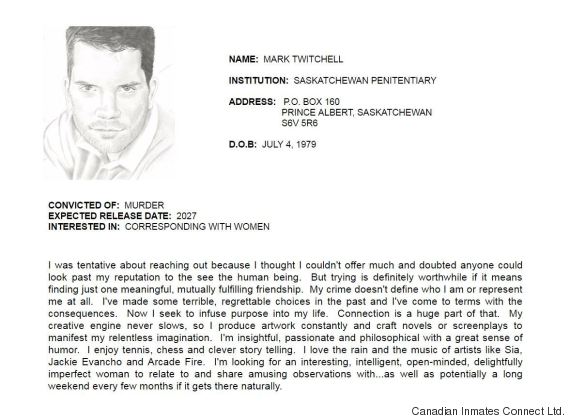 Mark Twitchell's online dating profile. (Photo: Canadian Inmates Connect Ltd.)
Twitchell lists tennis, chess and story-telling as a few of his interests, according to his dating profile. Twitchell also adds that he enjoys the music of Sia, Arcade Fire and Jackie Evancho.
"I'm insightful, passionate and philosophical with a great sense of humor."
Fascination with 'Dexter'
In 2011, Twitchell was found guilty in the first-degree murder of 38-year-old Johnny Altinger. Altinger thought he was going to meet a woman he met online when he showed up at the killer's home.
Instead, he was ambushed by Twitchell, clobbered and stabbed in a kill room — a room designed by Twitchell with plastic sheets on the walls and table to catch blood.
Twitchell's headline-grabbing trial heard how he had a fascination with the TV show "Dexter" and the lead character Dexter Morgan, who works by day as a police blood spatter analyst, but murders in the name of vigilante justice by night.
During his trial, court heard how Twitchell, a filmmaker and TV and film buff, followed his own movie script in killing and dismembering Altinger.
Twitchell's dating profile says he passes time at the Saskatchewan Penitentiary crafting "novels or screenplays to manifest my relentless imagination."
Dating site founder: Everyone deserves second chance
Canadian Inmates Connect Ltd. is run by Melissa Fazzina in Toronto, and requires an application and annual $35 fee. Fazzina said she created the site in 2012 because she believes everyone deserves a second chance.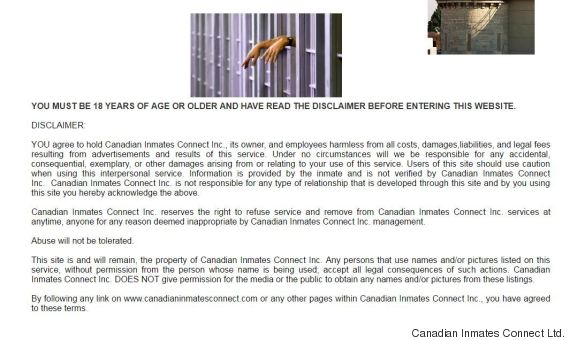 A disclaimer appears on the Canadian Inmates Connect Ltd. website. (Photo: Canadian Inmates Connect Ltd.)
"I just think their crimes shouldn't define them," she told Postmedia. "They're in prison; that's their punishment. They've lost their freedom. So why continue to just keep punishing and trying to take things away?"
But she warns anyone who contacts the convicts should proceed with caution.
A disclaimer on the website states that it's not responsible for any relationship developed through its pages.
With files from The Canadian Press
Also on HuffPost:
Notorious cannibal Jeffrey Dahmer sits with his defense team during his 1991 trial. Dahmer went on a killing spree in the 1980s during which he murdered 17 men and boys. He often had sex with the corpses before dismembering them and, in some cases, ate pieces of human flesh. After his conviction, Dahmer was killed by a fellow inmate in prison.

John Wayne Gacy was arrested in 1978 after murdering 33 men and boys. He was known as the "Killer Clown" for his work as a children's entertainer. When Gacy became the suspect in a young man's disappearance, he invited police to his home for coffee. Cops noticed a smell that could emanate from a decaying body. They returned with a search warrant and found 29 victims stuffed into crawlspaces.

David Berkowitz, the "Son of Sam" killer, terrorized New York with six murders and several other shootings that ended with his 1977. When police arrested him, Berkowitz, a mailman, said his neighbor's dog commanded him to strike. He's in Sing Sing prison In New York serving life, though he's eligible for parole.

Angelo Buono, a 47 year old auto upholsterer, sits in a Los Angeles courtroom Monday March 2, 1982 as he listens to opening arguments in the so called "Hillside Stranglings" case in which Buono is accused of killing 10 women and girls in the Los Angeles area between 1977 and 1978.

Ted Bundy at one time in the 1970s had a bright future in the Washington State Republican Party, but instead became one of the most famous serial killers and necrophiliacs. He often deceived his victims, all women, into thinking that he was injured and in need of help before attacking them. In 1976 he was arrested for an attempted kidnapping, but while acting as his own lawyer, he escaped. He migrated to Tallahassee where he killed two women in a Florida State University sorority house. He was convicted of those murders and while on death row in 1989 he confessed to 50 other murders. Correction: A previous version of this slide misstated the location of the Florida State murders as Pensacola, Fla.

Aileen Wuornos admitted to killing six men while she worked as a prostitute in Florida in 1989 and 1990. She initially claimed that she acted in self defense against johns who raped her or tried to rape her. But later she admitted that she robbed and killed in cold blood and would do it again if she were free. She was executed in 2002.

Anthony Sowell was convicted and sentenced to death in 2011 for killing 11 women and keeping their remains in his Cleveland home.

In this file photo taken Oct. 24, 1985, "Night Stalker" Richard Ramirez displays a pentagram symbol on his hand inside a Los Angeles courtroom. The California Supreme Court Monday< Aug. 7, 2006, upheld the convictions and death sentence for serial killer Richard Ramirez, the so-called "Night Stalker" whose killing spree terrorized the Los Angeles area in the mid 1980s. Ramirez, now 46, was sentenced to death in 1989 for 13 Los Angeles-area murders committed in 1984 and 1985. Satanic symbols were left at some murder scenes and some victims were forced to "swear to Satan" by the killer, who broke into homes through unlocked windows and doors. (AP Photo/Lennox McLendon)

Andrew Cunanan is seen in this 1997 mugshot from the FBI. Cunanan murdered five men from Minneapolis to Miami, including fashion designer Gianni Versace. As investigators closed in on him, Cunanan committed suicide in 1997.

Edward Gein, 51, of Plainfield, Wisc. enters Central State Hospital for the Criminally Insane Nov. 23,1957, in Milwaukee. Gein admitted to slaying two women and dismembering their bodies as well as robbing graves. Gein flayed the bodies and used human skin and other body parts to decorate furniture and clothing in his decrepit farmhouse. His twisted tale was the inspiration for murders in movies like Buffalo Bill from "The Silence of the Lambs."

Gary Ridgeway slew 48 women in the Seattle area from 1982 to 1998. He was known as the Green River Killer, because his first five victims were found near the waterway. The case was one of the longest unsolved murder mysteries in the country, not to mention one of the bloodiest. Ridgeway pleaded guilty in 2003 and was sentenced to life in prison without parole.

Albert Fish was a child rapist and cannibal who confessed to torturing hundreds of children, beginning in 1880 in New York. He was convicted and sentenced to death in 1935 for the murder of a single girl, however, 10-year-old Grace Budd. During the trial, Fish said he heard voices in his head that told him to attack children. CORRECTION: A previous version of this slide incorrectly stated that she was the daughter of Fish's employee.

Early on his life, Coral Eugene Watts was identified by psychiatrists as a dangerous and violent individual. He lived up to those warnings as the so-called Sunday Morning Slasher and confessed to killing 80 women in Michigan, Texas and Canada in the late 1970s and early 1980s. He strangled, drowned, stabbed and beat his victims. He died in 2007 in prison from prostate cancer while serving a life sentence for two of the Michigan murders.

Richard Angelo, a nurse at Good Samaritan Hospital in New York, killed 25 patients in a bungled plan to turn himself into a hero. Angelo injected patients with a cocktail of dangerous drugs with the plan of restoring them to life and burnishing his reputation as a life-saving medical professional. Only 12 patients survived the "Angel of Death."

This is an undated booking photo released by the Washoe County Sheriff's office showing Joseph Naso. Authorities in California and Nevada plan to release more information about Naso, the 77-year-old man accused in four homicides spanning two decades. Naso, of Reno, Nev., was booked late Monday, April 11, 2011, on suspicion of the killings in 1977, 1978, 1993 and 1994.