Canada's First Indigenous Business District Is Coming To Toronto
Toronto is planning to create the country's first indigenous business and cultural district.
"It's a timely initiative considering the reconciliation efforts that are underway across the country," said city Coun. Kristyn Wong-Tam. She initiated the idea about six years ago because her ward has one of the city's largest indigenous populations, up to 75,000 across Toronto.
"You can go through Little Portugal, you can go to Chinatown, you can go through Little Italy. You have these wonderful culturally diverse sections of Toronto. We don't have that type of space here for Canada's first peoples," said JP Gladu, president and CEO of the Canadian Council for Aboriginal Business and an Ojibwe of the Bingwi Neyaashi Anishinaabek First Nation.
"The idea is to create a space where independent business can come and flourish," added Gladu, who is working with Wong-Tam and Chief Stacey Laforme of Mississaugas of the New Credit First Nation whose traditional territory the city of Toronto and beyond is built upon.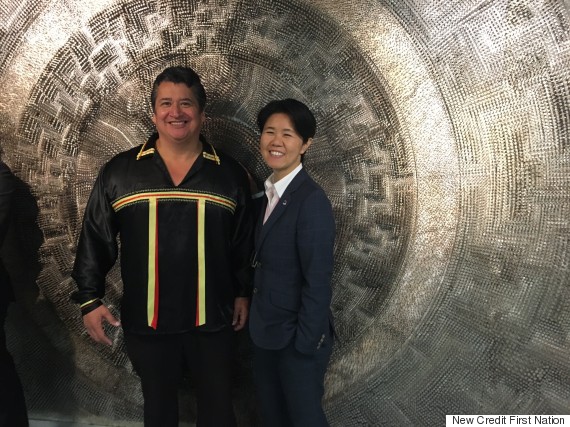 Chief Stacey Laforme of Mississaugas of the New Credit First Nation and Toronto city councillor Kristyn Wong-Tam at City Hall. (Photo: New Credit First Nation)
The district, which will likely combine street-level businesses, start-up incubators and a cultural gathering place, is widely supported but she says the holdup has been finding land.
"Indigenous people probably have the best sense of humour about this because the irony is not lost on them."
Wong-Tam recently secured a site with over 13,000 sq. ft. at the downtown corner of Jarvis and Dundas streets. But the rest is to be determined, from timeline to cost to the name itself.
"I essentially said 'Whatever the name is, we will learn to pronounce it.'"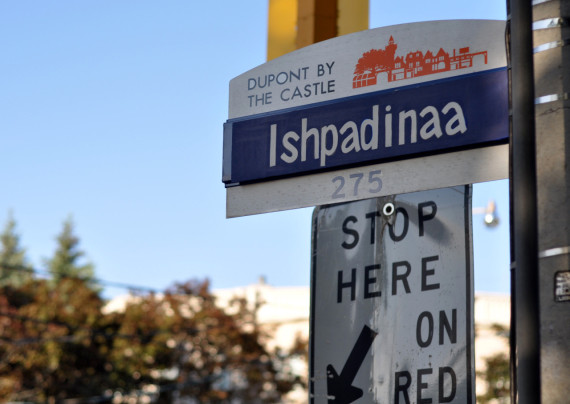 Toronto's Spadina Street displays a sign with its Anishinaabe name: Ishpadinaa. (Photo courtesy Ogimaa Mikana)
Laforme said, "Having a business district that also ties in the cultural aspects of things gives the indigenous people in Toronto an opportunity to showcase who they are and what they can accomplish."
Laforme believes it will also improve relations between indigenous and non-indigenous people. "The greatest thing that draws people together is finding commonalities," he said. "Having a district where it's open and welcoming, everyone will be happy to go there and learn a lot about each other.

"Having this type of district is also an opportunity for Toronto to be a leader," he added. "If we do this, and do it right, other cities across Canada, and maybe the world, can take this model on. Why can't every major city have an indigenous district?"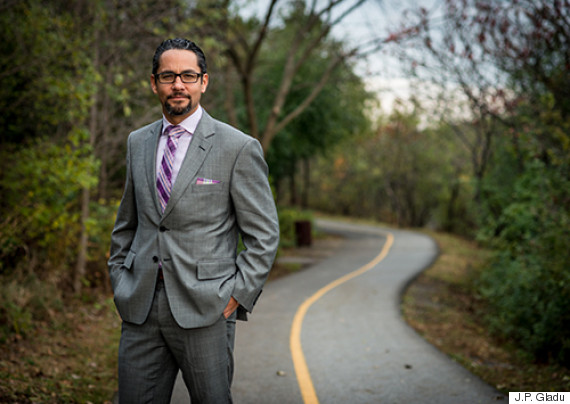 Canadian Council for Aboriginal Business president and CEO JP Gladu.
This indigenous business district comes on the heels of Toronto introducing indigenous names on street signs, Toronto schools acknowledging indigenous lands and plans to start hoisting the Mississaugas flag at City Hall.
"There's just so much racism right now in the country and I think it's a real opportunity to address the ignorance," Galdu said of these efforts.
"It's sometimes overwhelming. It warms my heart and make me feel like I matter. It makes indigenous people feel like they matter, that we are being taken seriously for a change, that there's energy and resources being sent our way in a way that is proactive and meaningful."
Also on HuffPost:
10 Indigenous Voices That Inspire Us
Once blacklisted by the U.S. government for producing work that could "encourage widespread citizen protest," Saskatchewan-born artist Buffy Sainte-Marie has built a career around songs of love and dissent. Her "Universal Soldier" became a popular anti-war anthem in the '60s, while her love song "Up Where We Belong" won an Academy Award for best song after it was featured on the soundtrack for "An Officer and a Gentleman." But she has also been a strong spokesperson for indigenous rights, standing against the Kinzua Dam that had displaced part of New York's Seneca Reservation.

Ta'Kaiya Blaney emerged in 2010 with "Shallow Waters," a heartfelt song that expressed the young artist's concerns about the threats that oil spills pose to oceans. She has since become a prominent voice opposing the Northern Gateway pipeline, which would transport oil from Alberta to B.C.'s coast for shipping to Asian markets.

After the Oka Crisis brought the relationship between Canada and First Nations to national attention, Phil Fontaine became one of the first people to speak out about sexual abuse in the residential school system. He has since become one of the most visible voices advocating on behalf of indigenous people. As national chief of the Assembly of First Nations, he helped negotiate the Indian Residential Schools Settlement, an agreement that established payouts to survivors and a Truth and Reconciliation Commission.

Haida activist Guujaaw played a key role in the establishment of Gwaii Haanas National Park Reserve after protesting logging in the area. He later served as president of the Council of the Haida Nation for 13 years, a role in which he undertook a successful effort to rename B.C.'s Queen Charlotte Islands as "Haida Gwaii," which means "islands of the people."

The host of CBC's "8th Fire" documentary series has emerged as one of the most prominent voices articulating indigenous issues in Canada. He was a regular fixture on television as Idle No More protests swept across the country in 2012 and he has since raised his intellectual profile with a successful defense of Joseph Boyden's "The Orenda" in the Canada Reads literary battle. More recently, he was floated as a possible candidate to succeed Shawn Atleo as national chief of the Assembly of First Nations.

Chief Clarence Louie sees economic development as the way forward for B.C.'s Osoyoos Indian Band. It owns vineyards, a golf course and a desert cultural centre. Though Louie is a controversial figure among some indigenous people, prominent politicians such as Prime Minister Stephen Harper look to him as an "example of entrepreneurial spirit," according to CBC.

Murray Sinclair has spent decades seeking justice for indigenous people. He became his province's first indigenous justice when he was named associate chief judge of the Provincial Court of Manitoba. He was handed an enormous responsibility when he was named chair of the Truth and Reconciliation Commission in 2009, a role in which he oversaw testimony from residential school survivors in an effort to educate Canadians about the system's destructive effects on First Nations, Inuit and Metis people.

Not unlike Buffy Sainte-Marie, Inuk throat singer Tanya Tagaq is out to defeat stereotypes. In 2012, the Toronto International Film Festival commissioned her to do a soundscape for the silent documentary "Nanook of the North," effectively reclaiming a film which she said had a "bunch of bullshit happy Eskimo stereotypes." And that's just one work that makes her an inspiring artist. More recently, she was harassed online by anti-seal hunt activists after posting a "Sealfie" with her baby next to a dead seal. She fought back against her tormentors and ended up shutting down one of their Twitter accounts with the help of police. We can't wait to see what she does next.

This Inuit activist has dedicated her life to ensuring the health and cultural survival of her people. She partook in negotiations toward the Stockholm Convention, which banned persistent organic pollutants that were contaminating the Arctic. She also made climate change a human rights issue when she filed a petition against the U.S. to the Inter-American Commission, alleging that its refusal to reduce emissions was threatening the Inuit.

In 1990, with an eagle feather in his hand, Manitoba MLA Elijah Harper helped scuttle the Meech Lake Accord, saying that First Nations were not consulted in discussions toward constitutional amendments that would have recognized Quebec as a "distinct society." Then-Newfoundland Premier Clyde Wells later refused to hold a vote on the accord, and it fell apart. Harper would later be elected as an NDP MP. He died in 2013.