Could Your Shampoo Cause Hair Loss?
There are many reasons why people may experience hair loss, so in an attempt to combat the issue, many people use thickening shampoos.
But the problem is, these products are more likely doing more harm than good.
Recently on "The Doctors," Gail Federici, hair care innovator and CEO of Color Wow, discussed how thickening shampoos and conditioners can actually provoke the thinning of hair, rather than do what they promise.
"More and more ingredients have been added to shampoos that have nothing to do with cleansing," Federici says. "So if you have thinning hair, you're massaging these ingredients into your scalp and they can stay behind and leave build up. They don't easily rinse off."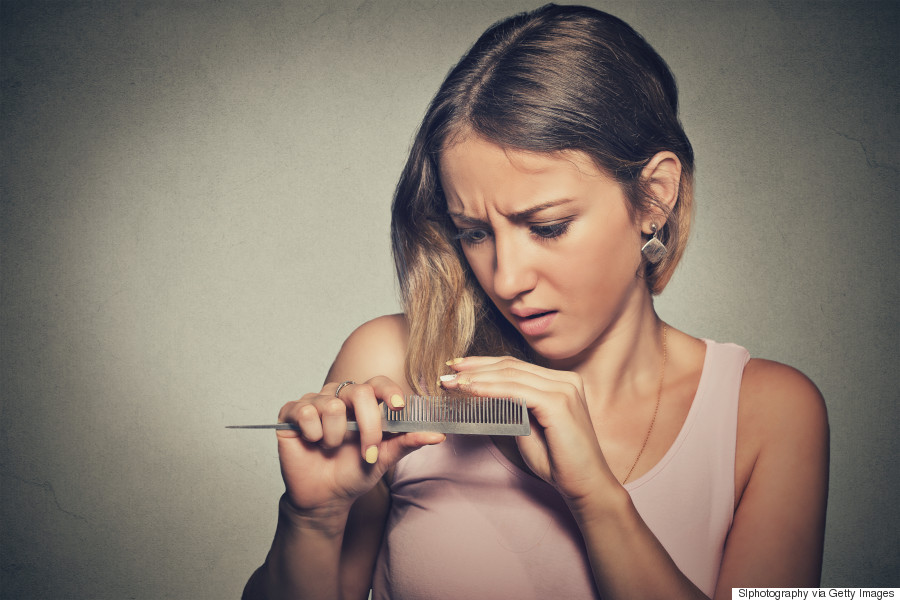 Cleansing is what a shampoo should do, so if you have thinning hair, Federici recommends not using a 2-in-1 shampoo and conditioner, as it's loaded with ingredients that are engineered to stay behind in the hair. This does not make for a healthy scalp as it can obstruct hair growth.
And an important thing to remember when conditioning the hair is to only apply the product halfway down your hair and never to the scalp.
If you want to use products to regain some sort of thickness, Federici suggests using thickening styling products, used on the hair after washing.
For more about how your shampoo can make a difference when it comes to hair loss, check out the video above.
And for hair care products designed for hair loss, check out the slideshow below:
Hair Care Products For Women With Hair Loss or Thinning
As distressing as it can be to see your hair collect in the shower drain, it's important to continue washing it. Shampooing will prevent scalp build-up, which can exacerbate the problem. You will want to find a shampoo that's free of harsh ingredients that can dry your hair and scalp. Pura d'or's anti-hair loss shampoo is a top seller on Amazon ($ 35.99), where it has received many compelling reviews. It's made with natural organic ingredients that will be gentle on your hair and scalp, and it contains DHT blockers (DHT is a hormone linked to certain types of hair loss).

"Trichotherapy" ($215) is a daily, three-step hair regime created by one of the world's most sought-after trichologists, the late Philip Kingsley. Trichologists are hair and scalp specialists who diagnose and treat hair and scalp disorders and diseases. The regime is said to reduce hair thinning caused by breakage when combing, by supporting the hair and scalp "from the inside out" with three products: a volumizing protein spray, a volumizing hair and scalp treatment, and a dietary supplement. If you're experience hair loss or thinning, The Philip Kingsley website is a fantastic resource for information on causes, hair care advice, products and more.

A balanced diet is crucial for strong, healthy hair growth, and a dietary supplement can provide additional support, such as Phyto's Phytophanère Hair And Nails dietary supplement ($79). This supplement contains essential fatty acids, vitamins (including biotin), and antioxidants that support healthy hair growth. However, it's always best to speak with your health care providers before starting any supplements, to make sure they're right for you. Learn more about Phyto's hair care products for thinning hair, here.

For less severe hair loss or thinning, a hair powder can be used to temporarily camouflage small patches of missing hair or thinning hairlines, such as this Amazonian Clay Volumizing Brow & Hair Powder by tarte ($33). It also doubles as a highly-rated brow power, and comes in five different colours.

Brushing is rough on your hair and scalp, and can lead to breakage or split ends, so it's best to keep brushing to a minimum. However, there are some brushes that cause more damage than others, which is what you want to avoid when experiencing hair loss or thinning. When choosing a brush, opt for a one with long, spaced out plastic bristles (avoid metal, boar or natural bristles), like this one by Upper Canada Soap ($9.99). And unless you have curly hair, avoid brushing your hair when it's wet and more prone to breakage.

If your hair is prone to tangling, try using a de-tangling product before combing, brushing or styling. This Repairing Thermal Protectant Spray by Phyto ($32) helps to de-tangle hair and protect hair from heat damage.

If you must de-tangle your hair while wet, use a wide-toothed comb — such as this one by Sephora ($10) — which is gentler on your hair than a regular brush.

Conditioner should be part of everyone's hair care regime, but if you're experiencing hair loss or thinning, you will want to opt for a lightweight version that won't leave product behind and weigh down your hair. The Rosemary & Peppermint Detangler by John Masters Organics ($27) is a lightweight conditioner and an excellent de-tangler.

Minoxidil (Rogaine) is the only topical drug approved by the FDA for treating female pattern hair loss — the most common form of hair loss. While it is available without a prescription, it's worth checking in with your doctor or dermatologist to discuss whether it's right for you.

Viviscal's highly-rated dietary supplement is said to promote existing hair growth in individuals experiencing temporary hair thinning. They now have an extra strength formula (59.99, available at Shoppers Drug Mart) that includes their signature AminoMar C marine complex (a mix of shark powder and mollusk powder), as well as biotin, zinc, iron and vitamin C, which are essential for healthy hair growth. Find more of Viviscal's hair care and growth products, here.

For those experiencing minor hair loss or thinning, hair fibres, like these ones from Toppik ($10.75 - $108.08), can be sprayed onto sparse areas to temporarily create the appearance of fuller hair. These fibres, made of "coloured keratin protein" use static to cling to your hair, and are available in nine different colours. And according to Toppik, they will withstand wind and rain, and won't clog your pores. Find more of Toppik's hair care and loss products, here.

A lightweight thickening cream, like this highly rated one from Living Proof ($27.85), can add volume to thin hair. Simply add a small amount to clean damp hair before drying. This thickening cream conditions hair and makes it feel thicker, and won't leave your stands stiff like a mousse.

There are many natural supplements and products that can help promote a healthy scalp and hair growth. Our HuffPost Canada video producer and editor found that, in addition to a healthy organic diet, reishi mushroom supplements (recommended by a naturopath) helped treat her alopecia areata (watch her story here). Reishi mushrooms (or lingzhi mushrooms) have been used in Chinese medicine for years, and are said to have many health benefits, including supporting the immune system, reducing stress, and helping to promote hair growth. You can find reishi mushroom supplements at many health food stores. Again, talk to your doctor and/or a naturopath before taking any supplements to make sure they're right for you, and won't interact with your medications.

On our scalps, we have both growing (anagen) and resting (telogen) hairs. Normally about 80 per cent of those hairs are growing, says Dr. Barry Resnik, and 20 per cent are resting. "Anagen hairs are thick, deeply anchored hairs with a thick coat around the base. They hurt when they are pulled out," Resnik says. "Telogen hairs are thin hairs with a tiny white bump at the end, and are those hairs that come out naturally." Because we all have some of those telogen hairs it's normal to lose 150 to 250 hairs daily, he says, due to everyday activities like brushing, washing, or moving around while sleeping.

Telogen effluvium is one of the most common causes of hair loss in women, Resnik says. "Telogen is the sleeping phase of hair, and Effluvium loosely means to 'fly away.' This generally occurs in response to a stressor to the system: birth, extreme weight loss or gain, death in the family, etc.," Resnik says. In these cases, the ratio of growing to resting hairs can change from 80:20 to 50:50, he says, and significant hair shedding can be the result. "Stress itself does not cause hair loss," he says. "If it did, we would all be bald!"

Sometimes hair loss is due to harsh hair treatments — Resnik says they can shock your system and put hairs in the telogen phase, increasing shedding. Other treatments like bleach lightening may cause breakage that looks like hair loss. "Over-styling is one of the main ways women today are damaging their hair," says hair stylist and hair-loss expert Carla Rivas. "A lot of times they don't even realize they are doing it until it's too late."

Another possibility for hair loss is alopecia areata, which is round patches of hair loss that come on suddenly. "They are caused by an autoimmune reaction, in which the body suddenly stops recognizing the hair follicle cells as 'self,' and attacks them like a foreign body or infection," Shainhouse says. "This inflammation causes loosening of the hair within the follicle and the hairs fall out." Treatment involves reducing inflammation around the hair follicles with corticosteroids. Some women only experience alopecia aerate once, she says, but in others it can recur.

"The scalp is the first thing that we look at when a client talks of losing hair or we notice more in the shampooing than before," says Johnson. Build-up of product, oils, dirt, or flakes on the scalp can lead to hair loss and reduced growth by affecting the follicles. "If the follicles are perpetually clogged then the hair can't grow."

This is otherwise known as female pattern baldness. "It is fairly common in women, and tends to start in the mid-30s to 50s who are genetically predisposed," Shainhouse says. Pattern baldness in men generally begins with a receding hairline and crown, but women tend to maintain their hairline but have widening at the centre part and thinning at the crown. Pattern baldness in women can be related to testosterone-level changes in perimenopause, or polycystic ovarian syndrome.

There are other reasons that you could be experiencing hair loss, including iron-deficiency anemia, thyroid issues, or low-normal ferratin levels. Because unexplained hair loss could indicate a serious medical issue, see your doctor if you're experiencing it. Hair loss is a side effect for some medications. And for some people, women included, hair loss is related to genetics and family history.

: The answer to that question depends on the cause of your hair loss. If it's a case of telogen effluvium, it could lasts weeks or, less often, months. "The hair-loss usually begins about three months after the incident and can continue for six months to a year or more," Resnik says. It can also, in rare cases, flow into a chronic form that may persist for years." If thyroid or iron issues are the problem, righting your body's hormone or nutrient levels should eventually stop the hair loss and restore growth, he says.

Treatment options vary depending on what's causing your hair loss. With telogen effluvium, the treatment is generally just time, Shainhouse says. "Anecdotal studies suggest that topical agents, such as minoxidil (Rogaine) can increase circulation in the scalp, and that supplements like biotin (part of the B-complex), silica and horsetail can help thicken the new hairs," she says. Potential treatments for pattern baldness include topical treatments, testosterone-lowering pills, red-light therapy, or hair transplants.

A good haircut can go a long way towards making your hair seem thicker — and a bad or just ill-planned one can emphasize thinning. "A 'blunt' or one-length haircut can help with this, too, as horizontal cutting builds weight whereas layering or vertical cutting techniques can remove more weight from the hair," Johnson says. "Fine, thin, straight hair is best with less layering to build that weight."

And a skilled colourist can use hair dye strategically to create the illusion of lusher locks. "Thin, fine hair can be cut or coloured to create an idea or illusion of more hair, too," Johnson says. "I've used slightly deeper, rooted colour techniques to create a look of depth. Those super-fine blondes really show a thinner hair texture more than someone with some depth in their 'do."

"I tell my patients that sometimes, this is the best option," Shainhouse says. Options to camouflage thinning hair include hair extensions, wigs, partial hairpieces, keratin filaments, and hair powders.
Follow Huffington Post Canada Style on Pinterest, Facebook and Twitter!